ORC Nanophotonics & Metamaterials Group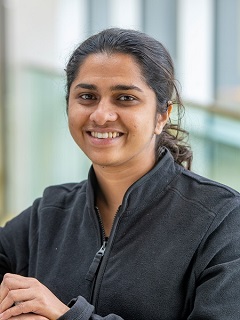 < Back to People ...
Ms. Resmi Ravi Kumar
Project
Toroidal electrodynamics
Short CV
Ms. Resmi Ravi Kumar obtained her 4-year bachelor's degree (2009-2013) in Electronics and Communication Engineering and 2-year master's degree (2013-15) in Optoelectronics from Cochin University of Science and Technology (CUSAT), India. Later, she joined as a project associate in Indian Institute of Science (IISc), Bangalore (2015-2016). In 2017, she joined as research student at Electrical Engineering faculty in Technion-Israel Institute of Technology, Israel and continued her second masters (MSc in Electrical Engineering). During her MSc, she worked on ultrasound detection via polymer-coated silicon-photonics-based sensors. In September 2019, Resmi joined the Optoelectronics Research Centre (ORC) as a PhD student.
Conference Contributions since 2019
Supertoroidal non-radiating configuration
R. Kumar, Y. Shen, N. Papasimakis, N. I. Zheludev
17th International Congress on Artificial Materials for Novel Wave Phenomena (Metamaterials'2023), Crete, Greece, 11–16 Sept 2023
Supertoroidal anapoles
R. Kumar, N. Papasimakis, and N. I. Zheludev
CLEO/Europe-EQEC 2023, Munich, Germany, 26 - 30 June 2023
Broadband toroidal excitations in dielectric particles
R. Kumar, N. Papasimakis and N. I. Zheludev
15th International Congress on Artificial Materials for Novel Wave Phenomena, Virtual Meeting, 20-26 Sept 2021
Excitation and Detection of Toroidal and Anapole Modes
N. Papasimakis, R. Kumar, A. Zdagkas, N. I. Zheludev
ICEAA-IEEE APWC-USNC URSI RSM 2021, Honolulu, Hawaii, USA, August 9-13, 2021