ORC Nanophotonics & Metamaterials Group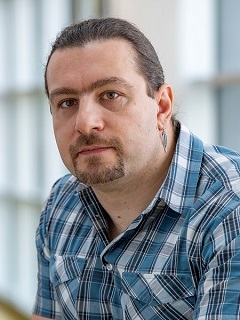 < Back to People ...
Dr. Vassili A. Fedotov
Principal Research Fellow (ORC)

Projects
Liquid crystal-NEMS/MEMS hybrids, liquid crystal-loaded active metamaterials, quantum metamaterials, metamaterials-based classical and non-classical light sources, low-loss and superconducting plasmonics, toroidal and anapole electrodynamics
Short CV
Dr. Fedotov is a Principal Research Fellow in the Optoelectronics Research Centre. He graduated Lomonosov Moscow State University in 1999 with MSc degree in physics, and received PhD degree in laser physics from the University of Southampton's School of Physics and Astronomy in 2003. Dr. Fedotov's interest lies in the fields of metamaterials, plasmonics and nanophotonics, and toroidal electrodynamics. His most recent work concerns the development of novel hybrid nano-electro-mechanical systems (NEMS) incorporating liquid crystals for applications in smart nanophotonic devices, re-configurable metamaterials and optical sensors. Dr. Fedotov is a member of the European Physical Society and European Virtual Institute for Metamaterial Research. He sits on the steering committee of the annual Metamaterials Congress. Since 2011 he has also sat on program and steering committees of a number of large international conferences, such as CLEO Europe and META. He is a member of the Editorial Board for the Nature Publishing Group journal Scientific Reports. Dr. Fedotov held a 5-year EPSRC Career Acceleration Fellowship "Nanostructured Metafilms: a New Paradigm for Photonics" (2008-2013) and "New Directions for EPSRC Research Leaders" award (2012-2014).
Joint Articles since 2004
Observation of a high-energy tamm plasmon state in the near-IR region
O. Buchnev, A. Belosludtsev, and V. A. Fedotov
ACS Appl. Mater. Interfaces 14,11, 13638-13644 (2022) doi: 10.1021/acsami.2c00486 - pdf
Anomalous resonance frequency shift in liquid crystal-loaded THz metamaterials
E. Perivolari, V. A. Fedotov, J. Parka, M. Kaczmarek, and V. Apostolopoulos
Nanophotonics 11 2341-2348 (2022) doi: 10.1515/nanoph-2022-0036 - pdf
Polarization discrimination and surface sensing with a near-IR nanostructured hybrid mirror
O. Buchnev, A. Belosludtsev, and V. A. Fedotov
Opt. Lett. 47 (16), 4036-4039 (2022) doi: 10.1364/OL.464684 - pdf
Phase control of terahertz waves moves on chip
V. Fedotov
Nat. Photon. 15, 715–716 (2021) doi: 10.1038/s41566-021-00887-8 - pdf
Decay rate enhancement of diamond NV-centers on diamond thin films
H. Li, J. Y. Ou, V. A. Fedotov and N. Papasimakis
Opt. Express,29(16),25626-25631 (2021) doi: 10.1364/OE.425706 - pdf
Engineering the collapse of lifetime distribution of nitrogen-vacancy centers in nanodiamonds
H. Li, J. Y. Ou, B. Gholipour, J. K. So, D. Piccinotti, V. A. Fedotov and N. Papasimakis
Appl. Phys. Lett. 118, 261103 (2021) doi: 10.1063/5.0054780

Metasurface-Based Optical Liquid Crystal Cell as an Ultrathin Spatial Phase Modulator for THz Applications
O. Buchnev, N. Podoliak, K. Kaltenecker, M. Walther, and V. A. Fedotov
ACS Photonics 7 (11), 3199–3206 (2020) doi: 10.1021/acsphotonics.0c01263 - pdf
Observing and controlling a Tamm plasmon at the interface with a metasurface
O. Buchnev, A. Belosludtsev, V. Reshetnyak, D. R. Evan and V. A. Fedotov
Nanophotonics 9, 897–903 (2020) doi: 10.1515/nanoph-2019-0514 - pdf
Discriminating between Coherent and Incoherent Light with Planar Metamaterials
T. Frank, O. Buchnev, T. Cookson, M. Kaczmarek, P. Lagoudakis and V. A. Fedotov
Nano Lett. 19 (10), 6869-6875 (2019) doi: 10.1021/acs.nanolett.9b02094



Point-dipole approximation for small systems of strongly coupled radiating nanorods
D. W. Watson, S. D. Jenkins, V. A. Fedotov, and J. Ruostekoski
Sci. Rep. 9, 5707 (2019) doi: 10.1038/s41598-019-41327-6 - pdf
Electromagnetic sources beyond common multipoles
N. A. Nemkov, A. A. Basharin, and V. A. Fedotov
Phys. Rev. A 98, 023858 (2018) doi: 10.1103/PhysRevA.98.023858 - pdf
Optical properties of single crystal silver thin films on mica for high performance plasmonic devices
T. Uchino, T. Koiwa, J. Y. Ou, and V. A. Fedotov
Opt. Mater. Express 8(6), 1642-1649 (2018) doi: 10.1364/OME.8.001642 - pdf
[OMEx Editor's Pick]
Pulse generation scheme for flying electromagnetic doughnuts
N. Papasimakis, T. Raybould, V. A. Fedotov, D. P. Tsai, I. Youngs, and N. I. Zheludev
Phys. Rev. B 97 201409(R) (2018) doi: 10.1103/PhysRevB.97.201409 - pdf
[Featured in Physics, http://physics.aps.org]
Magneto-optical response in bimetallic metamaterials
E. Atmatzakis, N. Papasimakis, V. A. Fedotov, G. Vienne and N. I. Zheludev
Nanophotonics 7(1), 199–206 (2018) doi: 10.1515/nanoph-2016-0162 - pdf
Photonic metadevices: introduction
V. Drachev, V. A. Fedotov, and I. Shadrivov
J. Opt. Soc. Am. 34, PM1-PM2 (2017) doi: 10.1364/JOSAB.34.000PM1 - pdf
Liquid crystal-filled meta-pixel with switchable asymmetric reflectance and transmittance
O. Buchnev, N. Podoliak, and V. A. Fedotov
J. Mol. Liq. 0167-7322 (2017) doi: 10.1016/j.molliq.2017.12.118

Exciting dynamic anapoles with electromagnetic doughnut pulses
T. Raybould, V. A. Fedotov, N. Papasimakis, I. Youngs, and N. I. Zheludev
Appl. Phys. Lett. 111, 081104 (2017) doi: 10.1063/1.4999368 - pdf
[Apl. Phys. Lett. cover page, pdf]
Spontaneous natural optical activity in disordered media
F. A. Pinheiro, V. A. Fedotov, N. Papasimakis, and N. I. Zheludev
Phys. Rev. B 95, 220201(R) (2017) doi: 10.1103/PhysRevB.95.220201 - pdf
Nonradiating sources, dynamic anapole, and Aharonov-Bohm effect
N. A. Nemkov, A. A. Basharin, and V. A. Fedotov
Phys. Rev. B 95, 165134 (2017) doi: 10.1103/PhysRevB.95.165134 - pdf
Controlling stiction in nano-electro-mechanical systems using liquid crystals
O. Buchnev, N. Podoliak, T. Frank, M. Kaczmarek, L. Jiang, and V. A. Fedotov
ACS Nano 10, 11519–11524 (2016) doi: 10.1021/acsnano.6b07495 - pdf
Toroidal circular dichroism
T. A. Raybould, V. A. Fedotov, N. Papasimakis, I. Kuprov, I. J. Youngs, W. T. Chen, D. P. Tsai, and N. I. Zheludev
Phys. Rev. B 94(3), 035119 (2016) doi: 10.1103/PhysRevB.94.035119 - pdf
Specular optical activity of achiral metasurfaces
E. Plum, V. A. Fedotov, and N. I. Zheludev
Appl. Phys. Lett. 108, 141905 (2016) doi: 10.1063/1.4944775 - pdf
[APL Editor's Pick]
Giant Nonlinearity in a superconducting sub-terahertz metamaterial
V. Savinov, K. Delfanazari, V. A. Fedotov, and N. I. Zheludev
Appl. Phys. Lett. 108, 101107 (2016) doi: 10.1063/1.4943649 - pdf
Toroidal dipole excitations in metamolecules formed by interacting plasmonic nanorods
D. W. Watson, S. D. Jenkins, J. Ruostekoski, V. A. Fedotov, and N. I. Zheludev
Phys. Rev. B 93, 125420 (2016) doi: 10.1103/PhysRevB.93.125420 - pdf
Electromagnetic toroidal excitations in matter and free space
N. Papasimakis, V. Fedotov, V. Savinov, T. A. Raybould, and N. I. Zheludev
Nat. Mater. 15, 263 (2016) doi: 10.1038/NMAT4563 - free access [News article]
Focused electromagnetic doughnut pulses and their interaction with interfaces and nanostructures
T. A. Raybould, V. A. Fedotov, N. Papasimakis, I. J. Youngs, and N. I. Zheludev
Opt. Express 24(4), 3150 (2016) doi: 10.1364/OE.24.003150 - pdf
Wavevector selective metasurfaces and tunnel vision filters
V. A. Fedotov, J. Wallauer, M. Walther, M. Perino, N. Papasimakis, N. I. Zheludev
Light Sci. Appl. 4, e306 (2015) doi: 10.1038/lsa.2015.79 - pdf
Electrically controlled nanostructured metasurface loaded with liquid crystal: toward multifunctional photonic switch
O. Buchnev , N. Podoliak , M. Kaczmarek , N. I. Zheludev, and V. A. Fedotov
Adv. Opt. Mater. 3, 674–679 (2015) doi: 10.1002/adom.201400494 - pdf
Dielectric metamaterials with toroidal dipolar response
A. A. Basharin, M. Kafesaki, E. N. Economou, C. M. Soukoulis, V. A. Fedotov, V. Savinov, N. I. Zheludev
Phys. Rev. X 5, 011036 (2015) doi: 10.1103/PhysRevX.5.011036 - pdf
Toroidal dipolar excitation and macroscopic electromagnetic properties of metamaterials
V. Savinov, V. A. Fedotov, and N. I. Zheludev
Phys. Rev. B 89, 205112 (2014) doi: 10.1103/PhysRevB.89.205112 - pdf
Resonant transparency and non-trivial non-radiating excitations in toroidal metamaterials
V. A. Fedotov, A. V. Rogacheva, V. Savinov, D. P. Tsai, N. I. Zheludev
Sci. Rep. 3, 2967 (2013) doi: 10.1038/srep02967 - pdf
Controlling intensity and phase of terahertz radiation with an optically thin liquid crystal-loaded metamaterial
O. Buchnev, J. Wallauer, M. Walther, M. Kaczmarek, N. I. Zheludev, V. A. Fedotov
Appl. Phys. Lett. 103, 141904 (2013) doi: 10.1063/1.4823822 - pdf
Radiation-harvesting resonant superconducting sub-THz metamaterial bolometer
V. Savinov, V. A. Fedotov, P. A. J. de Groot, and N. I. Zheludev
Supercond. Sci. Technol. 26 084001 (2013) doi: 10.1088/0953-2048/26/8/084001

Toroidal lasing spaser
Y. W. Huang, W. T. Chen, P. C. Wu, V. A. Fedotov, N. I. Zheludev and D. P. Tsai
Sci. Rep. 2, 1237 (2013) doi: 10.1038/srep01237 - pdf
Electro-optical control in a plasmonic metamaterial hybridised with a liquid-crystal cell
O. Buchnev, J. Y. Ou, M. Kaczmarek, N. I. Zheludev, and V. A. Fedotov
Opt. Express 21(2), 1633 (2013) doi: 10.1364/OE.21.001633 - pdf
Optical generation of intense ultrashort magnetic pulses at the nanoscale
A. Tsiatmas, E. Atmatzakis, N. Papasimakis, V. Fedotov, B. Luk'yanchuk, N. I. Zheludev, and F. J. Garcia de Abajo
New J. Phys. 15, 113035 (2013) doi: 10.1088/1367-2630/15/11/113035 - pdf
Modulating sub-THz radiation with current in superconducting metamaterial
V. Savinov, V. A. Fedotov, S. M. Anlage, P. A. J. de Groot, and N.I. Zheludev
Phys. Rev. Lett. 109, 243904 (2012) doi: 10.1103/PhysRevLett.109.243904 - pdf
Low-loss terahertz superconducting plasmonics
A. Tsiatmas, V. A. Fedotov, F. J. García de Abajo, and N.I. Zheludev
New J. Phys. 14, 115006 (2012) doi: 10.1088/1367-2630/14/11/115006 - pdf
Analytical model for active metamaterials with quantum ingredients
A. Chipouline, S. Sugavanam, V. A. Fedotov and A. E. Nikolaenko
J. Opt. 14, 114005 (2012) doi: 10.1088/2040-8978/14/11/114005

Flux exclusion superconducting quantum metamaterial: towards quantum-level switching
V. Savinov, A. Tsiatmas, A. R. Buckingham, V. A. Fedotov, P. A. J. de Groot and N. I. Zheludev
Sci. Rep. 2, 450 (2012) doi: 10.1038/srep00450 - pdf
Plasmonic toroidal resonance at optical frequencies
Y. W. Huang, W. T. Chen, P. C. Wu, Y. Z. Ho, D. P. Tsai, V. Fedotov, V. Savinov, N. I. Zheludev and Y. F. Chau
SPIE Newsroom (2012) doi: 10.1117/2.1201205.004193 - pdf
Low-loss plasmonic metamaterial based on epitaxial gold monocrystal film
V. A. Fedotov, T. Uchino, and J. Y. Ou
Opt. Express 20(9), 9545 (2012) doi: 10.1364/OE.20.009545 - pdf
Design of plasmonic toroidal metamaterials at optical frequencies
Y. W. Huang, W. T. Chen, P. C. Wu, V. Fedotov, V. Savinov, Y. Z. Ho, Y.F. Chau, N. I. Zheludev, and D. P. Tsai
Opt. Express 20(2), 1760 (2012) doi: 10.1364/OE.20.001760 - pdf
Metamaterial polarization spectral filter: isolated transmission line at any prescribed wavelength
N. I. Zheludev, E. Plum, V. A. Fedotov
Appl. Phys. Lett. 99, 171915 (2011) doi: 10.1063/1.3656286 - pdf
Chiral metamaterials unlocking nonlinear optical activity
D. A. Powell, I. V. Shadrivov, V. A. Fedotov, N. I. Zheludev, and Y. S. Kivshar
AOS News 25(1), 28 (2011)
Electromagnetic wave analogue of an electronic diode
I. V. Shadrivov, V. A. Fedotov, D. A. Powell, Y. S. Kivshar, and N. I. Zheludev
New J. Phys. 13, 033025 (2011) doi: 10.1088/1367-2630/13/3/033025 - pdf
A combinatorial approach to metamaterials discovery
E. Plum, K. Tanaka, W. T. Chen, V. A. Fedotov, D. P. Tsai, N. I. Zheludev
J. Opt. 13, 055102 (2011) doi: 10.1088/2040-8978/13/5/055102


[selected to be part of Journal of Optics Highlights of 2011]
Asymmetric transmission: a generic property of two-dimensional periodic patterns
E. Plum, V. A. Fedotov, and N. I. Zheludev
J. Opt. 13, 024006 (2011) doi: 10.1088/2040-8978/13/2/024006

Toroidal dipolar response in a metamaterial
T. Kaelberer, V. A. Fedotov, N. Papasimakis, D. P. Tsai, and N. I. Zheludev
Science 330, 1510 (2010) doi: 10.1126/science.1197172

Superconducting plasmonics and extraordinary transmission
A. Tsiatmas, A. R. Buckingham, V. A. Fedotov, S. Wang, Y. Chen, P. A. J. de Groot, and N. I. Zheludev
Appl. Phys. Lett. 97, 111106 (2010) doi: 10.1063/1.3489091 - pdf
[additionally part of the Virtual Journal Applications of Superconductivity 19(6) (2010)]
Spectral collapse in ensembles of metamolecules
V. A. Fedotov, N. Papasimakis, E. Plum, A. Bitzer, M. Walther, P. Kuo, D. P. Tsai, and N. I. Zheludev
Phys. Rev. Lett. 104, 223901 (2010) doi: 10.1103/PhysRevLett.104.223901 - pdf
Temperature control of Fano resonances and transmission in superconducting metamaterials
V.A. Fedotov, A. Tsiatmas, J. H. Shi, R. Buckingham, P. de Groot, Y. Chen, S. Wang, and N.I. Zheludev
Opt. Express 18, 9015 (2010) doi: 10.1364/OE.18.009015 - pdf
Gyrotropy of a metamolecule: wire on a torus
N. Papasimakis, V. A. Fedotov, K. Marinov, and N. I. Zheludev
Phys. Rev. Lett. 103, 093901 (2009) doi: 10.1103/PhysRevLett.103.093901 - pdf
Coherent and incoherent metamaterials and order-disorder transitions
N. Papasimakis, V. A. Fedotov, Y. H. Fu, D. P. Tsai, and N. I. Zheludev
Phys. Rev. B 80, 041102(R) (2009) doi: 10.1103/PhysRevB.80.041102 - pdf
Metamaterial with polarization and direction insensitive resonant transmission response mimicking electromagnetically induced transparency
N. Papasimakis, Y. H. Fu, V. A. Fedotov, S. L. Prosvirnin, D. P. Tsai, and N. I. Zheludev
Appl. Phys. Lett. 94, 211902 (2009) doi: 10.1063/1.3138868 - pdf
Electron beam lithography for high density meta fish scale operational at optical frequency
Y. Chen, A. S. Schwanecke, V. A. Fedotov, V. V. Khardikov, P. L. Mladyonov, S. L. Prosvirnin, A. V. Rogacheva, N. I. Zheludev, and E. Huq
Microelectron. Eng. 86, 1081, (2009) doi: 10.1016/j.mee.2008.11.094

Extrinsic electromagnetic chirality in metamaterials
E. Plum, V. A. Fedotov, and N. I. Zheludev
J. Opt. A: Pure Appl. Opt. 11, 074009 (2009) doi: 10.1088/1464-4258/11/7/074009


[selected to be part of Journal of Optics Highlights of 2009]
Towards the lasing spaser: controlling metamaterial optical response with semiconductor quantum dots
E. Plum, V. A. Fedotov, P. Kuo, D. P. Tsai, and N. I. Zheludev
Opt. Express 17 (10), 8548 (2009) doi: 10.1364/OE.17.008548 - pdf
Planar metamaterial with transmission and reflection that depend on the direction of incidence
E. Plum, V. A. Fedotov, and N. I. Zheludev
Appl. Phys. Lett. 94, 131901 (2009) doi: 10.1063/1.3109780 - pdf
Metamaterials: optical activity without chirality
E. Plum, X.-X. Liu, V. A. Fedotov, Y. Chen, D. P. Tsai, and N. I. Zheludev
Phys. Rev. Lett. 102, 113902 (2009) doi: 10.1103/PhysRevLett.102.113902 - pdf
Metamaterial with negative index due to chirality
E. Plum, J. Zhou, J. Dong, V. A. Fedotov, T. Koschny, C. M. Soukoulis, and N. I. Zheludev
Phys. Rev. B 79, 035407 (2009) doi: 10.1103/PhysRevB.79.035407 - pdf
[Phys. Rev. B Editor's suggestion]
Metamaterial analog of electromagnetically induced transparency
N. Papasimakis, V. A. Fedotov, N. I. Zheludev, and S. L. Prosvirnin
Phys. Rev. Lett. 101, 253903 (2008) doi: 10.1103/PhysRevLett.101.253903 - pdf
Optical activity in extrinsically chiral metamaterial
E. Plum, V. A. Fedotov, and N. I. Zheludev
Appl. Phys. Lett. 93, 191911 (2008) doi: 10.1063/1.3021082 - pdf
Nanostructured metal film with asymmetric optical transmission
A. S. Schwanecke, V. A. Fedotov, V. V. Khardikov, S. L. Prosvirnin, Y. Chen, and N. I. Zheludev
Nano Lett. 8(9), 2940-2943 (2008) doi: 10.1021/nl801794d

Nanohole array as a lens
F. M. Huang, T. S. Kao, V. A. Fedotov, Y. Chen, and N. I. Zheludev
Nano Lett. 8(8), 2469-2472 (2008) doi: 10.1021/nl801476v

Lasing spaser
N. I. Zheludev, S. L. Prosvirnin, N. Papasimakis, and V. A. Fedotov
Nat. Photonics 2 351-354 (2008) doi: 10.1038/nphoton.2008.82 - free access
Sharp trapped-mode resonances in planar metamaterials with a broken structural symmetry
V. A. Fedotov, M. Rose, S. L. Prosvirnin, N. Papasimakis, and N. I. Zheludev
Phys. Rev. Lett. 99, 147401 (2007) doi: 10.1103/PhysRevLett.99.147401 - pdf
Toroidal metamaterial
K. Marinov, A. D. Boardman, V. A. Fedotov, and N. Zheludev
New J. Phys. 9, 324 (2007) doi: 10.1088/1367-2630/9/9/324 - pdf
Enhanced microwave transmission through quasicrystal hole arrays
N. Papasimakis, V. A. Fedotov, A. S. Schwanecke, N. I. Zheludev, and F. J. García de Abajo
Appl. Phys. Lett. 91, 081503 (2007) doi: 10.1063/1.2773763 - pdf
Asymmetric transmission of light and enantiomerically sensitive plasmon resonance in planar chiral nanostructures
V. A. Fedotov, A. S. Schwanecke, N. I. Zheludev, V. V. Khardikov, and S. L. Prosvirnin
Nano Lett. 7(7), 1996-1999 (2007) doi: 10.1021/nl0707961

Giant optical gyrotropy due to electromagnetic coupling
E. Plum, V. A. Fedotov, A. S. Schwanecke, N. I. Zheludev, and Y. Chen
Appl. Phys. Lett. 90, 223113 (2007) doi: 10.1063/1.2745203 - pdf
[additionally part of the Virtual Journal of Nanoscale Science & Technology 15(23) (2007)]
On the aromagnetism and anapole moment of anthracene nanocrystals
V. A. Fedotov, K. Marinov, A. D. Boardman, and N. I. Zheludev
New J. Phys. 9, 95 (2007) doi: 10.1088/1367-2630/9/4/095 - pdf
Optical magnetic mirrors
A. S. Schwanecke, V. A. Fedotov, V. V. Khardikov, S. L. Prosvirnin, Y. Chen, and N. I. Zheludev
J. Opt. A 9(1), L1-L2 (2007) doi: 10.1088/1464-4258/9/1/L01

Giant gyrotropy due to electromagnetic-field coupling in a bilayered chiral structure
A. V. Rogacheva, V. A. Fedotov, A. S. Schwanecke, and N. I. Zheludev
Phys. Rev. Lett. 97, 177401 (2006) doi: 10.1103/PhysRevLett.97.177401 - pdf
[additionally part of the Virtual Journal of Nanoscale Science & Technology 14(19) (2006)]
Asymmetric propagation of electromagnetic waves through a planar chiral structure
V. A. Fedotov, P. L. Mladyonov, S. L. Prosvirnin, A. V. Rogacheva, Y. Chen, and N. I. Zheludev
Phys. Rev. Lett. 97, 167401 (2006) doi: 10.1103/PhysRevLett.97.167401 - pdf
[additionally part of the Virtual Journal of Nanoscale Science & Technology 14(18) (2006)]
Mirror that does not change the phase of reflected wave
V. A. Fedotov, S. L. Prosvirnin, A. V. Rogacheva, and N. I. Zheludev
Appl. Phys. Lett. 88, 091119 (2006) doi: 10.1063/1.2179615 - pdf
Planar electromagnetic metamaterial with a fish scale structure
V. A. Fedotov, P. L. Mladyonov, S. L. Prosvirnin, and N. I. Zheludev
Phys. Rev. E 72(5), 056613 (2005) doi: 10.1103/PhysRevE.72.056613 - pdf
Optical whirlpool on an absorbing metallic nanoparticle
M. V. Bashevoy, V. A. Fedotov, and N. I. Zheludev
Opt. Express 13(21), 8372-8379 (2005) doi: 10.1364/OPEX.13.008372 - pdf
Light-induced switching between structural forms with different optical properties in a single gallium nanoparticulate
B. F. Soares, K. F. MacDonald, V. A. Fedotov, and N. I. Zheludev
Nano Lett. 5, 2104-2107 (2005) doi: 10.1021/nl0515652

Dispersion properties of nonradiating configurations: finite-difference time-domain modeling
A. D. Boardman, K. Marinov, N. Zheludev, and V. A. Fedotov
Phys. Rev. E 72(3), 036603 (2005) doi: 10.1103/PhysRevE.72.036603 - pdf
Structural phase transition as the mechanism of an optical nonlinearity in a nanoparticle film
A. V. Fedotov, K. F. MacDonald, and N. I. Zheludev
J. Opt. A 7(2), S241-S243 (2005) doi: 10.1088/1464-4258/7/2/032

Controlling the coexistence of structural phases and the optical properties of gallium nanoparticles with optical excitation
K. F. MacDonald, V. A. Fedotov, S. Pochon, G. Stevens, F. V. Kusmartsev, and N. I. Zheludev
Eur. Phys. Lett. 67(4), 614-619 (2004) doi: 10.1209/epl/i2003-10302-1

Optical properties of closely packed nanoparticle films: spheroids and nanoshells
V. A. Fedotov, V. I. Emelyanov, K. F. MacDonald, and N. I. Zheludev
J. Opt. A 6(2), 155-160 (2004) doi: 10.1088/1464-4258/6/2/001
Joint Conference Contributions since 2004
Orientational optical nonlinearity of nematic liquid crystals integrated with THz metamaterials
E. Perivolari, V. A. Fedotov, V. Apostolopoulos and M. Kaczmarek
SPIE Optics & Photonics 2021, Virtual Conference, 1 - 5 Aug 2021
Engineering high directional sensitivity in non-diffracting metasurfaces
J. Gorecki, O. Buchnev, C. Bailey, T. Cookson, M. Kaczmarek, P. Lagoudakis and V. A. Fedotov
SPIE Optics & Photonics 2021, Virtual Conference, 1 - 5 Aug 2021
Mimicking longitudinal MOKE with metasurfaces
J. Gorecki, T. Frank, O. Buchnev, G. Stenning, M. Kaczmarek and V. A. Fedotov
SPIE Optics & Photonics 2021, Virtual Conference, 1 - 5 Aug 2021
(invited) Sensing Spatial Coherence of Light with Planar Metallic Metamaterials
T. Frank, O. Buchnev, T. Cookson, M. Kaczmarek, P. Lagoudakis and V. A. Fedotov
META 2021, Virtual Conference, 20 - 23 July 2021
Demonstration and Tuning of Tamm Plasmons at the Interface with Metasurfaces
O. Buchnev, A. Belosludtsev, V. Reshetnyak, D. R. Evans and V. A. Fedotov
META 2021, Virtual Conference, 20 - 23 July 2021
Non-Diffracting Metallic Metasurfaces with High Directional Sensitivity
J. Gorecki, O. Buchnev, C. Bailey, T. Cookson, M. Kaczmarek, P. Lagoudakis, and V. Fedotov
CLEO/Europe-EQEC 2021 Virtual Meeting, 21 - 25 June 2021
Anomalous Resonance Frequency Shift in Liquid Crystal-Loaded Metamaterials
E. Perivolari, V. Apostolopoulos, M. Kaczmarek, and V.A. Fedotov
CLEO/Europe-EQEC 2021 Virtual Meeting, 21 - 25 June 2021
Ultra-Thin Spatial Phase Modulator for THz Applications based on Metasurface Hybridised with Liquid Crystal
O. Buchnev, N. Podoliak, K. Kaltenecker, M. Walther and V. A. Fedotov
Metamaterials'2020 (online), New York, USA, 28 Sep – 3 Oct 2020
Demonstration and Tuning of Tamm Plasmons at the Interface with Metasurfaces
O. Buchnev, A. Belosludtsev, V. Reshetnyak, D. R. Evans and V. A. Fedotov
Metamaterials'2020 (online), New York, USA, 28 Sep – 3 Oct 2020
Observation And Control Of A Tamm Plasmon Confined Under A Metasurface
O. Buchnev, A. Belosludtsev, V. Reshetnyak, D. R. Evans and V. A. Fedotov
Metanano 2020 (Online Meeting), Tbilisi, Georgia, 14 – 18 September 2020
Detecting Spatially Incoherent Light with Plasmonic Metasurfaces
T. Frank, O. Buchnev, T. Cookson, M. Kaczmarek, P. Lagoudakis and V. A. Fedotov
Frontiers in Optics + Laser Science 2020 (OSA All-Virtual Meeting), 14 – 17 September 2020
Engineering and Controlling Optical Tamm States Confined at Plasmonic Metasurfaces
O. Buchnev, A. Belosludtsev, V. Reshetnyak, D. R. Evans and V. A. Fedotov
Frontiers in Optics + Laser Science 2020 (OSA All-Virtual Meeting), 14 – 17 September 2020
Observation and Control of a Tamm Plasmon Confined under a Metasurface
O. Buchnev, A. Belosludtsev, V. Reshetnyak, D. R. Evans and V. A. Fedotov
Advanced Photonics Congress 2020 (OSA Virtual Meeting), 13 – 16 July 2020
Emission of Diamond NV Centers in Dielectric, Semiconducting and Plasmonic Environments
H. Li, J. Y. Ou, V. A. Fedotov, N. Papasimakis and N. I. Zheludev
CLEO 2020 Virtual Conference, 11-15 May 2020
Decay rate statistics of NV centres in diamond on plasmonic and dielectric substrates
H. Li, J. Y. Ou, N. Papasimakis, V. A. Fedotov and N. I. Zheludev
Electron Beam Spectroscopy for Nanophotonics 2019 (EBSN 2019), Paris, France, 16-19 Sept 2019
(invited) Electrodynamics beyond common multipoles
V. A. Fedotov
ICEAA-IEEE APWC 2019, Granada, Spain, 9 - 13 Sep 2019
Detecting spatial coherence of light with planar metallic metamaterials
T. Frank, O. Buchnev, T. Cookson, M. Kaczmarek, P. Lagoudakis, and V. A. Fedotov
ICEAA-IEEE APWC 2019, Granada, Spain, 9 - 13 Sep 2019
Lifetime distributions of NV centres in diamond on plasmonic and dielectric substrates
H. Li, J. Y. Ou, N. Papasimakis, V. A. Fedotov and N. I. Zheludev
Nanophotonics and Micro/Nano Optics International Conference (NANOP 2019), Munich, Germany, 4 - 6 Sept 2019
(invited) Ultra-Thin Metamaterial-Enhanced Liquid-Crystal Terahertz Spatial Phase Modulator
O. Buchnev, N. Podoliak, K. Kaltenecker, M. Walther, M. Kaczmarek and V. A. Fedotov
SPIE Optics & Photonics 2019, San Diego, CA, USA, 11 - 15 Aug 2019
Sensing Spatial Coherence of Light with Metasurfaces
T. Frank, O. Buchnev, T. Cookson, M. Kaczmarek, P. Lagoudakis and V. A. Fedotov
SPIE Optics & Photonics 2019, San Diego, CA, USA, 11 - 15 Aug 2019
(invited) Sensing spatial coherence of light with planar metamaterials
T. Frank, O. Buchnev, T. Cookson, M. Kaczmarek, P. Lagoudakis and V. A. Fedotov
Metanano 2019, St. Petersburg, Russia, 15-19 July 2019
(invited) Radiation (-less) sources beyond common multipoles
V. A. Fedotov
Metanano 2019, St. Petersburg, Russia, 15-19 July 2019
(invited) Controlling Nanoscale Motion and Deformations in Nano-Electro-Mechanical Systems with Nematic Liquid Crystals
O. Buchnev, N. Podoliak, M. Kaczmarek, L. Jiang, V. A. Fedotov
15th European Conference on Liquid Crystals, Wrocław, Poland June 30 - July 5, 2019
Metasurfaces Can Sense Spatial Coherence of Light
T. Frank, O. Buchnev, T. Cookson, M. Kaczmarek, P. Lagoudakis and V. A. Fedotov
CLEO Europe - EQEC 2019, Munich, Germany 23-27 June 2019
(invited) Sensing Spatial Coherence of Light with Metasurface
T. Frank, O. Buchnev, T. Cookson, M. Kaczmarek, P. Lagoudakis and V. A. Fedotov
Photonics & Electromagnetics Research Symposium, PIERS 2019 in Rome, Italy, 17-20 June, 2019
(invited) Metamaterial-Liquid Crystal Ultra-Thin Spatial Phase Modulator for THz Applications
O. Buchnev, N. Podoliak, K. Kaltenecker, M. Walther, M. Kaczmarek, V. A. Fedotov
Photonics & Electromagnetics Research Symposium, PIERS 2019 in Rome, Italy, 17-20 June, 2019
(invited) Photonic Metamaterials Mechanically Re-configurable at Nanoscale via Liquid Crystals
O. Buchnev, N. Podoliak, M. Kaczmarek, L. Jiang, V. A. Fedotov
Photonics & Electromagnetics Research Symposium, PIERS 2019 in Rome, Italy, 17-20 June, 2019
(poster) Quantum emitters in epsilon-near-zero and negative epsilon environments
H. Li, J. K. So, B. Gholipour, D. Piccinotti, N. Papasimakis, V. F. Fedotov, W. Gao, B. Hayden, and N. I. Zheludev
Nanometa 2019, Seefeld, Austria, 3 - 6 Jan 2019
(invited) Re-configurable photonic metamaterials elastically coupled with liquid crystals at nanoscale
O. Buchnev, N. Podoliak, M. Kaczmarek, and V. A. Fedotov
7th Workshop on Liquid Crystals for Photonics (WLCP 2018), Jastrzębia Góra, Poland, 17 – 21 Sept 2018
Metamaterial-Enhanced thin liquid-crystal cell as a spatial phase modulator for THz applications
O. Buchnev, N. Podoliak, K. Kaltenecker, M. Walther, M. Kaczmarek, and V. A. Fedotov
7th Workshop on Liquid Crystals for Photonics (WLCP 2018), Jastrzębia Góra, Poland, 17 – 21 Sept 2018
Detecting coherence of light with metasurfaces
T. Frank, O. Buchnev, T. Cookson, M. Kaczmarek, P. Lagoudakis, and V. A. Fedotov
Metamaterials 2018, Finland, 27 Aug – 1 Sept 2018
(invited) Unlocking the full potential of liquid crystals for tuneable & re-configurable metamaterials
V. A. Fedotov
QLM Summer School, Southampton, UK, 4-6 June 2018
(invited) Hybrid photonic metamaterials coupled with liquid crystals at nanoscale
O. Buchnev, N. Podoliak, M. Kaczmarek, and V. A. Fedotov.
Conference on Photonic and Optoelectronic Materials, Exeter, UK, 9-10 Apr 2018
Chirality and natural optical activity in disordered media
F. A. Pinheiro, V. A. Fedotov, and N. Papasimakis
CLEO Europe - EQEC 2017 , Munich, Germany 25 - 29 Jun 2017
Generation of electromagnetic doughnuts
N. Papasimakis, T. A. Raybould, P. Moitra, V. A. Fedotov, I. Youngs, and N. I. Zheludev
CLEO Europe - EQEC 2017 , Munich, Germany 25 - 29 Jun 2017
(invited) Toroidal metamaterials in the flatland
V. Savinov, V. A. Fedotov, M. Gupta, R. Singh, and N. I. Zheludev
Rank Prize Symposium on Electromagnetic Metasurfaces, Grasmere, UK, 13 - 16 Mar 2017
(poster) Far-field natural optical activity of disordered media
F. A. Pinheiro, V. A. Fedotov, N. Papasimakis, and N. I. Zheludev; [presenter: E. Plum]
Nanometa 2017, Seefeld, Austria, 4 - 7 Jan 2017
(poster) Generation of flying electromagnetic doughnuts via spatiotemporal conversion of transverse electromagnetic pulses
T. Raybould, N. Papasimakis, V. A. Fedotov, I. Youngs, and N. I. Zheludev; [presenter: V. Savinov]
Nanometa 2017, Seefeld, Austria, 4 - 7 Jan 2017
(keynote) Multi-functional and photoaddressable hybrid liquid crystals
M. Kaczmarek, M. Proctor, E. Mavrona, G. D'Alessandro, V. Fedotov, O. Buchnev, L. De Sio and N. Tabiryan
International Conference on Optics, Photonics and Materials, Nice, France, 26-28 Oct 2016
(invited) Electromagnetic doughnuts: localised and propagating toroidal excitations enabled by metamaterials
T. A. Raybould, V. Savinov, N. Papasimakis, V. A. Fedotov, and N. I. Zheludev
Metamaterials 2016, Crete, Greece, 17 - 22 Sep 2016
Tuneable liquid crystal-metamaterial hybrids with elasto-mechanical coupling
O. Buchnev, T. Frank, N. Podoliak, M. Kaczmarek, L. Jiang, and V. A. Fedotov
Metamaterials 2016, Crete, Greece, 17 - 22 Sep 2016
(invited) Cooperative effects in periodic and disordered metamaterial lattices
N. Papasimakis, S. Jenkins, J. Ruostekoski, V. A. Fedotov, F. A. Pinheiro, and N. I. Zheludev
FNM 2016, Tbilisi, Georgia, 5 Sep 2016
Novel liquid crystal-metamaterial hybrids with elasto-mechanical coupling
O. Buchnev, T. Frank, M. Kaczmarek, and V. A. Fedotov
26th International Liquid Crystal Conference (ILCC'16), Kent, OH, USA, 31 Jul - 5 Aug 2016
(invited) Exploiting the full potential of liquid crystals in tuneable and re-configurable metamaterials
O. Buchnev, T. Frank, N. Podoliak, M. Kaczmarek, L. Jiang, and V. A. Fedotov
International Conference on Optical, Optoelectronic and Photonic Materials and Applications 2016 (ICOOPMA'16), Montreal, Canada, 13-17 June 2016
(invited) Metamaterials as a platform to study localised and propagating toroidal excitations
T. A. Raybould, V. Savinov, N. Papasimakis, V. A. Fedotov, and N. I. Zheludev
CIMTEC 2016, Perugi, Italy, 5 - 9 June 2016
(invited) From coherent polarization control to chiral mirrors and perfect absorbers
E. Plum, S. A. Mousavi, J. Shi, V. A. Fedotov, K. F. MacDonald, and N. I. Zheludev
Exeter Microwave Metamaterials Meeting (XM3), Exeter, UK, 7 - 8 Dec 2015
(invited) Collective effects in ordered and disordered metasurfaces; applications in light localization and imaging
N. Papasimakis, S. Jenkins, S. Savo, J. Ruostekoski, V. A. Fedotov, N. I. Zheludev
Exeter Microwave Metamaterials Meeting (XM3), Exeter, UK, 7 - 8 Dec 2015
Ultra-smooth epitaxial gold/silver thin films for low-loss plasmonic metamaterials
T. Uchino, T. Koiwa, V. A. Fedotov, and, J. Y. Ou
Materials Research Society MRS 2015 Fall Meeting & Exhibit, Boston, MA, USA, 29 Nov - 4 Dec 2015
(poster) Toroidal excitations in space and matter
T. A. Raybould, V. A. Fedotov, N. Papasimakis, I. Youngs, and N. I. Zheludev
Defence & Security Doctoral Symposium, Cranfield, UK, 25 - 26 Nov 2015
Single-crystal silver thin films for low-loss plasmonic metamaterials
T. Koiwa, V. A. Fedotov, J. Y. Ou, and T. Uchino
JSAP-OSA Joint Symposia 2015, Nagoya, Japan, 13 - 16 Sep 2015
Chiral phenomena in toroidal metamaterials
T. A. Raybould, V. A. Fedotov, N. Papasimakis, I. Kuprov, I. Youngs, W. T. Chen, D. P. Tsai, and N. I. Zheludev
Metamaterials 2015, Oxford, UK, 7 - 12 Sep 2015
Propagating toroidal electromagnetic excitations and their interactions with metamaterials and nanostructures
T. A. Raybould, V. A. Fedotov, N. Papasimakis, I. Youngs, and N. I. Zheludev
Metamaterials 2015, Oxford, UK, 7 - 12 Sep 2015
(invited) Propagating and localized toroidal excitations in free space and metamaterials
N. I . Zheludev, V. A. Fedotov, N. Papasimakis, V. Savinov, T. A. Raybould, I. Youngs
SPIE Optics & Photonics 2015, San Diego, CA, USA, 9 - 13 Aug 2015
(invited) Unlocking the potential of liquid crystals as a functional component of active metamaterials
V. A. Fedotov, O. Buchnev, N. Podoliak, N. I. Zheludev, M. Kaczmarek, J. Wallauer and M. Walther
PIERS 2015, Prague, Czech Republic, 6 - 9 Jul 2015
(invited) Interrogating nanoparticles with focused doughnuts
T. A. Raybould, V. A. Fedotov, N. Papasimakis, I. Youngs, and N. I. Zheludev
PIERS 2015, Prague, Czech Republic, 6 - 9 Jul 2015
A new type of optical activity in a toroidal metamaterial
T. A. Raybould, V. A. Fedotov, N. Papasimakis, I. Youngs, W. T. Chen, D. P. Tsai, and N. I. Zheludev
PIERS 2015, Prague, Czech Republic, 6 - 9 Jul 2015
New enantiomeric phenomena in toroidal media
T. A. Raybould, V. A. Fedotov, N. Papsimakis, I. J. Youngs, W. T. Chen, D. P. Tsai, and N. I. Zheludev
CLEO/Europe-EQEC 2015, Munich, Germany 21 - 25 Jun 2015
A new type of optical activity in a toroidal metamaterial
T. A. Raybould, V. A. Fedotov, N. Papasimakis, I. Youngs, W. T. Chen, D. P. Tsai, and N. I. Zheludev
CLEO 2015, San Jose, CA, USA, 10 - 15 May 2015
Interrogating nanoparticles with focused doughnut pulses
T. A. Raybould, V. A. Fedotov, N. Papasimakis, I. Youngs, and N. I. Zheludev
Optical Wave and Waveguide Theory and Numerical Modelling Workshop, London, UK, 17 - 18 Apr 2015
(poster) Flying electromagnetic toroids: propagation properties and light-matter interactions
T. A. Raybould, V. A. Fedotov, N. Papasimakis, I. Youngs, N. I. Zheludev
Nanometa 2015, Seefeld, Austria, 5 - 8 Jan 2015
(invited) Metamaterials, toroids and flying donuts
N. I. Zheludev, V. A. Fedotov, T. A. Raybould, N. Papasimakis, V. Savinov and I. Youngs
IEEE Photonics Conference 2014, San Diego, CA USA, 12 - 16 Oct 2014
(invited) Toroidal metamaterials: resonant transparency and non-trivial non-radiating excitations
V. A. Fedotov, V. Savinov, A. V. Rogacheva, N. I. Zheludev
Photon14, London, 1 - 4 Sep 2014
Planar metamaterial as a wavevector selective surface
V. A. Fedotov, J. Wallauer, M. Walther, N. Papasimakis, N. I. Zheludev
Metamaterials'2014, Copenhagen, Denmark, 25 - 30 Aug 2014
Giant Kerr rotation enhancement in hybrid magneto-plasmonic metamaterials
E. Atmatzakis, N. Papasimakis, V. A. Fedotov, and N. I. Zheludev
Metamaterials'2014, Copenhagen, Denmark, 25 - 30 Aug 2014
(invited) Hybrid liquid crystal-loaded metamaterials for photonic applications
V. A. Fedotov
ICOOPMA 2014, Leeds, UK, 27 Jul - 01 Aug 2014
(tutorial) Introduction to metamaterials
V. A. Fedotov
Workshop & Young Scientists Forum, ICOOPMA 2014, Leeds, UK, 27 Jul - 01 Aug 2014
Tunable liquid crystal-based metamaterials for photonic applications
O. Buchnev, N. Podoliak, M. Kaczmarek, N. I. Zheludev and V. A. Fedotov
25th International Liquid Crystal Conference 2014, Dublin, Ireland, 29 Jun - 04 Jul 2014
(invited) Planar superconducting toroidal metamaterial: a source for oscillating vector-potential?
V. Savinov, K. Delfanazari, V. A. Fedotov and N. I. Zheludev
CLEO:2014, San Jose, CA, USA, 8 - 13 Jun 2014
Giant Kerr rotation enhancement in magneto-plasmonic metamaterials
E. Atmatzakis, N. Papasimakis, V. A. Fedotov, and N. I. Zheludev
CLEO:2014, San Jose, CA, USA, 8 - 13 Jun 2014
Giant sub-THz nonlinear response in superconducting metamaterial
V. Savinov, K. Delfanazari, V. A. Fedotov, and N. I. Zheludev
CLEO:2014, San Jose, CA, USA, 8 - 13 Jun 2014
Tunable liquid crystal-loaded metasurfaces for IR and THz applications
O. Buchnev, J. Wallauer, M. Walther, N. Podoliak, M. Kaczmarek, N. I. Zheludev and V. A. Fedotov
CLEO:2014, San Jose, CA, USA, 8 - 13 Jun 2014
Wavevector selective surface
V. A. Fedotov, J. Wallauer, M. Walther, N. Papasimakis, N. I. Zheludev, and E. Atmatzakis
CLEO:2014, San Jose, CA, USA, 8 - 13 Jun 2014
(poster) Interaction of flying electromagnetic doughnut with nanostructures
T. A. Raybould, N. Papasimakis, V. A. Fedotov, I. Youngs, and N. I. Zheludev
CLEO:2014, San Jose, CA, USA, 8 - 13 Jun 2014
(keynote) From plasmonic nanostructure, toroidal metamaterial, reflective metasurface to holographic metadevice
W. T. Chen, Y. W. Huang, P. C. Wu, C. Y. Liao, K. Y. Yang, H. T. Lin, V. A. Fedotov, G. Sun, S. Sun, L. Zhou, A. Q. Liu, N. I. Zheludev, D. P. Tsai
META'14, Singapore, 20 - 23 May 2014
(invited) Non-trivial non-radiating excitations and ultra-narrow resonances in toroidal metamaterials
V. A. Fedotov, V. Savinov, A. V. Rogacheva, and N. I. Zheludev
META'14, Singapore, 20 - 23 May 2014
Wavevector selective surfaces
V. A. Fedotov, J. Wallauer, M. Walther, N. Papasimakis, and N. I. Zheludev
META'14, Singapore, 20 - 23 May 2014
(invited) Controlling magnetism at the nanoscale with metamaterials
N. Papasimakis, E. Atmatzakis, A. Tsiatmas, V. A. Fedotov, B. Luk'yanchuk, F. Javier Garcia de Abajo, and Nikolay I. Zheludev
SPIE Photonics Europe, Brussels, Belgium, 14 - 17 Apr 2014
Active liquid crystal-loaded metasurfaces for THz and IR applications
O. Buchnev, J. Wallauer, M. Walther, N. Podoliak, M. Kaczmarek, N. I. Zheludev, and V. A. Fedotov
SPIE Photonics Europe, Brussels, Belgium, 14 - 17 Apr 2014
(invited) Liquid crystal metamaterials for THz and IR applications
O. Buchnev, J. Wallauer, M. Walther, N. Podoliak, M. Kaczmarek, N. I. Zheludev and V. A. Fedotov
Workshop on Soft Matter: Analysis, Applications and Challenges, Daejeon, Korea, 18 - 21 Mar 2014
Electrically controlled liquid crystal plasmonic metamaterials
O. Buchnev, J. Y. Ou, M. Kaczmarek, N. I. Zheludev, and V. A. Fedotov
Optics of Liquid Crystals 2013, Honolulu, Hawaii, 29 Sep - 4 Oct 2013
Switching near-IR metamaterial response with electrically-controlled liquid crystals
O. Buchnev, J. Y. Ou, M. Kaczmarek, N. I. Zheludev, and V. A. Fedotov
Conference on Liquid Crystals ECLC-2013, Rhodes, Greece, 22 - 27 Sep 2013
Electrically tunable liquid crystal plasmonic metamaterials
O. Buchnev, J. Y. Ou, M. Kaczmarek, N. I. Zheludev, and V. A. Fedotov
Metamaterials' 2013, Bordeaux, France, 16 - 19 Sep 2013
Non-radiating excitations, vector potential waves and toroidal metamaterials
V. A. Fedotov, V. Savinov, A.V. Rogacheva, D. P. Tsai, and N. I. Zheludev
Metamaterials' 2013, Bordeaux, France, 16 - 19 Sep 2013
Lossless light propagation in plasmonic metamaterials: spasers vs uncoupled quantum emitters
A. Chipouline, M. Dobynde, A. Fedyanin, V. A. Fedotov, J. Ruostekoski, S. Jenkins
Metamaterials' 2013, Bordeaux, France, 16 - 19 Sep 2013
Purcell effect and the role of coupling with nano-resonators in active plasmonic systems
A. Chipouline, A. Rogach, A. Susha, A. Csaki, J. Jatschka, A. Steinbruck, N. Janunts, M. Dobynde, W. X. Wang, V. A. Fedotov, W. Fritzsche, T. Pertsch
Metamaterials' 2013, Bordeaux, France, 16 - 19 Sep 2013
(invited) Active metamaterial hybrids based on electrically controlled liquid crystals
V. A. Fedotov
International conference on photorefractive effects, materials and devices (PR'13), Winchester, UK, 4 - 6 Sep 2013
Radiation-harvesting resonant superconducting sub-THz metamaterial bolometer
V. Savinov, V. A. Fedotov, P. A. J. de Groot, and N. I. Zheludev
CLEO/Europe - IQEC 2013, Munich, Germany, 12 - 16 May 2013
Electrically controlled liquid crystal plasmonic metamaterials
O. Buchnev, J. Y. Ou, M. Kaczmarek, N.I. Zheludev, and V. A. Fedotov
CLEO/Europe - IQEC 2013, Munich, Germany, 12 - 16 May 2013
Optical excitation of unipolar Tesla magnetic pulses in plasmonic nanostructures
E. Atmatzakis, A. Tsiatmas, N. Papasimakis, V. A. Fedotov, B. Luk'yanchuk, F. J. Garcia de Abajo, and N. I. Zheludev
CLEO/Europe - IQEC 2013, Munich, Germany, 12 - 16 May 2013
(poster) Non-radiating excitations, vector potential waves and toroidal metamaterials
V. Savinov, V.A. Fedotov, A.V. Rogacheva, D.P. Tsai, and N.I. Zheludev
CLEO/Europe - IQEC 2013, Munich, Germany, 12 - 16 May 2013
(invited) Tesla magnetic pulses by optical excitation of plasmonic nanostructures
E. Atmatzakis, A. Tsiatmas, N. Papasimakis, V. A. Fedotov, B. Luk'Yanchuk, J. G. de Abajo, and N. I. Zheludev
IPS Meeting 2013, Singapore, 4 - 6 Mar 2013
(invited) Superconducting metamaterial bolometer for harvesting the sub-THz radiation
V. A. Savinov, V. A. Fedotov, P. A. J. de Groot, and N. I. Zheludev
IPS Meeting 2013, Singapore, 4 - 6 Mar 2013
Generating Tesla Magnetic Pulses in Plasmonic Nanostructures
E. Atmatzakis, A. Tsiatmas, N. Papasimakis, V. A. Fedotov, B. Luk'yanchuk, J. G. de Abajo, and N. I. Zheludev
Nanometa 2013, Seefeld, Austria, 3 - 6 Jan 2013
Non-trivial non-radiating excitations and vector potential in toroidal metamaterials
V. A. Fedotov, A. V. Rogacheva, V. Savinov, D. P. Tsai, and N. I. Zheludev
Nanometa 2013, Seefeld, Austria, 3 - 6 Jan 2013
(poster) Electrically controlled liquid-crystal cell enhanced with plasmonic metamaterial
O. Buchnev, J. Y. Ou, M. Kaczmarek, N. I. Zheludev, V. A. Fedotov
Nanometa 2013, Seefeld, Austria, 3 - 6 Jan 2013
(poster) Radiation-harvesting sub-THz bolometer based on resonant superconducting metamaterial
V. Savinov, V. A. Fedotov, P. A. J. de Groot, N. I. Zheludev
Nanometa 2013, Seefeld, Austria, 3 - 6 Jan 2013
(invited) Superconducting metamaterial and plasmonics
V. A. Fedotov
European Doctoral School on Metamaterials, St. Petersburg, Russia, 21 - 22 Sep 2012
(invited) Plasmon-induced transparency and plasmonic toroidal lasing spaser in three-dimensional metamaterials
D. P. Tsai, W. T. Chen, P. C. Wu, C. T. Hsiao, K. Y. Yang, Y. W. Huang, C. Y. Liao, V. A. Fedotov, V. Savinov, and N. I. Zheludev
SPIE Congress, San Diego, USA, 12 - 16 Aug 2012
3D metamaterials: erected U-shaped nano-rings and plasmonic toroidal metamaterials at optical frequencies
W. T. Chen, P. C. Wu, Y. W. Huang, C. T. Hsiao, K. Yu Yang, C. Y. Liao, V. A. Fedotov, V. Savinov, N. I. Zheludev, and D. P. Tsai
E-MRS 2012 Symposium on Control of light at the nanoscale:materials, techniques and applications, Strasbourg, France, 14 - 18 May 2012
Toroidal photonic metamaterial
V. Savinov, V. A. Fedotov, W. T. Chen, Y. W. Huang, D. P. Tsai, D. Burckel, I. Brener, N. I. Zheludev
CLEO:2012, San Jose, United States, 06 - 11 May 2012
Flux exclusion quantum superconducting metamaterial
V. Savinov, A. Tsiatmas, A. Buckingham, V. A. Fedotov, P. de Groot, N. I. Zheludev
CLEO:2012, San Jose, United States, 06 - 11 May 2012
Electro-optical modulation of sub-terahertz radiation with superconducting metamaterial
V. Savinov, V. A. Fedotov, P. de Groot, N. I. Zheludev
CLEO:2012, San Jose, United States, 06 - 11 May 2012
(invited) Giant linear and nonlinear optical activity in metamaterials
E. Plum, M. Ren, V. A. Fedotov, J. Xu, N. I. Zheludev
META'12, Paris, France, 19 - 22 Apr 2012
(invited) A new way of reducing plasmonic losses
V. A. Fedotov, J. Y. Ou, N. I. Zheludev
META'12, Paris, France, 19 - 22 Apr 2012
Magnetic response of upright meta-molecules in optical region
D. P. Tsai, W. T. Chen, P. C. Wu, C. T. Hsiao, K. Y. Yang, Y. W. Huang, C. Y. Liao, S. Sun, C. J. Chen, L. Zhou, G. Y. Guo, V. A. Fedotov, V. Savinov, N. I. Zheludev
META'12, Paris, France, 19 - 22 Apr 2012
(keynote) Three-dimensional metamaterials: from nano bumps to erected U-shape nano-rings and toroidal metamaterials in optical region
D. P. Tsai, N. I. Zheludev, V. Savinov, V. A. Fedotov, H. G. Tsai, C. Y. Liao, K. S. Chung, Y. Z. Ho, L. C. Kuo, Y. J. Liu, H. W. Huang, Y.-W. Huang, K.-Y. Yang, C. T. Hsiao, S. Sun, B. H. Cheng, Y. L. Chen, P. C. Wu, C. M. Chang, M. L. Tseng, W. T. Chen
SPIE Photonics Europe, Brussels, Belgium, 16 - 19 Apr 2012
(invited) Alternative route to low-loss metamaterials and plasmonics
V. A. Fedotov
SPIE Photonics Europe, Brussels, Belgium, 16 - 19 Apr 2012
(poster) Electro-optical modulation of sub-terahertz radiation in a superconducting metamaterial
V. Savinov, V. A. Fedotov, P. A. J. de Groot, N. I. Zheludev
SPIE Photonics Europe, Brussels, Belgium, 16 - 19 Apr 2012
(poster) Toroidal plasmonic metamaterial
V. Savinov, W. T. Chen, Y.-W. Huang, V. A. Fedotov, D. P. Tsai, D. B. Burckel, I. Brener, N. I. Zheludev
SPIE Photonics Europe, Brussels, Belgium, 16 - 19 Apr 2012
(poster) Flux exclusion quantum superconducting metamaterial
V. Savinov, A. Tsiatmas, A. R. Buckingham, V. A. Fedotov, P. A. J. de Groot, N. I. Zheludev
SPIE Photonics Europe, Brussels, Belgium, 16 - 19 Apr 2012
(invited) Toroidal dipolar response in metamaterials: illusion or reality
V. A. Fedotov, T. Kaelberer, N. Papasimakis, A. V. Rogacheva, V. Savinov, and N. I. Zheludev
Metamaterials 2011, Barcelona, Spain, 10 - 15 Oct 2011
(invited) Realising tunable, quantum and low-loss metamaterials and plasmonics with superconductors
A. R. Buckingham, A. Tsiatmas, V. Savinov, V. A. Fedotov, P. A. J. de Groot, and N. I. Zheludev
Metamaterials 2011, Barcelona, Spain, 10 - 15 Oct 2011
Channelling plasmons in nanostructured superconducting wave-guides
A. Tsiatmas, A. R. Buckingham, V. A. Fedotov, F. Javier Garcia de Abajo, and N. I. Zheludev
Metamaterials 2011, Barcelona, Spain, 10 - 15 Oct 2011
Tuning trapped-mode resonances in a planar metamaterial
J. H. Shi, E. Plum, V. A. Fedotov, N. I. Zheludev
PIERS 2011, Suzhou, China, 12-16 Sep 2011
[PIERS Proceedings, 567 - 571 (2011) - pdf]
(invited) Intrinsic and extrinsic chirality in metamaterials
E. Plum, V. A. Fedotov, and N. I. Zheludev
PIERS 2011, Suzhou, China, 12-16 Sep 2011
(invited) Superconducting Metamaterials and Plasmonics
P.A.J. de Groot, A. R. Buckingham, V. Savinov, A. Tsiatmas, V. A. Fedotov, S. Wang, Y. Chen, and N. I. Zheludev
Vortex Matter in Nanostructured Superconductors, Rhodes, Greece, 10-17 Sep 2011
(plenary) Toroidal metamaterials
V. A. Fedotov, and N. I. Zheludev
YUCOMAT2011, Herceg Novi, Montenegro, 5-9 Sep 2011
(invited) Superconducting Plasmonics
A. Tsiatmas, A. R. Buckingham, V. A. Fedotov, and N. I. Zheludev
SPIE Optics & Photonics 2011, San Diego, CA, USA, 21-25 Aug 2011
Plasmonic toroidal response at optical frequencies
Y. W. Huang, W. T. Chen, P. C. Wu, Y. F. Chau, D. P. Tsai, V. A. Fedotov, V. Savinov, and N. I. Zheludev
SPIE Optics & Photonics 2011, San Diego, CA, USA, 21-25 Aug 2011
Coupling classic and quantum objects: from nano-laser to quantum metamaterials
A. Chipouline, V. A. Fedotov, A. E. Nikolaenko
Days on Diffraction 2011, St. Petersburg, Russia, May 30 - Jun 3 2011
Superconducting Analogue of Optical Plasmonic Waveguides
A. Tsiatmas, V. A. Fedotov, and N. I. Zheludev
CLEO/Europe - EQEC 2011, Munich, Germany, 22-26 May 2011
Demonstrating Elusive Toroidal Dipolar Response in Metamaterials
A. Tsiatmas, V. A. Fedotov, T. Kaelberer, N. Papasimakis, V. Savinov,A. Rogacheva, D. P. Ysai, and N. I. Zheludev
CLEO/Europe - EQEC 2011, Munich, Germany, 22-26 May 2011
Superconducting Plasmonics and Quantum Metamaterials
A. Tsiatmas, A. R. Buckingham, V. Savinov, V. A. Fedotov, P. A. J. de Groot, and N. I. Zheludev
SPP5, Busan, S. Korea, 15 -20 May 2011
(invited) Nanostructured photonic metamaterials: functionalities underpinned by metamolecular interactions
N. I. Zheludev, E. Plum, V. A. Fedotov, N. Papasimakis, and S. Savo
Las Vegas, NV, USA, 21 - 25 Apr 2011
(invited) Metamaterials: demonstrating Toroidal Moment in the Frame of Classical Electrodynamics
T. Kaelberer, V. A. Fedotov, N. Papasimakis, A. Rogacheva, and N. I. Zheludev
NANOMETA 2011, Seefeld, Austria, 3-6 Jan 2011
Towards quantum magnetic metamaterials
A. Chipouline, V. A. Fedotov
NANOMETA 2011, Seefeld, Austria, 3-6 Jan 2011
Superconducting plasmonics and metamaterials: from extraordinary transmission to Fano resonances
A. R. Buckingham, A. Tsiatmas, V. A. Fedotov, Y. Chen, P. A. J. de Groot, and N. I. Zheludev
NANOMETA 2011, Seefeld, Austria, 3-6 Jan 2011
Electromagnetic diode for circularly polarized waves
I. Shadrivov, V. A. Fedotov, D. Powell, Y. Kivshar, and N. I. Zheludev
NANOMETA 2011, Seefeld, Austria, 3-6 Jan 2011
Superconducting plasmonics: extraordinary transmission and Fano resonances
A. R. Buckingham, A. Tsiatmas, V. A. Fedotov, Y. Chen, P. A. J. de Groot, and N. I. Zheludev
CMMP 2010, Warwick University, UK, 14-16 Dec 2010
Superconducting plasmonics and extraordinary transmission
A. Tsiatmas, R. Buckingham, V. A. Fedotov, S. Wang, Y. Chen, P. A. J. de Groot, and N. I. Zheludev; [presenter: K. F. MacDonald]
Frontiers in Optics 2010, Rochester, NY, USA, 24 - 28 Oct 2010
Metamaterial optical diodes for linearly and circularly polarized light
E. Plum, V. A. Fedotov, and N. I. Zheludev; [presenter: K. F. MacDonald]
Frontiers in Optics 2010, Rochester, NY, USA, 24 - 28 Oct 2010
Superconducting plasmonics and extraordinary transmission
A. Tsiatmas, R. Buckingham, Vassili Fedotov, S. Wang, Y. Chen, Peter de Groot, and N. I. Zheludev
Metamaterials'2010, Karlsruhe, Germany, 13 - 16 Sep 2010
(poster) A combinatorial approach to metamaterials discovery
E. Plum, K. Tanaka, W. T. Chen, V. A. Fedotov, D. P. Tsai, and N.I. Zheludev; [presenter: E. T. F. Rogers]
Metamaterials'2010, Karlsruhe, Germany, 13 - 16 Sep 2010
Toroidal moments in electromagnetic metamaterials
T. Kaelberer, N. Papasimakis, V. A. Fedotov, and N. I Zheludev
Photon 10, Southampton, UK, 23 - 26 Aug 2010
(poster) Asymmetric transmission as a generic property of periodically structured interfaces
E. Plum, V. A. Fedotov, and N. I. Zheludev
Photon 10, Southampton, UK, 23 - 26 Aug 2010
(invited) Intrinsic and extrinsic 2D chirality in metamaterials: an easy route to asymmetric transmission
E. Plum, V. A. Fedotov, and N. I. Zheludev
Metamaterials: Fundamentals and Applications III, San Diego, CA, USA, 01 - 05 Aug 2010
(invited) High-Tc superconducting metamaterials
V. A. Fedotov, J. H. Shi, A. Tsiatmas, Y. Chen, P. de Groot, and N. I. Zheludev
SPIE Optics & Photonics, San Diego, CA, USA, 01 - 05 Aug 2010
(invited) Nonlinear and switchable photonic metamaterials
N. I. Zheludev, V. A. Fedotov, and K. F. MacDonald
Photonic Metamaterials and Plasmonics (META), Tucson, AZ, USA, 07 - 10 Jun 2010
Fano resonances in high-Tc superconducting metamaterials
V. A. Fedotov, J. Shi, A. Tsiatmas, P. de Groot, Y. Chen, and N. I. Zheludev
CLEO/QELS 2010, San Jose, CA, USA, 16 - 21 May 2010
Metamaterials: the search for toroidal moments
T. Kaelberer, N. Papasimakis, V. A. Fedotov, and N. I. Zheludev
SPIE Photonics Europe 2010, Brussels, Belgium, 12 - 16 Apr 2010
Surface waves in metamaterial lattices: high-Q resonances and Wood's anomalies
N. Papasimakis, V. A. Fedotov, and N. I. Zheludev
SPIE Photonics Europe 2010, Brussels, Belgium, 12 - 16 Apr 2010
High-Tc superconducting metamaterial
V. A. Fedotov, J.-H. Shi, A. Tsiatmas, P. J. de Groot, Y. Chen, and N. I. Zheludev
SPIE Photonics Europe 2010, Brussels, Belgium, 12 - 16 Apr 2010
(invited) Nonlinear and switchable photonic metamaterials
N. I. Zheludev, V. A. Fedotov, and K. F. MacDonald
XIXth International Workshop on Optical Waveguide Theory and Numerical Modelling, Cambridge, UK, 09 - 10 Apr 2010
(keynote) Nonlinear and switchable plasmonic metamaterials
N. I. Zheludev, A. Nikolaenko, K. F. MacDonald, V. A. Fedotov, D. W. Hewak, G. Adamo, Z. Sámson, E. Plum, D. P. Tsai, E. Difabrizio, and F. De Angelis
Progress in Electromagnetics Research Symposium (PIERS 2010), Xi'an, China, 22 - 26 Mar 2010
(invited) Fano resonances and collective effects in metamaterials
N. Papasimakis, V. A. Fedotov, and N. I. Zheludev
META'10 2nd International Conference on Metamaterials, Photonic crystals and Plasmonics, Cairo, Egypt, 22 - 25 Feb 2010
(invited) Metamaterials - from modeling and fabrication to application
N. I. Zheludev, V. A. Fedotov, N. Papasimakis, E. Plum, and J. Shi
2009 MRS Fall Meeting, Boston, Massachusetts, USA, 30 Nov - 04 Dec 2009
Coherent meta-magnetics: collective resonances and disorder-induced transitions
N. Papasimakis, V. A. Fedotov, Y. H. Fu, D. P. Tsai, and N. I. Zheludev
ICO-Photonics, Delphi, Greece, 07 - 09 Oct 2009
(keynote) Coherent metamaterials
N. I. Zheludev, V. A. Fedotov, E. Plum, and N. Papasimakis
Metamaterials 2009 Congress, London, UK, 30 Aug - 04 Sep
(invited) Tunable chirality in photonic metamaterials
E. Plum, V. A. Fedotov, X.-X. Liu, and N. I. Zheludev; [presenter: K. F. MacDonald]
Metamaterials: Fundamentals and Applications II, San Diego, CA, USA, 02 - 06 Aug 2009
(invited) Mimicking EIT, BEC, ferromagnetism, the Mössbauer and the Bunn effects in photonic metamaterials
N. Papasimakis, E. Plum, V. A. Fedotov, and N. I. Zheludev
ICMAT 2009, Singapore, 28 Jun - 03 Jul 2009
Tuning chirality in photonic metamaterials with semiconductor quantum dots
E. Plum, X.-X. Liu, V. A. Fedotov, Y. Chen, D. P. Tsai, and N. I. Zheludev
CLEO/Europe-EQEC, Munich, Germany, 14 - 19 Jun 2009
Metamaterial analogue of the Mössbauer effect
V. A. Fedotov, N. Papasimakis, A. Bitzer, M. Walther, and N. I. Zheludev
CLEO/Europe-EQEC, Munich, Germany, 14 - 19 Jun 2009
(invited) Planar metamaterials: beyond negative index
V. A. Fedotov and N. I. Zheludev
Microwave and Optical Applications of Novel Phenomena and Technologies,
16th International Student Seminar (ISS-16), Oulu, Finland, 08 - 10 Jun 2009
(keynote) Twisting the double-helix of light with metamaterials
E. Plum, V. A. Fedotov, and N. I. Zheludev
Electrical, Transport and Optical Properties of Inhomogeneous Media (ETOPIM) 8, Rethymnon, Crete, Greece, 07-12 Jun 2009
(invited) Coherent metamaterials: from "optical ferromagnetism" to the lasing spaser
N. Papasimakis, V. A. Fedotov, and N. I. Zheludev
CLEO/IQEC 09, Baltimore, Maryland, USA, 31 May - 05 Jun 2009
Optical activity in achiral metamaterials
E. Plum, X.-X. Liu, V. A. Fedotov, Y. Chen, D. P. Tsai, and N. I. Zheludev
IQEC 09, Baltimore, Maryland, USA, 31 May - 05 Jun 2009
(poster) Chiral metamaterials with negative refractive index
J. Zhou, B. Wang, E. Plum, T. Koschny, V. A. Fedotov, H.-T. Chen, A. J. Taylor, J. O'Hara, N. I. Zheludev and C. Soukoulis
International Workshop on Electromagnetic Metamaterials III, Los Alamos, New Mexico, USA, 18 - 19 May 2009
(invited) Coherent and incoherent metamaterials
N. I. Zheludev, N. Papasimakis, and V. A. Fedotov
NANOMETA 2009, Seefeld, Austria, 5-8 Jan 2009
Gyrotropy in photonic metamaterials due to extrinsic chirality
E. Plum, X.-X. Liu, V. A. Fedotov, Y. Chen, D. P. Tsai and N. I. Zheludev
NANOMETA 2009, Seefeld, Austria, 5-8 Jan 2009
(poster) Subwavelength localization of light on double-periodic nanowire metamaterials
T. S. Kao, F. M. Huang, V. A. Fedotov, and N. I. Zheludev
NANOMETA 2009, Seefeld, Austria, 5-8 Jan 2009
(invited) Planar metamaterials: beyond negative index
V. A. Fedotov and N. I. Zheludev
Metamaterials and Special Materials for Electromagnetic Applications and Telecommunications (MMSM08), Naples, Italy, 18 - 19 Dec 2008
Optical activity without chirality: a new way to negative index metamaterials
E. Plum, V. A. Fedotov, and N. I. Zheludev
Plasmonics and Metamaterials (META), Rochester, New York, USA, 20 - 23 Oct 2008
Testing the controversies of toroidal electrodynamics using metamaterials
N. Papasimakis, K. Marinov, V. A. Fedotov, A. D. Boardman, and N. I. Zheludev
Plasmonics and Metamaterials (META), Rochester, New York, USA, 20 - 23 Oct 2008
(poster) Negative refraction in 3-d-chiral metamaterial
E. Plum, J. Zhou, J. Dong, V. A. Fedotov, T. Koschny, C. M. Soukoulis, and N. I. Zheludev
Plasmonics and Metamaterials (META), Rochester, New York, USA, 20 - 23 Oct 2008
(invited) Metamaterials enter the physics playground: from EIT to lasing spaser
V. A. Fedotov, N. Papasimakis, E. Plum, S. L. Prosvirnin, and N. I. Zheludev
Metamaterials 2008, Pamplona, Spain, 23 - 26 Sep 2008
Electron beam lithography for high density meta fish scale operational at optical frequency
Y. Chen, A. S. Schwanecke, V. A. Fedotov, V. V. Khardikov, P. L. Mladyonov, S. L. Prosvirnin, A.V. Rogacheva, N. I. Zheludev and E. Huq
Micro and Nano Engineering 2008 (MNE2008), Athens, Greece, 15 - 18 Sep 2008
(invited) Photonic planar metamaterials: spectral selectivity, magnetic mirrors, optical activity and asymmetric transmission
V. A. Fedotov and N. I. Zheludev
Photonics Prague 2008, Prague, Czech Republic, 27 - 29 Aug 2008
Asymmetric transmission through planar chiral photonic nanostructures
E. Plum, A. S. Schwanecke, V. A. Fedotov, N. I. Zheludev, Y. Chen, V. V. Khardikov, and S. L. Prosvirnin
IoP Quantum Electronics and Photonics Conference (QEP-18), Edinburgh, UK, 26 - 29 Aug 2008
Optical activity in toroidal metamaterials
N. Papasimakis, V. A. Fedotov, K. Marinov, A. D. Boardman, and N. I. Zheludev
IoP Quantum Electronics and Photonics Conference (QEP-18), Edinburgh, UK, 26 - 29 Aug 2008
(poster) Coherent metamaterials and the lasing spaser
N. I. Zheludev, S. L. Prosvirnin, N. Papasimakis, and V. A. Fedotov
IoP Quantum Electronics and Photonics Conference (QEP-18), Edinburgh, UK, 26 - 29 Aug 2008
(poster) Nanohole array as a lens
F. M. Huang, V. A. Fedotov, T. S. Kao, Y. Chen, and N. I. Zheludev; [presenter: A. I. Denisyuk]
IoP Quantum Electronics and Photonics Conference (QEP-18), Edinburgh, UK, 26 - 29 Aug 2008
(invited) Imaging with a nanohole array
F. M. Huang, T. S. Kao, V. A. Fedotov, and N. I. Zheludev
SPIE Plasmonics: Nanoimaging, Nanofabrication, and Their Applications IV, San Diego, CA, USA, 10 - 14 Aug 2008
(invited) Lasing spaser
N. I. Zheludev, S. L. Prosvirnin, N. Papasimakis, and V. A. Fedotov
SPIE Plasmonics: Metallic Nanostructures and Their Optical Properties VI, San Diego, CA, USA, 10 - 13 Aug 2008
Slow light in "zero thickness" metamaterials
N. Papasimakis, V. A. Fedotov, S. L. Prosvirnin, and N. I. Zheludev
Slow and Fast Light, Boston, MA, USA, 13 - 16 Jul 2008
(invited) Planar photonic metamaterials - the new elemental base of nanophotonic devices
N. I. Zheludev and V. A. Fedotov
CIMTEC 2008, Acireale, Italy, 08 - 13 Jun 2008
(invited) Coherent meta-materials and the lasing spaser
N. I. Zheludev, S. L. Prosvirnin, N. Papasimakis, and V. A. Fedotov
IEEE COMCAS 2008, Tel Aviv, Israel, 13 - 14 May 2008
(invited) Trapped-mode resonances in isotropic planar metamaterials
S. L. Prosvirnin, V. A. Fedotov, S. Zouhdi, and N. I. Zheludev
META'08 NATO Advanced Research Workshop on Metamaterials for Secure Information and Communication Technologies, Marrakesh, Morocco, 07 - 10 May 2008
Optical magnetism in chiral meta-materials
V. A. Fedotov, E. Plum, C. Soukoulis, and N. I. Zheludev
META'08 NATO Advanced Research Workshop on Metamaterials for Secure Information and Communication Technologies, Marrakesh, Morocco, 07 - 10 May 2008
Asymmetric transmission through chiral symmetry breaking in planar metamaterials
E. Plum, V. A. Fedotov, and N. I. Zheludev
QELS, San Jose, USA, 4 - 9 May 2008
3-d-chiral metamaterial with artificial magnetic response
E. Plum, J. Dong, J. Zhou, V. A. Fedotov, T. Koschny, C. Soukoulis, and N. I. Zheludev
QELS, San Jose, USA, 4 - 9 May 2008
(invited) Close-mode resonances in metamaterials and lasing spaser
N. I. Zheludev, V. A. Fedotov, N. Papasimakis, E. Plum, and S. L. Prosvirnin
Photonics Europe (SPIE Europe), Strasbourg, France, 7 - 11 Apr 2008
Nano-hole array as a lens
F. M. Huang, V. A. Fedotov, T. S. Kao, and N. I. Zheludev
Photonics Europe (SPIE Europe), Strasbourg, France, 7 - 11 Apr 2008
(invited) Optical superresolution through super-oscillations
F. M. Huang, V. A. Fedotov, Y. Chen, F. J. Garcia de Abajo, and N. I. Zheludev
Progress In Electromagnetics Research Symposium (PIERS), Hangzhou, China, 24 - 28 Mar 2008
(invited) Coherent meta-materials and the lasing spaser
N. I. Zheludev, N. Papasimakis, V. A. Fedotov, and S. L. Prosvirnin
6th International Workshop on Nanophotonics, Taipei, Taiwan, 11 Mar 2008
(invited) Long pulse delays; a planar metamaterial analog of EIT
N. Papasimakis, V. A. Fedotov, N. I. Zheludev, and S. L. Prosvirnin
6th International Workshop on Nanophotonics, Taipei, Taiwan, 11 Mar 2008
(invited) Planar and layered chiral meta-surfaces
V. A. Fedotov, E. Plum, A. S. Schwanecke, Y. Chen, V. V. Khardikov, S. L. Prosvirnin, and N. I. Zheludev
Metamaterials 2007: First International Congress on Advanced Electromagnetic Materials in Microwaves and Optics, Rome, Italy, 22 - 26 Oct 2007
(invited) Plasmon resonances in photonic chiral metamaterials
N. I. Zheludev, V. A. Fedotov, A. S. Schwanecke, E. Plum, N. Papasimakis, and K. Marinov
Frontiers in Optics 2007, San Jose, CA, USA, 16 - 20 Sep 2007
(keynote) Chirality in photonic meta-materials
N. I. Zheludev, V. A. Fedotov, M. Rose, N. Papasimakis, and S. L. Prosvirnin
Photonic Metamaterials at SPIE Optics and Photonics Congress, San Diego, USA, 26 - 30 Aug 2007
Metamaterials with giant optical activity
V. A. Fedotov, E. Plum, A. S. Schwanecke, Y. Chen, and N. I. Zheludev
CLEO/Europe-IQEC2007, Munich, Germany, 17 - 22 Jun 2007
Long pulse delays in thin metamaterial slabs
N. Papasimakis, V. A. Fedotov, S. L. Prosvirnin, and N. I. Zheludev
CLEO/Europe-IQEC2007, Munich, Germany, 17 - 22 Jun 2007
Achieving sharp resonances in metamaterials through symmetry breaking
V. A. Fedotov, M. Rose, N. Papasimakis, S. L. Prosvirnin, and N. I. Zheludev
CLEO/Europe-IQEC2007, Munich, Germany, 17 - 22 Jun 2007
Enantiomericly sensitive plasmons
V. A. Fedotov, A. S. Schwanecke, E. Plum, N. I. Zheludev, V. V. Khardikov, and S. L. Prosvirnin
Surface Plasmon Photonics SPP-3, Dijon, France, 17 - 22 Jun 2007
Metamaterial analog of electromagnetically induced transparency
N. Papasimakis, V. A. Fedotov, S. L. Prosvirnin, and N. I. Zheludev
Photonic Metamaterials: From Random to Periodic, Jackson Hole, Wyoming, USA, 04 - 07 Jun 2007
Photonic chiral metamaterials
V. A. Fedotov, E. Plum, A. S. Schwanecke, Y. Chen, V. V. Khardikov, S. L. Prosvirnin, and N. I. Zheludev
Photonic Metamaterials: From Random to Periodic, Jackson Hole, Wyoming, USA, 04 - 07 Jun 2007
Electromagnetic properties of double-periodic planar chiral array
V. A. Fedotov, N. I. Zheludev, P. L. Mladyonov, and S. L. Prosvirnin
DAYS on DIFFRACTION-2007, St. Petersburg, Russia, 29 May - 01 Jun 2007
(invited) Planar meta-materials for future nano-photonics devices
V. A. Fedotov and N. I. Zheludev
ICONO/LAT 2007, Minsk, Belarus, 28 May - 01 Jun 2007
"Slow" light in media of "zero" dimension
N. Papasimakis, V. A. Fedotov, S. L. Prosvirnin, and N. I. Zheludev
QELS (CLEO/QELS 2007), Baltimore, MD, USA, 06 - 11 May 2007
Achieving sharp resonances in metamaterials via engaging "closed-modes"
V. A. Fedotov, M. Rose, N. Papasimakis, S. L. Prosvirnin, and N. I. Zheludev
QELS (CLEO/QELS 2007), Baltimore, MD, USA, 06 - 11 May 2007
Chiral photonic metamaterial
V. A. Fedotov, E. Plum, Y. Chen, A. S. Schwanecke, and N. I. Zheludev
QELS (CLEO/QELS 2007), Baltimore, MD, USA, 06 - 11 May 2007
(invited) Negatively refracting uniaxial toroidal metamaterial
K. Marinov, A. Boardman, V. A. Fedotov, and N. I. Zheludev
NANOMETA 2007, Seefeld, Austria, 09 - 11 Jan 2007
(poster) "Slow" light in planar metamaterials
N. Papasimakis, V. A. Fedotov, S. L. Prosvirnin, and N. I. Zheludev
NANOMETA 2007, Seefeld, Austria, 09 - 11 Jan 2007
Asymmetric transmission of light through a planar chiral metamaterial
A. S. Schwanecke, V. A. Fedotov, N. I. Zheludev, V. V. Khardikov, S. L. Prosvirnin, and Y. Chen
NANOMETA 2007, Seefeld, Austria, 09 - 11 Jan 2007
(poster) Giant microwave and optical gyrotropy in bilayered chiral metamaterials
V. A. Fedotov, E. Plum, Y. Chen, A. S. Schwanecke, and N. I. Zheludev
NANOMETA 2007, Seefeld, Austria, 09 - 11 Jan 2007
Achieving sharp spectral resonances in metamaterials via engaging 'closed modes'
V. A. Fedotov, M. Rose, N. Papasimakis, S. L. Prosvirnin and N. I. Zheludev
NANOMETA 2007, Seefeld, Austria, 09 - 11 Jan 2007
(poster) The ultimate departure from geometrical optics: vortex optical field around plasmonic nanoparticle
M. V. Bashevoy, V. A. Fedotov, and N. I. Zheludev
QEP-17 at Photon06, Manchester, UK, 4 - 7 Sep 2006
Asymmetric transmission of light through a planar chiral meta-material
V. A. Fedotov, P. L. Mladyonov, S. L. Prosvirnin , A. V. Rogacheva, Y. Chen, and N. I. Zheludev
QEP-17 at Photon06, Manchester, UK, 4 - 7 Sep 2006
(poster) Optical magnetic mirror
A. Schwanecke, Y. Chen, V. Fedotov, V. Khardikov, S. Prosvirnin, and N. Zheludev
QEP-17 at Photon06, Manchester, UK, 4 - 7 Sep 2006
Giant gyrotropy in bi-layered chiral structures
A. V. Rogacheva, V. A. Fedotov, A. S. Schwanecke, and N. I. Zheludev
QEP-17 at Photon06, Manchester, UK, 4 - 7 Sep 2006
Extraordinary transmission through planar quasicrystal
F. J. García de Abajo, V. A. Fedotov, N. Papasimakis, A. S. Schwanecke, Y. Chen, and N. I. Zheludev
QEP-17 at Photon06, Manchester, UK, 4 - 7 Sep 2006
Extraordinary light transmission through quasicrystal arrays of holes in a metal film
F. J. García de Abajo, Y. Chen, V. A. Fedotov, N. Papasimakis, A. S. Schwanecke, and N. I. Zheludev
SPIE Optics and Photonics 2006, Complex Photonic Media (NP201), San Diego, CA, USA, 13 - 17 Aug 2006
Giant gyrotropy in bi-layered chiral structures
A. V. Rogacheva, V. A. Fedotov, A. S. Schwanecke, and N. I. Zheludev
SPIE Optics and Photonics 2006, Complex Photonic Media (NP201), San Diego, CA, USA, 13 - 17 Aug 2006
(invited) Asymmetric propagation of light through planar chiral metamaterials
N. I. Zheludev, V. A. Fedotov, and S. L. Prosvirnin
SPIE Optics and Photonics 2006, Complex Photonic Media (NP201), San Diego, CA, USA, 13 - 17 Aug 2006
(invited) Nanostructured surfaces as photonic band structures of zero dimension
N. I. Zheludev, V. A. Fedotov, A. S. Schwanecke, and Y. Chen
SPIE Optics and Photonics 2006, Plasmonics: Metallic Nanostructures and their Optical Properties IV (NP204), San Diego, CA, USA, 13 - 17 Aug 2006
Optical whirlpools on resonant metal nanostructures
M. V. Bashevoy, V. A. Fedotov, and N. I. Zheludev
SPIE Optics and Photonics 2006, Nanomodeling II (NP210), San Diego, CA, USA, 13 - 17 Aug 2006
Extraordinary light transmission through quasicrystal arrays of holes in a metal film
F. J. García de Abajo, Y. Chen, V. A. Fedotov, N. Papasimakis, A. S. Schwanecke, N. I. Zheludev
Photonic Metamaterials: From Random to Periodic, Grand Island, The Bahamas, 5 - 8 Jun 2006
Optical magnetic mirror
A. S. Schwanecke, Y. Chen, V. A. Fedotov, V. V. Khardikov, P. L. Mladyonov, S. L. Prosvirnin, A. V. Rogacheva and N. I. Zheludev
CLEO / QELS 2006, Long Beach, California, USA, 21 - 26 May 2006
Nanostructured metal as optical magnetic wall
A. S. Schwanecke, Y. Chen, V. A. Fedotov, A. V. Rogacheva, P. L. Mladyonov, S. L. Prosvirnin, and N. I. Zheludev
2006 NSTI Nanotech / Conference on Nano Electronics & Photonics, Boston, Massachusetts, USA, 7 - 11 May 2006
(post-deadline) "Invisible" quasi-periodic array of subwavelength apertures in metal screen
A. S. Schwanecke, N. Papasimakis, V. A. Fedotov, F. M. Huang, Y. Chen, F. J. García de Abajo, and N. I. Zheludev
Nanophotonics Topical Meeting (NANO) at IPRA/NANO OSA Collocated Topical Meetings, Uncasville, CT, USA, 24 - 28 Apr 2006
Magnetic mirror on optical frequency
A. S. Schwanecke, Y. Chen, V. A. Fedotov, V. V. Khardikov, P. L. Mladyonov, S. L. Prosvirnin, A. V. Rogacheva and N. I. Zheludev
Nanophotonics Topical Meeting (NANO) at IPRA/NANO OSA Collocated Topical Meetings, Uncasville, CT, USA, 24 - 28 Apr 2006
Giant gyrotropy in layered chiral structures
A. Rogacheva, V. Fedotov, A. Schwanecke, and N. Zheludev
Third Workshop on Metamaterials and Special Materials for Electromagnetic Applications and TLC, Rome, Italy, 30 - 31 Mar 2006
Nano-structured planar meta-materials, a new paradigm for photonics
V. A. Fedotov, A. S. Schwanecke, and N. I. Zheludev
Physics Research and the New Parliament, Special Reception for Younger Physicists at the House of Commons, London, England, 15 Nov 2005
'Miracle' mirror that does not change the phase of reflected wave
V. A. Fedotov, A. V. Rogacheva, A. S. Schwanecke, P. L. Mladyonov, S. L. Prosvirnin, Y. Chen, and N. I. Zheludev; [presenter: K. F. MacDonald]
LEOS 2005 / 18th International Meeting of the IEEE Laser and Electro-Optics Society, Sydney, Australia, 23 - 27 Oct 2005
(invited) Nonlinear Optics of Nanoscale Structural Transformations
N. I. Zheludev, K. F. MacDonald, B. F. Soares, A. V. Krasavin, V. A. Fedotov, and M. V. Bashevoy
LEOS 2005 / 18th International Meeting of the IEEE Laser and Electro-Optics Society, Sydney, Australia, 23 - 27 Oct 2005
(invited) Planar chiral meta-materials
N. I. Zheludev, A. S. Schwanecke, A. V. Krasavin, V. A. Fedotov, S. L. Prosvirnin, and A. V. Zayats
SPIE International Congress on Optics and Optoelectronics, Warsaw, Poland, 28 Aug - 02 Sep 2005
[Proc. of SPIE 5955-11]
Nonradiating toroidal structures
A. D. Boardman, K. Marinov, N. I. Zheludev, and V. A. Fedotov
SPIE International Congress on Optics and Optoelectronics, Warsaw, Poland, 28 Aug - 02 Sep 2005
[Proc. of SPIE 5955-04]
(invited) Nanowatt nanosecond nanophotonics
N. I. Zheludev, B. F. Soares, K. F. MacDonald, and V. A. Fedotov
Plasmonics: Metallic Nanosctructures and their Optical Properties III at Photonics 2005, San Diego (CA), USA, 31 Jul - 4 Aug 2005
[Proc. of SPIE 5927-02]
Active switching of SPP signals using nanoscale structural transformations
A. V. Krasavin, K. F. MacDonald, A. V. Zayats, V. A. Fedotov, and N. I. Zheludev
Plasmonics: Metallic Nanosctructures and their Optical Properties III at Photonics 2005, San Diego (CA), USA, 31 Jul - 4 Aug 2005
[Proc. of SPIE 5927-60]
Optical properties and geometrical chirality of 2D nano-patterns and their ensembles
A. S. Schwanecke, A. V. Krasavin, Y. Chen, V. A. Fedotov, and N. I. Zheludev
Complex Mediums VI: Light and Complexity at Optics at Photonics 2005, San Diego (CA), USA, 31 Jul - 4 Aug 2005
[Proc. of SPIE 5924-25]
Mirror which does not reverse the electric field
V. A. Fedotov, A. V. Rogacheva, S. L. Prosvirnin, A. S. Schwanecke, Y. Chen, and N. I. Zheludev
Workshop on Metamaterials for Microwave and Optical Technologies, San Sebastian, Spain, 18 - 20 Jul 2005
Optical whirlpool near absorbing metallic nanoparticle
M. V. Bashevoy, V. A. Fedotov, and N. I. Zheludev
Workshop on Metamaterials for Microwave and Optical Technologies, San Sebastian, Spain, 18 - 20 Jul 2005
(invited) Nanowatt photonics of structural transformations in a single nanoparticle
K. F. MacDonald, B. F. Soares, V. A. Fedotov, M. V. Bashevoy, and N. I. Zheludev
IQEC/CLEO-PR 2005, Tokyo, Japan, 11 - 15 Jul 2005
(invited) A single nanoparticle as a femtojoule photonic switch and optical memory element
B. F. Soares, K. F. MacDonald, M. Bashevoy, V. A. Fedotov, and N. I. Zheludev
Surface Plasmon Photonics 2, Graz, Austria, 21 - 26 May 2005
(invited) 3N: Nanowatt nanosecond nanophotonics
B. Soares, K. MacDonald, V. Fedotov , A. Krasavin, M. Bashevoi, and N. Zheludev
International Conference on Coherent and Nonlinear Optics (ICONO/LAT 2005), St. Petersburg, Russia, 11 - 15 May 2005
Single nanoparticle as photonic switch and optical memory element
B. F. Soares, K. F. MacDonald, V. A. Fedotov, M. Bashevoy, and N. I. Zheludev
Nanophotonics for Information Systems Topical Meeting (NPIS), San Diego (CA), USA, 13 - 15 Apr 2005
[CD Technical Digest, NWA3]