ORC Nanophotonics & Metamaterials Group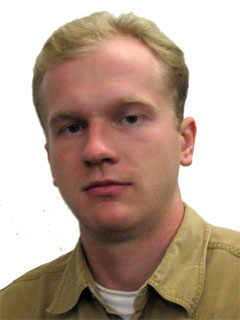 < Back to People ...
This web-page has been archived and is out-of-date.
Dr. Andrey I. Denisyuk
Project
Nanophotonics under electron microscope
Short CV
Andrey Denisyuk graduated from Saint-Petersburg State University of Information Technology, Mechanics and Optics (ITMO) in 2005, where he was awarded a master degree. Since October 2005 he has been a PhD student in the University of Southampton.
Articles (2006-2011)
Transmitting Hertzian optical nanoantenna with free-electron feed
A. I. Denisyuk, G. Adamo, K. F. MacDonald, J. Edgar, M. D. Arnold, V. Myroshnychenko, J. Ford, F. J. García de Abajo, and N. I. Zheludev
Nano Lett. 10, 3250 (2010) doi: 10.1021/nl1002813 - free access
Towards femtojoule nanoparticle phase-change memory
A. I. Denisyuk, K. F. MacDonald, F. J. García de Abajo, and N. I. Zheludev
Jpn. J. Appl. Phys. 48, 03A065 (2009) doi: 10.1143/JJAP.48.03A065

Luminescence readout of nanoparticle phase state
A. I. Denisyuk, F. Jonsson, K. F. MacDonald, N. I. Zheludev, and F. J. García de Abajo
Appl. Phys. Lett. 92, 093112 (2008) doi: 10.1063/1.2890483 - pdf
Conference Contributions (2006-2011)
Mapping localized plasmon modes in metal nanoparticles via electron energy loss spectroscopy and cathodoluminescence
V. Myroshnychenko, J. Garcia de Abajo, G. Boudarham, J. Nelayah, O. Stephan, M. Kociak, C. Colliex, A. I. Denisyuk, G. Adamo, N. I. Zheludev, J. Rodriguez-Fernandez, L. Maximilians, E. Carbo-Argibay, L. M. Liz-Marzan
SPIE Optics & Photonics 2011, San Diego, CA, USA, 21-25 Aug 2011
(poster) Emission hotspots in complex metal nanostructures
A. I. Denisyuk, G. Adamo, K. F. MacDonald, N. I. Zheludev, B. Rodríguez-González, I. Pastoriza-Santos, M. Spuch-Calvar, L. M. Liz-Marzán, M. D. Arnold, M. J. Ford, and F. J. García de Abajo
NANOMETA 2009, Seefeld, Austria, 5-8 Jan 2009
(poster) High-density nanoparticle phase change memory
A. I. Denisyuk, K. F. MacDonald, and N. I. Zheludev
IoP Quantum Electronics and Photonics Conference (QEP-18), Edinburgh, UK, 26 - 29 Aug 2008
(poster) Nanohole array as a lens
F. M. Huang, V. A. Fedotov, T. S. Kao, Y. Chen, and N. I. Zheludev; [presenter: A. I. Denisyuk]
IoP Quantum Electronics and Photonics Conference (QEP-18), Edinburgh, UK, 26 - 29 Aug 2008
Towards femto-joule nanoparticle phase-change optical memory
A. I. Denisyuk, K. F. MacDonald, and N. I. Zheludev
ISOM/ODS'08: International Symposium on Optical Memory / Optical Data Storage, Waikoloa, Hawaii, USA, 13 - 17 Jul 2008
Cathodoluminescence readout of high-density nanoparticle phase change memory
A. I. Denisyuk, K. F. MacDonald, and N. I. Zheludev; [presenter: E. Plum]
QELS, San Jose, USA, 4 - 9 May 2008
(invited) Nanophotonics under the electron microscope
K. F. MacDonald, A. I. Denisyuk, F. Jonsson, B. F. Soares, M. V. Bashevoy, and N. I. Zheludev
6th International Workshop on Nanophotonics, Taipei, Taiwan, 11 Mar 2008
(invited) Hyperspectral cathodoluminescent imaging of plasmonic excitations with nanoscale resolution
N. I. Zheludev, M. Bashevoy, A. Denisyuk, and F. Jonsson
Plasmonics: Nanoimaging, Nanofabrication, and their Applications III at SPIE Optics and Photonics Congress, San Diego, USA, 26 - 30 Aug 2007
(poster) Phase-change memory functionality in gallium nanoparticles
A. I. Denisyuk, F. Jonsson, and N. I. Zheludev
8th International Congress on Optical Particle Characterization (OPC 2007), Graz, Austria, 09 - 13 Jul 2007
Optical size control in growth of gallium nanoparticles
A. I. Denisyuk, F. Jonsson, and N. I. Zheludev
8th International Congress on Optical Particle Characterization (OPC 2007), Graz, Austria, 09 - 13 Jul 2007
Phase-change memory functionality in Gallium nanoparticles
A. I. Denisyuk, F. Jonsson and N. I. Zheludev
CLEO/Europe (CLEO/Europe-IQEC2007), Munich, Germany, 17 - 22 Jun 2007
Hyperspectral imaging of gold dimers
M. Bashevoy, F. Jonsson and N. I. Zheludev; [presenter: A. I. Denisyuk]
CLEO/Europe (CLEO/Europe-IQEC2007), Munich, Germany, 17 - 22 Jun 2007
Cathodoluminescence read-out of the structural phase of gallium nanoparticles
A. I. Denisyuk, F. Jonsson, and N. I. Zheludev
ICONO/LAT 2007, Minsk, Belarus, 28 May - 01 Jun 2007
Electron Beam Excitation of Plasmonic Modes in Gold Dimers
M. Bashevoy, F. Jonsson, N. I. Zheludev, F. J. García de Abajo, I. Pastoriza-Santos and L. M. Liz Marzán; [presenter: A. I. Denisyuk]
ICONO/LAT 2007, Minsk, Belarus, 28 May - 01 Jun 2007
Optimization of optical size control in gallium nanoparticle growth
A. I. Denisyuk, F. Jonsson, and N. I. Zheludev
ICONO/LAT 2007, Minsk, Belarus, 28 May - 01 Jun 2007
Dynamic structural equilibrium in self-assembled nanoparticles at the fiber tip: probing with second harmonic generation
B. F. Soares, F. Jonsson, K. F. MacDonald, A. I. Denisyuk, and N. I. Zheludev
QEP-17 at Photon06, Manchester, UK, 4 - 7 Sep 2006
(poster) Nonlinear optical interactions in mixed-state metal nanoparticles undergoing a structural transformation
B. F. Soares, F. Jonsson, K. F. MacDonald, A. I. Denisyuk, and N. I. Zheludev
SPIE Optics and Photonics 2006, Plasmonics: Metallic Nanostructures and their Optical Properties IV (NP204), San Diego, CA, USA, 13 - 17 Aug 2006
(invited) Nanophotonics under a scanning electron microscope: studying resonator-less all-optical switching and memory functionality in Gallium nanoparticles
K. F. MacDonald, M. V. Bashevoy, A. I. Denisyuk, F. Jonsson, B. F. Soares, and N. I. Zheludev
CLEO / QELS 2006, Long Beach, California, USA, 21 - 26 May 2006