ORC Nanophotonics & Metamaterials Group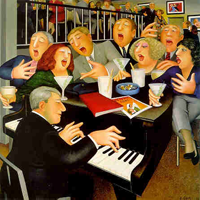 Main Publications
See also the collection of talks and conference contributions, link.
---
Latest Press Coverage

'Optical oracle' could quickly solve complex computing problems
Phys Org, Mar 2014 - link

Photonics and Metamaterials Mission
Japan Newsletter, Mar 2014 - link

Trends in Optics
Photonics Spectra, Jan 2014 - link

Lasing spaser in two-dimensional plasmonic crystals
NPG Asia Materials, Nov 2013 - link

A meta-diffraction-grating for visible light
europhysicsnews Highlights, Oct 2013 - link

Exotic optics: Metamaterial world
Nature: News Feature, Aug 2013 - link

Electrical signals dictate optical properties
Nanotechnology Now, Mar 2013 - link

Electrical Signals Dictate Optical Properties
Science Daily, Mar 2013 - link
More towards the bottom of this page.
---
Preprints
Some of the following articles also have preprint versions deposited at arXiv.org to be retrieved with this link.
Articles - 2014
Articles - 2013
Articles - 2012
Articles - 2011
Articles - 2010
Articles - 2009
Articles - 2008
Articles - 2007
All change, please
N. Zheludev
Nature Photonics 1(10), 551-553 (2007) - pdf
Sharp trapped-mode resonances in planar metamaterials with a broken structural symmetry
V. A. Fedotov, M. Rose, S. L. Prosvirnin, N. Papasimakis, and N. I. Zheludev
Phys. Rev. Lett. 99, 147401 (2007) pdf
Toroidal metamaterial
K. Marinov, A. D. Boardman, V. A. Fedotov, and N. Zheludev
New J. Phys. 9, 324 (2007) - pdf
Hyperspectral imaging of plasmonic nanostructures with nanoscale resolution
M. V. Bashevoy, F. Jonsson, K. F. MacDonald, Y. Chen, and N. I. Zheludev
Opt. Express 15(18), 11313-11320 (2007) - pdf
Resetting single nanoparticle structural phase with nanosecond pulses
B. F. Soares, K. F. MacDonald, and N. I. Zheludev
Appl. Phys. Lett. 91, 043115 (2007) - pdf


[additionally part of the Virtual Journal of Nanoscale Science & Technology 16(7) (2007),

link

]

Enhanced microwave transmission through quasicrystal hole arrays
N. Papasimakis, V. A. Fedotov, A. S. Schwanecke, N. I. Zheludev, and F. J. Garcia de Abajo
Appl. Phys. Lett. 91, 081503 (2007) - pdf
Optical super-resolution through super-oscillations
F. M. Huang, Y. Chen, F. J. Garcia de Abajo, and N. I Zheludev1
J. Opt. A 9, S285-S288 (2007) - pdf
Optical modulation of surface plasmon polariton coupling in a gallium/aluminium composite
K. F. MacDonald, A. V. Krasavin, and N. I. Zheludev
Opt. Commun. 278(1), 207-210 (2007) - pdf
Asymmetric transmission of light and enantiomerically sensitive plasmon resonance in planar chiral nanostructures
V. A. Fedotov, A. S. Schwanecke, N. I. Zheludev, V. V. Khardikov, and S. L. Prosvirnin
Nano Lett. 7(7), 1996-1999 (2007) - pdf
The plasmon Talbot effect
M. R. Dennis, N. I. Zheludev, and F. J. Garcia de Abajo
Opt. 15(15), 9692-9700 (2007) - pdf
Giant optical gyrotropy due to electromagnetic coupling
E. Plum, V. A. Fedotov, A. S. Schwanecke, N. I. Zheludev, and Y. Chen
Appl. Phys. Lett. 90, 223113 (2007) - pdf


[additionally part of the Virtual Journal of Nanoscale Science & Technology 15(23) (2007),

link

]

On the aromagnetism and anapole moment of anthracene nanocrystals
V. A. Fedotov, K. Marinov, A. D. Boardman, and N. I. Zheludev
New J. Phys. 9, 95 (2007) - pdf
Fabrication of diffraction-encoded micro-particles using nano-imprint lithography
S. Banu, S. Birtwell, G. Galitonov, Y. Chen, N. Zheludev, and H. Morgan
J. Micromech. Microeng. 17, S116-S121 (2007) - pdf
All-optical phase-change memory in a single gallium nanoparticle
B. F. Soares, F. Jonsson, and N. I. Zheludev
Phys. Rev. Lett. 98, 153905 (2007) - pdf
The life and times of the LED - a 100-year history
N. Zheludev
Nature Photonics 1(4), 189-192 (2007) - pdf
Focusing of light by a nanohole array
F. M. Huang, N. Zheludev, Y. Chen, and F. J. Garcia de Abajo
Appl. Phys Lett. 90, 091119 (2007) - pdf


[additionally part of the Virtual Journal of Nanoscale Science & Technology 15(11) (2007),

link

]

Optical magnetic mirrors
A. S. Schwanecke, V. A. Fedotov, V. V. Khardikov, S. L. Prosvirnin, Y. Chen, and N. I. Zheludev
J. Opt. A 9(1), L1-L2 (2007) - pdf
The magical land between the kingdoms of Nano and Meta
N. I. Zheludev and E. Ozbay
J. Opt. A 9(1), E1-E2 (2007) - pdf
Active plasmonics
A. V. Krasavin, K. F. MacDonald, and N. I. Zheludev as part of
Nanophotonics with surface plasmons
Eds. V. Shalaev, S. Kawata; Elsevier Science (2007), ISBN 978-0-444-52838-4
Articles - 2006
Photospin-orbit coupling in photonic structures
F. Jonsson and C. Flytzanis
Phys. Rev. Lett. 97, 193903 (2006) - pdf
Polymorphic nanoparticles as all-optical memory elements
B. F. Soares, M. V. Bashevoy, F. Jonsson, K. F. MacDonald, and N. I. Zheludev
Opt. 14(22), 10652 (2006) - pdf


[additionally part of the Virtual Journal of Nanoscale Science & Technology 14(24) (2006),

link

]

Giant gyrotropy due to electromagnetic-field coupling in a bilayered chiral structure
A. V. Rogacheva, V. A. Fedotov, A. S. Schwanecke, and N. I. Zheludev
Phys. Rev. Lett. 97, 177401 (2006) - pdf


[additionally part of the Virtual Journal of Nanoscale Science & Technology 14(19) (2006),

link

]

Asymmetric propagation of electromagnetic waves through a planar chiral structure
V. A. Fedotov, P. L. Mladyonov, S. L. Prosvirnin, A. V. Rogacheva, Y. Chen, and N. I. Zheludev
Phys. Rev. Lett. 97, 167401 (2006) - pdf


[additionally part of the Virtual Journal of Nanoscale Science & Technology 14(18) (2006),

link

]

Particles for use as a solid support and process for their preparation
H. Morgan, D. C. Neylon, P. Roach, N. Zheludev, G. Cavalli-Petraglia, and G. S. Galitonov
International Patent Application No. PCT/GB2005/004681 (2006) - pdf
Harmonic passive mode-locking of a single-frequency semiconductor laser submitted to nonlinear optical feedback
C. Guignard, P. Besnard, A. Mihaescu, and N. I. Zheludev
IEEE J. Quantum Electron. 42(12), 1185-1195 (2006) - pdf
Multiplicative measure of planar chirality for 2D metamaterials
S. Boruhovich, S. L. Prosvirnin, A. S. Schwanecke, and N. I. Zheludev
Proc. Eur. Microw. Assoc. 2(1), 89-93 (2006) - pdf
Gallium/Aluminium nano-composite material for nonlinear optics and nonlinear plasmonics
K. F. MacDonald, A. V. Krasavin, A. S. Schwanecke, and N. I. Zheludev
Appl. Phys. Lett. 89(3), 031118 (2006) - pdf


[additionally part of the Virtual Journal of Nanoscale Science & Technology 14(6) (2006),

link

]

Broken enantiomeric symmetry for electromagnetic waves interacting with planar chiral nanostructures
M. Reichelt, S. W. Koch, A. V. Krasavin, J. V. Moloney, A. S. Schwanecke, T. Stroucken, E. M. Wright, and N. I. Zheludev
Appl. Phys. B 84(1-2), 97-101 (2006) - doi
Generation of traveling surface plasmon waves by free-electron impact
M. V. Bashevoy, F. Jonsson, A. V. Krasavin, N. I. Zheludev, Y. Chen, and M. I. Stockman
Nano Lett. 6(6), 1113-1115 (2006) - pdf
Controlling light with light via structural transformations in metallic nanoparticles
K. F. MacDonald, B. F. Soares, M. V. Bashevoy, and N. I. Zheludev
IEEE J. Sel. Top. Quant. 12(3), 371-376 (2006) - pdf
Optical parametric interactions in distributed magneto-optical Bragg gratings
F. Jonsson and C. Flytzanis
J. Nonlinear Opt. Phys. 15(1), 113-139 (2006) - pdf
Extraordinary properties of light transmission through a small chiral hole in a metallic screen
A. V. Krasavin, A. S. Schwanecke, and N. I. Zheludev
J. Opt. A 8(4), S98-S105 (2006) - pdf
Single nanoparticle as photonic switch and optical memory element
N. I. Zheludev
J. Opt. A 8(4), S1-S8 (2006) - pdf
Breeding new science by coupling photons with 'nano'
N. Zheludev, M. Stockman, and A. Zayats
J. Opt. A 8(4), editorial (2006)
Mirror that does not change the phase of reflected wave
V. A. Fedotov, S. L. Prosvirnin, A. V. Rogacheva, and N. I. Zheludev
Appl. Phys. Lett. 88, 091119 (2006) - pdf
Nonlinear magneto-optical Bragg gratings
F. Jonsson and C. Flytzanis
Phys. Rev. Lett. 96, 063902 (2006) - pdf
High capacity tagging using nanostructured diffraction barcodes
G. S. Galitonov, S. W. Birtwell, N. I. Zheludev, and H. Morgan
Opt. 14(4), 1382-1387 (2006) - pdf
Articles - 2005
Articles - 2004
Wavelength dependent birefringence of surface plasmon polaritonic crystals
J. Elliott, I. I. Smolyaninov, N. I. Zheludev, and A. V. Zayats
Phys. Rev. B 70(23), 233403 (2004) - pdf


[additionally part of the Virtual Journal of Nanoscale Science & Technology 10(1) (2004),

link

]

Controlling the coexistence of structural phases and the optical properties of gallium nanoparticles with optical excitation
K. F. MacDonald, V. A. Fedotov, S. Pochon, G. Stevens, F. V. Kusmartsev, and N. I. Zheludev
Eur. Phys. Lett. 67(4), 614-619 (2004) - pdf
High-contrast modulation of light with light by control of surface plasmon polariton wave coupling
A. V. Krasavin, K. F. MacDonald, A. V. Zayats, and N. I. Zheludev
Appl. Phys. Lett. 85(16), 3369-3371 (2004) - pdf
Phase coexistence in gallium nanoparticles controlled by electron excitation
S. Pochon, K. F. MacDonald, R. J. Knize, and N. I. Zheludev
Phys. Rev. Lett. 92(14), 145702 (2004) - pdf


[additionally part of the Virtual Journal of Nanoscale Science & Technology 9(16) (2004),

link

]

Active Plasmonics: controlling signals in Au/Ga waveguide using nanoscale structural transformations
A. V. Krasavin and N. I. Zheludev
Appl. Phys. Lett. 84(8), 1416-1418 (2004) - pdf
Planar chiral metamaterials for optical applications
A. Potts, A. Papakostas, D. M. Bagnall, and N. I. Zheludev
Microelectron. Eng. 73-74, 367-371 (2004) - pdf
Polarization control of optical transmission of a periodic array of elliptical holes in a metal film
J. Elliot, I. I. Smolyaninv, N. I. Zheludev, and A. V. Zayats
Opt. Lett. 29, 1414-1416 (2004) - pdf
A new model of geometric chirality for two-dimensional continuous media and planar metamaterials
A. Potts, D. M. Bagnall, and N. I. Zheludev
J. Opt. A 6(2), 193-203 (2004) - pdf
Optical properties of closely packed nanoparticle films: spheroids and nanoshells
V. A. Fedotov, V. I. Emelyanov, K. F. MacDonald, and N. I. Zheludev
J. Opt. A 6(2), 155-160 (2004) - pdf
Phase matched second harmonic generation from nanostructured metallic surfaces
N. I. Zheludev and V. I. Emelyanov
J. Opt. A 6(1), 26-28 (2004) - pdf
Books
Singular and Chiral Nanoplasmonics
Svetlana V. Boriskina and N. I. Zheludev
Pan Stanford Publishing, Singapore (2014)
ISBN 978-9-8146-1317-0 - link - preface
Tutorials in Complex Photonic Media
M. A. Noginov, G. Dewar, M. W. McCall, and N. I. Zheludev
SPIE Press, Bellingham, Washington (2009)
ISBN 978-0-8194-7773-6 - contents
Polarization of Light in Nonlinear Optics
Y. P. Svirko and N. I. Zheludev
John Wiley & Sons, Chichester, New York, Weinheim, Brisbane, Singapore, Toronto (1998)
ISBN 0-471-97640-7
Susceptibility Tensors for Nonlinear Optics
S. V. Popov, Y. P. Svirko, and N. I. Zheludev
Institute of Physics Publishers, Bristol, Philadelphia (1995)
ISBN 0-7503-0253-4
Encyclopedia of Material Tensors on CD
S. V. Popov, Y. P. Svirko, and N. I. Zheludev
John Wiley & Sons (1999)
Press Coverage