ORC Nanophotonics & Metamaterials Group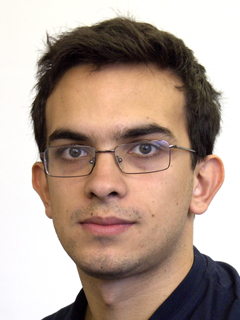 < Back to People ...
This web-page has been archived and is out-of-date.
Dr. Bruno Flávio N. de S. Soares
Project
Photonics of structural transformations in a single nanoparticle
Short CV
Bruno Flávio Soares obtained his "Licenciatura em Física" from the Department of Physics of Porto University, Portugal, in 2002. He then joined Southampton University where he is working towards his PhD.
Personal homepage
n/a
Articles (2004-2008)
Conference Contributions (2004-2008)
(invited) Nanophotonics under the electron microscope
K. F. MacDonald, A. I. Denisyuk, F. Jonsson, B. F. Soares, M. V. Bashevoy, and N. I. Zheludev
6th International Workshop on Nanophotonics, Taipei, Taiwan, 11 Mar 2008
All-optical switch and memory element based on a single nanoparticle
B. F. Soares, F. Jonsson, and N. I. Zheludev
NFO-9, Lausanne, Switzerland, 10 - 15 Sep 2006
A nanoparticle as a bit of optical memory
B. F. Soares, M. V. Bashevoy, K. F. MacDonald, F. Jonsson, and N. I. Zheludev
QEP-17 at Photon06, Manchester, UK, 4 - 7 Sep 2006
Nonlinear plasmonics in a gallium/aluminium nano-composite
K. F. MacDonald, A. V. Krasavin, B. F. Soares, M. V. Bashevoy, F. Jonsson, and N. I. Zheludev
QEP-17 at Photon06, Manchester, UK, 4 - 7 Sep 2006
Dynamic structural equilibrium in self-assembled nanoparticles at the fiber tip: probing with second harmonic generation
B. F. Soares, F. Jonsson, K. F. MacDonald, A. I. Denisyuk, and N. I. Zheludev
QEP-17 at Photon06, Manchester, UK, 4 - 7 Sep 2006
(poster) Nonlinear optical interactions in mixed-state metal nanoparticles undergoing a structural transformation
B. F. Soares, F. Jonsson, K. F. MacDonald, A. I. Denisyuk, and N. I. Zheludev
SPIE Optics and Photonics 2006, Plasmonics: Metallic Nanostructures and their Optical Properties IV (NP204), San Diego, CA, USA, 13 - 17 Aug 2006
(invited) Nanophotonics under a scanning electron microscope: studying resonator-less all-optical switching and memory functionality in Gallium nanoparticles
K. F. MacDonald, M. V. Bashevoy, A. I. Denisyuk, F. Jonsson, B. F. Soares, and N. I. Zheludev
CLEO / QELS 2006, Long Beach, California, USA, 21 - 26 May 2006
Nanoparticle optical memory function
B. F. Soares, M. V. Bashevoy, K. F. MacDonald, F. Jonsson, and N. I. Zheludev
2006 NSTI Nanotech / Conference on Nano Electronics & Photonics, Boston, Massachusetts, USA, 7 - 11 May 2006
Resonator-less optical memory in nanoparticles
B. F. Soares, M. Bashevoy, K. F. MacDonald, F. Jonsson, and N. I. Zheludev; [presenter: A. S. Schwanecke]
Nanophotonics Topical Meeting (NANO) at IPRA/NANO OSA Collocated Topical Meetings, Uncasville, CT, USA, 24 - 28 Apr 2006
(invited) Nonlinear Optics of Nanoscale Structural Transformations
N. I. Zheludev, K. F. MacDonald, B. F. Soares, A. V. Krasavin, V. A. Fedotov, and M. V. Bashevoy
LEOS 2005 / 18th International Meeting of the IEEE Laser and Electro-Optics Society, Sydney, Australia, 23 - 27 Oct 2005
(invited) Nanowatt nanosecond nanophotonics
N. I. Zheludev, B. F. Soares, K. F. MacDonald, and V. A. Fedotov
Plasmonics: Metallic Nanosctructures and their Optical Properties III at Photonics 2005, San Diego (CA), USA, 31 Jul - 4 Aug 2005
[Proc. of SPIE 5927-02]
(invited) Nanowatt photonics of structural transformations in a single nanoparticle
K. F. MacDonald, B. F. Soares, V. A. Fedotov, M. V. Bashevoy, and N. I. Zheludev
IQEC/CLEO-PR 2005, Tokyo, Japan, 11 - 15 Jul 2005
(invited) A single nanoparticle as a femtojoule photonic switch and optical memory element
B. F. Soares, K. F. MacDonald, M. Bashevoy, V. A. Fedotov, and N. I. Zheludev
Surface Plasmon Photonics 2, Graz, Austria, 21 - 26 May 2005
Single nanoparticle as photonic switch and optical memory element
B. F. Soares, K. F. MacDonald, V. A. Fedotov, M. Bashevoy, and N. I. Zheludev
Nanophotonics for Information Systems Topical Meeting (NPIS), San Diego (CA), USA, 13 - 15 Apr 2005
[CD Technical Digest, NWA3]
Nanowatt photonics of structural transformations in a single nanoparticle
K. F. MacDonald, B. F. Soares, and N. I. Zheludev
Photon '04 / QEP-16, Glasgow, UK, 6 - 9 Sep 2004
Controlling the optical properties of a single nanoparticle at nanowatt power levels
B. F. Soares, K. F. MacDonald, and N. I. Zheludev
CLEO / IQEC 2004, San Francisco, USA, 16 - 21 May 2004