ORC Nanophotonics & Metamaterials Group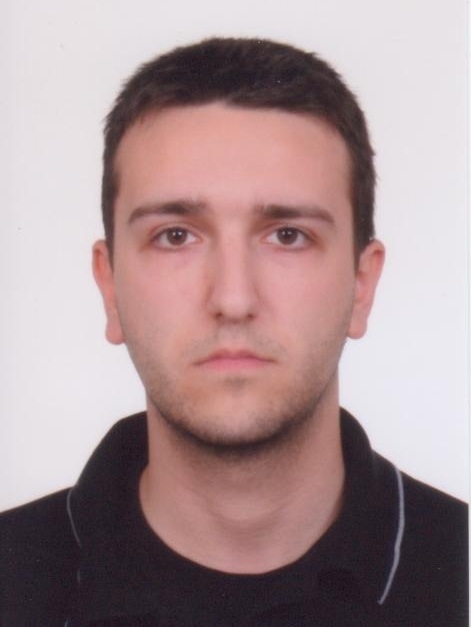 < Back to People ...
This web-page has been archived and is out-of-date.
Mr. Evangelos Atmatzakis
Project
Photonic Metamaterials
Short CV
Evangelos Atmatzakis recieved his Diploma in Electrical and Computer Engineering from the Aristotle University of Thessaloniki in 2010. He is currently a PhD student with the Optoelectronics Research Centre at the University of Southampton.
Articles
Conference Contributions
Giant Kerr rotation enhancement in hybrid magneto-plasmonic metamaterials
E. Atmatzakis, N. Papasimakis, V. A. Fedotov, and N. I. Zheludev
Metamaterials'2014, Copenhagen, Denmark, 25 - 30 Aug 2014
Giant Kerr rotation enhancement in magneto-plasmonic metamaterials
E. Atmatzakis, N. Papasimakis, V. A. Fedotov, and N. I. Zheludev
CLEO:2014, San Jose, CA, USA, 8 - 13 Jun 2014
Wavevector selective surface
V. A. Fedotov, J. Wallauer, M. Walther, N. Papasimakis, N. I. Zheludev, and E. Atmatzakis
CLEO:2014, San Jose, CA, USA, 8 - 13 Jun 2014
(invited) Controlling magnetism at the nanoscale with metamaterials
N. Papasimakis, E. Atmatzakis, A. Tsiatmas, V. A. Fedotov, B. Luk'yanchuk, F. Javier Garcia de Abajo, and Nikolay I. Zheludev
SPIE Photonics Europe, Brussels, Belgium, 14 - 17 Apr 2014
Optical excitation of unipolar Tesla magnetic pulses in plasmonic nanostructures
E. Atmatzakis, A. Tsiatmas, N. Papasimakis, V. A. Fedotov, B. Luk'yanchuk, F. J. Garcia de Abajo, and N. I. Zheludev
CLEO/Europe - IQEC 2013, Munich, Germany, 12 - 16 May 2013
(invited) Tesla magnetic pulses by optical excitation of plasmonic nanostructures
E. Atmatzakis, A. Tsiatmas, N. Papasimakis, V. A. Fedotov, B. Luk'Yanchuk, J. G. de Abajo, and N. I. Zheludev
IPS Meeting 2013, Singapore, 4 - 6 Mar 2013
Generating Tesla Magnetic Pulses in Plasmonic Nanostructures
E. Atmatzakis, A. Tsiatmas, N. Papasimakis, V. A. Fedotov, B. Luk'yanchuk, J. G. de Abajo, and N. I. Zheludev
Nanometa 2013, Seefeld, Austria, 3 - 6 Jan 2013
Terahertz bandwidth optical nonlinearity of graphene metamaterial
A. E. Nikolaenko, E. Atmatzakis, N. Papasimakis, Z. Luo, Z. X. Shen, S. Boden, P. Ashburn, and N. I. Zheludev
CLEO:2012, San Jose, United States, 06 - 11 May 2012
THz bandwidth light-with-light modulation in graphene metamaterial
A. Nikolaenko, E. Atmatzakis, N. Papasimakis, Z. Luo, Z. X. Shen, F. De Angelis, E. Di Fabrizio, N. I. Zheludev
META'12, Paris, France, 19 - 22 Apr 2012
(poster) Ultrafast nonlinearity of graphene metamaterial
A. Nikolaenko, E. Atmatzakis, N. Papasimakis, Z. Luo, Z. X. Shen, F. De Angelis, E. Di Fabrizio, N. I. Zheludev
SPIE Photonics Europe, Brussels, Belgium, 16 - 19 Apr 2012