ORC Nanophotonics & Metamaterials Group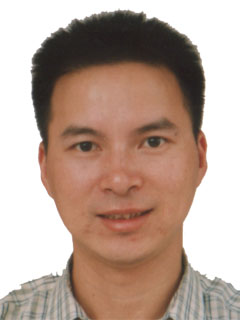 < Back to People ...
This web-page has been archived and is out-of-date.
Dr. Fu Min Huang
Project
Metamaterials / Photonics Nanostructures
Short CV
Dr Fu Min Huang is a Research Fellow at the Nanophotonics Portfolio Centre, School of Physics and Astronomy, University of Southampton. He was awarded a MSc by Peking University, China in 1997. He received a PhD degree from the University of London, King's College in 2005. His expertise is in Scanning Near-field Optical Microscopy and Raman Spectroscopy.
Personal homepage
n/a
Articles (2006-2010)
Conference Contributions (2006-2010)
Superresolution without evanescent fields
F. M. Huang, T. S. Kao, and N. I. Zheludev
CLEO/Europe-EQEC, Munich, Germany, 14 - 19 Jun 2009
Optical superresolution without evanescent waves
F. M. Huang and N. I. Zheludev
NANOMETA 2009, Seefeld, Austria, 5-8 Jan 2009
(poster) Subwavelength localization of light on double-periodic nanowire metamaterials
T. S. Kao, F. M. Huang, V. A. Fedotov, and N. I. Zheludev
NANOMETA 2009, Seefeld, Austria, 5-8 Jan 2009
Nanolithography for metallic quasi crystals for nanobio applications
Y. Chen, F. M. Huang, A. S. Schwanecke , N. I. Zheludev and E. Huq
Micro and Nano Engineering 2008 (MNE2008), Athens, Greece, 15 - 18 Sep 2008
(poster) Nanohole array as a lens
F. M. Huang, V. A. Fedotov, T. S. Kao, Y. Chen, and N. I. Zheludev; [presenter: A. I. Denisyuk]
IoP Quantum Electronics and Photonics Conference (QEP-18), Edinburgh, UK, 26 - 29 Aug 2008
(invited) Imaging with a nanohole array
F. M. Huang, T. S. Kao, V. A. Fedotov, and N. I. Zheludev
SPIE Plasmonics: Nanoimaging, Nanofabrication, and Their Applications IV, San Diego, CA, USA, 10 - 14 Aug 2008
Nano-hole array as a lens
F. M. Huang, V. A. Fedotov, T. S. Kao, and N. I. Zheludev
Photonics Europe (SPIE Europe), Strasbourg, France, 7 - 11 Apr 2008
(invited) Optical superresolution through super-oscillations
F. M. Huang, V. A. Fedotov, Y. Chen, F. J. Garcia de Abajo, and N. I. Zheludev
Progress In Electromagnetics Research Symposium (PIERS), Hangzhou, China, 24 - 28 Mar 2008
(invited) Far-field subwavelength focusing and extraordinary transmission of light by a quasi-periodic array of nanoholes
F. M. Huang, A. S. Schwanecke, N. Papasimakis, Y. Chen, F. J. Garcia de Abajo, and N. I. Zheludev
Metamaterials 2007: First International Congress on Advanced Electromagnetic Materials in Microwaves and Optics, Rome, Italy, 22 - 26 Oct 2007
(invited) Sub-wavelength localizations of light through optical super-oscillations
N. I. Zheludev, F. M. Huang, Y. Chen, and F. J. Garcia de Abajo
Plasmonics: Metallic Nanostructures and their Optical Properties V at SPIE Optics and Photonics Congress, San Diego, USA, 26 - 30 Aug 2007
(invited) Lensless focusing with subwavelength resolution by an array of nanoholes
F. M. Huang, Y. Chen, F. J. Garcia de Abajo, and N. I. Zheludev
CLEO/Europe (CLEO/Europe-IQEC2007), Munich, Germany, 17 - 22 Jun 2007
(invited) Optical super-oscillations as a way to sub-wavelength localizations of light without evanescent waves
F. M. Huang, Y. Chen, F. J. Garcia de Abajo, and N. I. Zheludev
Surface Plasmon Photonics SPP-3, Dijon, France, 17 - 22 Jun 2007
(invited) Far-field subwavelength focusing of light and plasmons by the Talbot effect
F. M. Huang, M. Dennis, F. J. Garcia de Abajo, and N. I. Zheludev
Photonic Metamaterials: From Random to Periodic, Jackson Hole, Wyoming, USA, 04 - 07 Jun 2007
(invited) Subwavelength focusing of light without evanescent waves by an array of nanoholes
F. M. Huang, Y. Chen, F. J. Garcia de Abajo, and N. I. Zheludev
QELS (CLEO/QELS 2007), Baltimore, MD, USA, 06 - 11 May 2007
(invited) Focusing of light by a single nano-hole and nano-hole arrays
N. I. Zheludev and F. M. Huang
Condensed Matter and Materials Physics 2007, Leicester, UK, 12 - 13 Apr 2007
(invited) Light localization in quasi-periodic nano-photonics carpets
N. I. Zheludev, F. M. Huang, Y. Chen, and F. J. Garcia de Abajo
Progress in Electromagnetics Research Symposium (PIERS), Beijing, China, 26 - 30 March 2007
(invited) Focusing of light by a nano-hole array
N. I. Zheludev, F. M. Huang, and F. J. Garcia de Abajo
NANOMETA 2007, Seefeld, Austria, 09 - 11 Jan 2007
Focusing of light by a nano-hole array
F. M. Huang, Y. Chen, F. J. García de Abajo, and N. Zheludev - manuscript in PDF format
Frontiers in Optics at 90th OSA Annual Meeting, New York, USA, 8 - 12 Oct 2006
Quasi-periodic arrays of subwavelength holes in a metal screen: Self-imaging in the near-field and far-field extraordinary transmission
F. M. Huang, A. S. Schwanecke, N. Papasimakis, Y. Chen, F. J. García de Abajo, and N. I. Zheludev
NFO-9, Lausanne, Switzerland, 10 - 15 Sep 2006
(post-deadline) "Invisible" quasi-periodic array of subwavelength apertures in metal screen
A. S. Schwanecke, N. Papasimakis, V. A. Fedotov, F. M. Huang, Y. Chen, F. J. García de Abajo, and N. I. Zheludev
Nanophotonics Topical Meeting (NANO) at IPRA/NANO OSA Collocated Topical Meetings, Uncasville, CT, USA, 24 - 28 Apr 2006