ORC Nanophotonics & Metamaterials Group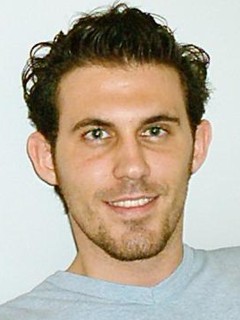 < Back to People ...
This web-page has been archived and is out-of-date.
Dr. Giorgio Adamo
Project
Nanophotonics (detailed title tbd)
Short CV
Giorgio Adamo received his PhD in 2011 from the Optoelectronics Research Centre at the University of Southampton and his MSc in 2005 from Politecnico di Milano and KTH, Royal Institute of Technology (Stockholm). Between 2005 and 2007 he was a researcher for Pirelli Labs (at CoreCom) in Milan. Since October 2011 he is a Research Fellow at the Optoelectronics Research Centre after being awarded the EPSRC PhD Prize to continue studying nanoscale light sources driven by free-electron beams.
Personal homepage
n/a
Articles
Optical Metrology of Sub-Wavelength Objects Enabled by Artificial Intelligence
C. R. Barraza, E. A. Chan, G. Yuan, G. Adamo, T. Pu, N. I. Zheludev
arXiv:2005.04905 (2020) - arXiv
Plasmono-atomic interactions on a fiber tip
E. A. Chan, G. Adamo, S. A. Aljunid, M. Ducloy, N. I. Zheludev and D. Wilkowski
Appl. Phys. Lett. 116, 183101 (2020) doi: 10.1063/1.5142411 - pdf
Phase stabilization of a coherent fiber network by single-photon counting
S. Yanikgonul, R. Guo, A. Xomalis, A. N. Vetlugin, G. Adamo, C. Soci, and N. I. Zheludev
Optics Letters 45 (10), 2740-2743 (2020) doi: 10.1364/OL.381388 - pdf
Coherent Perfect Absorption of Single Photons in a Fibre Network
A. N. Vetlugin, R. Guo, A. Xomalis, S. Yanikgonul, G. Adamo, C. Soci and N. I. Zheludev
Appl. Phys. Lett., 115, 191101 (2019) doi: 10.1063/1.5118838 - pdf

Coupling of atomic quadrupole transitions with resonant surface plasmons
Eng Aik Chan, Syed Abdullah Aljunid, Giorgio Adamo, Nikolay I. Zheludev, Martial Ducloy, and David Wilkowski
Phys. Rev. A 99, 063801 (2019) doi: 10.1103/PhysRevA.99.063801 - pdf
Plasmonics of topological insulators at optical frequencies
J. Yin, H. N.S. Krishnamoorthy, G. Adamo, A. M. Dubrovkin, Y. Chong, N. I. Zheludev, and C. Soci
NPG Asia Materials 9, 45 (2017) doi: 10.1038/am.2017.149 - pdf
Organometallic perovskite metasurfaces
B. Gholipour, G. Adamo, D. Cortecchia, H. N. S. Krishnamoorthy, M. D. Birowosuto, N. I. Zheludev, and C. Soci
Adv. Mater. 29(9), 1604268 (2017) doi: 10.1002/adma.201604268 - free access
Visible range plasmonic modes on topological insulator nanostructures
A. M. Dubrovkin, G. Adamo, J. Yin, L. Wang, C. Soci, Q. J. Wang, and N. I. Zheludev
Adv. Opt. Mater. 5(3), 1600768 (2017) doi: 10.1002/adom.201600768 - free access
Atomic response in the near-field of nanostructured plasmonic metamaterial
S. A. Aljunid, E. A. Chan, G. Adamo, M. Ducloy, D. Wilkowski, and N. I. Zheludev
Nano. Lett. 16(5), 3137 (2016) doi: 10.1021/acs.nanolett.6b00446

Ultraviolet and visible range plasmonics in the topological insulator Bi1.5Sb0.5Te1.8Se1.2
J. Y. Ou, J. K. So, G. Adamo, A. Sulaev, L. Wang, and N. I. Zheludev
Nat. Commun. 5, 5139 (2014) doi: 10.1038/ncomms6139 - free access
Planar super-oscillatory lens for sub-diffraction optical needles at violet wavelengths
G. Yuan, E. T. F. Rogers, T. Roy, G. Adamo, Z. Shen, and N. I. Zheludev
Sci. Rep. 4, 6333 (2014) doi: 10.1038/srep06333 - pdf
Tuning the influence of metal nanoparticles on ZnO photoluminescence by atomic-layer-deposited dielectric spacer
M. Liu, R. Chen, G. Adamo, K. F. MacDonald, E. J. Sie, T. C. Sum, N. I. Zheludev, H. Sun, and H. J. Fan
Nanophotonics 2(2), 153-160 (2013) doi: 10.1515/nanoph-2012-0040 - pdf
Electron-beam-driven collective-mode metamaterial light source
G. Adamo, J. Y. Ou, J. K. So, S. D. Jenkins, F. De Angelis, K. F. MacDonald, E. Di Fabrizio, J. Ruostekoski, and N. I. Zheludev
Phys. Rev. Lett. 109, 217401 (2012) doi: 10.1103/PhysRevLett.109.217401 - pdf
Plasmon spectroscopy and imaging of individual gold nanodecahedra: a combined optical microscopy,cathodoluminescence, and electron energy-loss spectroscopy study
V. Myroshnychenko, J. Nelayah, G. Adamo, N. Geuquet, J. Rodríguez-Fernández, I. Pastoriza-Santos, K. F. MacDonald, L. Henrard, L. M. Liz-Marzán, N. I. Zheludev, M. Kociak, and F. J. García de Abajo
Nano Lett. 12(8), 4172 (2012) doi: 10.1021/nl301742h - free access
Transmitting Hertzian optical nanoantenna with free-electron feed
A. I. Denisyuk, G. Adamo, K. F. MacDonald, J. Edgar, M. D. Arnold, V. Myroshnychenko, J. Ford, F. J. García de Abajo, and N. I. Zheludev
Nano Lett. 10, 3250 (2010) doi: 10.1021/nl1002813 - free access
Cathodo- and photoluminescence in Yb3+-Er3+ co-doped PbF2 nanoparticles
V. K. Tikhomirov, G. Adamo, A. E. Nikolaenko, V. D. Rodriguez, P. Gredin, M. Mortier, N. I. Zheludev, and V. V. Moshchalkov
Opt. Express 18, 8836 (2010) doi: 10.1364/OE.18.008836 - pdf
Tuneable electron-beam-driven nanoscale light source
G. Adamo, K. F. MacDonald, Y. H. Fu, D. P. Tsai, F. J. García de Abajo, N. I. Zheludev
J. Opt. 12, 024012 (2010) doi: 10.1088/2040-8978/12/2/024012

Light well: a tunable free-electron light source on a chip
G. Adamo, K. F. MacDonald, Y. H. Fu, C-M. Wang, D. P. Tsai, F. J. García de Abajo, and N. I. Zheludev
Phys. Rev. Lett. 103, 113901 (2009) doi: 10.1103/PhysRevLett.103.113901 - pdf
[additionally part of the Virtual Journal of Nanoscale Science & Technology 20(12) (2009)]
Conference Contributions
Giant circular photogalvanic effect in topological insulator metamaterials
X. Sun, G. Adamo, H. N. S. Krishnamoorthy, M. Eginligil, N. I. Zheludev and C. Soci
SPIE Optics & Photonics 2020, Digital Forum, 23 - 27 Aug 2020
Quantum light control by dissipative interference
A. N. Vetlugin, R. Guo, G. Adamo, C. Soci and N. I. Zheludev
SPIE Optics & Photonics 2020, Digital Forum, 23 - 27 Aug 2020
Topological Insulator Chalcogenides for Infrared Dielectric Metamaterials
H. Krishnamoorthy, G. Adamo, J. Yin, V. Savinov, N. I. Zheludev and C. Soci
CLEO 2020 Virtual Conference, 11-15 May 2020
Metamaterials for classical and quantum data processing in all-optical fiber information networks
A. Vetlugin, A. Xomalis, S. Yanıkgonul, R. Guo, G. Adamo, I. Demirtzioglou, Y. Jung, E. Plum, C. Lacava, P. Petropoulos, D. Richardson, C. Soci, and N. I. Zheludev
Metamaterials'2019, Rome, Italy, 16 - 21 Sep 2019
(invited) Quantum light manipulation with fiberized metamaterial perfect absorber
A. N. Vetlugin, S. Yanikgonul, R. Guo, A. Xomalis, G. Adamo, C. Soci, and N. I. Zheludev
SPIE Optics & Photonics 2019, San Diego, CA, USA, 11 - 15 Aug 2019
Quantum state filtering of dual-rail photons with fiberized plasmonic metamaterial
S. Yanikgonul, A. N. Vetlugin, R. Guo, A. Xomalis, G. Adamo, C. Soci, and N. I. Zheludev
CLEO 2019, San Jose, CA, USA, 5 - 10 May 2019
Coherent fibre network stabilized with single-photons
S. Yanikgonul, R. Guo, A. N. Vetlugin, A. Xomalis, G. Adamo, C. Soci, and N. I. Zheludev
Institute of Physics Singapore (IPS) Meeting 2019, Singapore, 13 - 15 Mar 2019
Metamaterial absorber for dual-rail photonic qubit filtering
A. N. Vetlugin, S. Yanikgonul, R. Guo, A. Xomalis, G. Adamo, C. Soci, and N. I. Zheludev
Institute of Physics Singapore (IPS) Meeting 2019, Singapore, 13 - 15 Mar 2019
Filtering of quantum states with plasmonic metamaterial absorber
A. N. Vetlugin, S. Yanikgonul, R. Guo, A. Xomalis, G. Adamo, C. Soci, and N. I. Zheludev
Nanometa 2019, Seefeld, Austria, 3 - 6 Jan 2019
(poster) Ultrafast surface state dynamics of topological insulators metamaterials at optical frequencies
H. Hedayat, S. Vezzoli, X. Sun, H. N. S. Krishnamoorthy, G. Cerullo, C. Dallera, E. Carpene, N. I. Zheludev, G. Adamo, and C. Cosi
Nanometa 2019, Seefeld, Austria, 3 - 6 Jan 2019
(poster) Spectral control in metal halide perovskites metasurfaces
G. Adamo, D. Cortecchia, B. Chaudhary, M. D. Birowosuto, H. N. S. Krishnamoorthy, B. Gholipour, N. I. Zheludev, and C. Cosi
Nanometa 2019, Seefeld, Austria, 3 - 6 Jan 2019
Plasmonic coherent perfect absorption and switching in a fiberized quantum network
A. N. Vetlugin, S. Yanikgonul, A. Xomalis, R. Guo, G. Adamo, C. Soci, and N. I. Zheludev
Quantum Technology International Conference (QTech), Paris, France, 5 – 7 Sept 2018
Coherent perfect absorption and switching in a fiberized quantum network with plasmonic metadevice
A. N. Vetlugin, R. Guo, A. Xomalis, S. Yanikgonul, G. Adamo, C. Soci, and N. I. Zheludev
Metamaterials 2018, Finland, 27 Aug – 1 Sept 2018
Stabilized dissipative single-photon switch for fiberized quantum networks
S. Yanikgonul, R. Guo, A. Xomalis, A. N. Vetlugin, G. Adamo, C. Soci, and N. I. Zheludev
1st Advances in Quantum Engineering International Meeting (AQE2018), Singapore, 25 – 27 June 2018
(invited) Control of perovskite luminescence with metamaterials
G. Adamo, H. N. S. Krishnamoorthy, B. Gholipour, D. Cortecchia, J. K. So, M. D. Birowosuto, N. I. Zheludev, and C. Soci
SPIE Photonics Europe 2018, Strasbourg, France, 22-26 Apr 2018
Luminescence control in color tunable perovskites metasurfaces
G. Adamo, B. Gholipour, K. C. Lew, D. Cortecchia, H. N. S. Krishnamoorthy, A. Bruno, J. K. So, M. D. Birowosuto, N. I. Zheludev, and C. Soci
Metamaterials'2017, Marseille, France, 28 - 31 Aug 2017
(poster) Engineering Casimir-Polder interactions on atom-metamaterials hybrid devices
E. A. Chan, S. A. Aljunid, G. Adamo, A. Laliotis, M. Ducloy, N. I. Zheludev, and D. Wilkowski
CLEO-PR, OECC & PGC 2017, Singapore 31 Jul - 4 Aug 2017
Plasmonic properties of superconducting niobium in the optical spectral range
C. Y. Liao, H. N. S. Krishnamoorthy, V. Savinov, J. Y. Ou, C. Huang, G. Adamo, E. Plum, K. F. MacDonald, Y. D. Chong, O. L. Muskens, C. Soci, F. V. Kusmartsev, D. P. Tsai, and N. I. Zheludev
CLEO Europe - EQEC 2017 , Munich, Germany 25 - 29 Jun 2017
Nanopatterning-enhanced perovskite luminophores
G. Adamo, B. Gholipour, K. C. Lew, D. Cortecchia, H. N. S. Krishnamoorthy, A. Bruno, J. K. So, M. D. Birowosuto, N. I. Zheludev, and C. Soci
CLEO Europe - EQEC 2017 , Munich, Germany 25 - 29 Jun 2017
Plasmonics of topological insulators at optical frequencies
J. Yin, H. N. S. Krishnamoorthy, G. Adamo, A. M. Dubrovkin, J. K. So, Y. Chong, N. I. Zheludev, and C. Soci
CLEO Europe - EQEC 2017 , Munich, Germany 25 - 29 Jun 2017
Plasmonic response of superconducting niobium in the optical spectral range
C. Y. Liao, H. N. S. Krishnamoorthy, V. Savinov, J. Y. Ou, C. Huang, G. Adamo, E. Plum, K. F. MacDonald, Y. D. Chong, O. L. Muskens, C. Soci, F. V. Kusmartsev, D. P. Tsai, and N. I. Zheludev
ICMAT2017, Singapore, 18 - 23 Jun 2017
Color tunable perovskite metamaterials
G. Adamo, B. Gholipour, K. C. Lew, D. Cortecchia, H. N. S. Krishnamoorthy, J. K. So, M. D. Birowosuto, N. I. Zheludev, and C. Soci
8th International Conference on Surface Plasmon Photonics (SPP8), Taipei, Taiwan, 22-26 May 2017
(invited) Plasmonics in Topological Insulators
J. Yin, G. Adamo, H. N. S. Krishnamoorthy, J. So, A. M. Dubrovkin, Y. Chong, N. I. Zheludev, and C. Soci
8th International Conference on Surface Plasmon Photonics (SPP8), Taipei, Taiwan, 22-26 May 2017
Optical range plasmonics around superconducting transition temperature of niobium metamaterial
C. Y. Liao, H. N. S. Krishnamoorthy, V. Savinov, J. Y. Ou, C. Huang, G. Adamo, E. Plum, K. F. MacDonald, Y. D. Chong, O. L. Muskens, C. Soci, F. V. Kusmartsev, D. P. Tsai, N. I. Zheludev
8th International Conference on Surface Plasmon Photonics (SPP8), Taipei, Taiwan, 22-26 May 2017
(invited) Control of luminescence in perovskite metamaterials
G. Adamo, B. Gholipour, K. C. Lew, D. Cortecchia, H. N. S. Krishnamoorthy, A. Bruno, J. K. So, M. D. Birowosuto, N. I. Zheludev, and C. Soci
IPS Meeting 2017, Singapore, 22 - 24 Feb 2017
(invited) Optical plasmonic response of niobium around the superconducting transition temperature
C. Y. Liao, H. N. S. Krishnamoorthy, V. Savinov, J. Y. Ou, C. Huang, G. Adamo, E. Plum, K. F. MacDonald, Y. D. Chong, C. Soci, F. V. Kusmartsev, D. P. Tsai, and N. I. Zheludev
IPS Meeting 2017, Singapore, 22 - 24 Feb 2017
(poster) Towards atom-metamaterial interaction on fibre tips
E. A. Chan, S. A. Aljunid, G. Adamo, M. Ducloy, D. Wilkowski, and N. I. Zheludev
IPS Meeting 2017, Singapore, 22 - 24 Feb 2017
(invited) Plasmonics of topological insulators
J. Yin, G. Adamo, H. Krishnamoorthy, J. So, A. Dubrovkin, Y. Chong, N. Zheludev, and C. Soci
Nanometa 2017, Seefeld, Austria, 4 - 7 Jan 2017
Optical range plasmonics of niobium around the superconducting transition temperature
C. Y. Liao, H. N. S. Krishnamoorthy, V. Savinov, J. Y. Ou, C. Huang, G. Adamo, E. Plum, K. F. MacDonald, Y. D. Chong, C. Soci, F. V. Kusmartsev, D. P. Tsai, and N. I. Zheludev
Nanometa 2017, Seefeld, Austria, 4 - 7 Jan 2017
(poster) Luminescence of all-dielectric solution-processed perovskite metamaterial
G. Adamo, B. Gholipour, M. D. Birowosuto, H. N. S. Krishnamoorthy, D. Cortecchia, K. C. Lew, J. K. So, N. I. Zheludev, and C. Soci
Nanometa 2017, Seefeld, Austria, 4 - 7 Jan 2017
Perovskite metamaterials
B. Gholipour, G. Adamo, D. Cortecchia, H. S. Krishnamoorthy, J. Yin, and N. I. Zheludev
CLEO 2016, San Jose, CA, USA, 5 - 10 June 2016
Plasmonic toplogical insualtors: an emerging platform for broadband tunable metamterials
C.Soci, G. Adamo, J. Y. Ou, J. K. So, Z. Wang, S. Vezzoli, L. Wang, N. I. Zheludev
Nanophotonics in Asia, Osaka, Japan, 10 - 11 Dec 2015
(poster) Localization and propagation of visible range plasmons in Bi1.5 Sb0.5 Te1.8 Se1.2 topological insulator
A. Dubrovkin, G. Adamo, A. Sulaev, Q. J. Wang, L. Wang, N. I. Zheludev
Nanophotonics in Asia, Osaka, Japan, 10 - 11 Dec 2015
(poster) Control of caesium atomic spectrum with a 2D plasmono-atomic metamaterial
E. A. Chan, S. A. Aljunid, G. Adamo, M. Ducloy, D. Wilkowski, N. I. Zheludev
Nanophotonics in Asia, Osaka, Japan, 10 - 11 Dec 2015
(poster) Electronic and Optical Properties on Toplogical Insulators for Plasmonics and Metamaterials
J. Yin, G. Adamo, N. I. Zheludev, C. Soci
Nanophotonics in Asia, Osaka, Japan, 10 - 11 Dec 2015
Control of caesium atomic spectra with 2D plasmono-atomic metamaterial
E. A. Chan, S. A. Aljunid, G. Adamo, M. Ducloy, D. Wilkowski, and N. I. Zheludev
Metamaterials 2015, Oxford, UK, 7 - 12 Sep 2015
A 2D plasmono-atomic metamaterial
E. A. Chan, S. A. Aljunid, G. Adamo, M. Ducloy, D. Wilkowski, N. I. Zheludev
ICMAT2015, Singapore, 28 Jun - 3 Jul 2015
Electronic and plasmonic properties of topological insulator
J. Yin, Z. Wang, W. Wu, G. Adamo, N. I. Zheludev, C. Soci
ICMAT2015, Singapore, 28 Jun - 3 Jul 2015
Mid-infrared plasmon-polaron coupling in organic semiconductors
Z. Wang, J. Zhao, B. Frank, Q. Ran, G. Adamo, H. Giessen, C. Soci
ICMAT2015, Singapore, 28 Jun - 3 Jul 2015
(poster) Near-field nano-imaging of visible plasmons in topological insulator
A. Dubrovkin, G. Adamo, A. Sulaev, Q. Wang, L. Wang, N. I. Zheludev,
ICMAT2015, Singapore, 28 Jun - 3 Jul 2015
Free-electron emission from photonic metasurfaces
J. So, G. Adamo, K. F. MacDonald, and N. I. Zheludev
CLEO/Europe-EQEC 2015, Munich, Germany 21 - 25 Jun 2015
Electronic and optical properties of plasmonic topological insulators
J. Yin, Z. Wang, W.Wu, G. Adamo, and N. I. Zheludev
CLEO/Europe-EQEC 2015, Munich, Germany 21 - 25 Jun 2015
(poster) Van der Waals interactions in atom-metamaterial hybrid system
E. A. Chan, S. A. Aljunid, G. Adamo, M. Ducloy, D. Wilkowski, N. I. Zheludev
Nanometa 2015, Seefeld, Austria, 5 - 8 Jan 2015
(poster) Purcell enhancement of free-electron spontaneous light emission using meta-surfaces
J. K. So, G. Adamo, K. F. MacDonald, N. I. Zheludev
Nanometa 2015, Seefeld, Austria, 5 - 8 Jan 2015
(poster) Ultrafast optical switching of topological insulator plasmonic metamaterial
S. Vezzoli, G. Adamo, Z. Wang, V. Nalla, A. Sulaev, H. Sun, L. Wang, C. Soci, and N. I. Zheludev
Nanometa 2015, Seefeld, Austria, 5 - 8 Jan 2015
Topological insulator BSTS as a broadband switchable metamaterial
J. Y. Ou, J. K. So, G. Adamo, Z. Wang, J. Yin, S. Vezzoli, V. Nalla, L. Wang, C. Soci, N. I. Zheludev; [presenter: K. F. MacDonald]
2014 MRS Fall Meeting, Boston, MA, USA, 30 Nov - 5 Dec 2014
Ultraviolet and visible plasmonic metamaterials made of topological insulator
J. Y. Ou, J. K. So, G. Adamo, A. Sulaev, L. Wang, and N. I. Zheludev
Photon14, London, 1 - 4 Sep 2014
Plasmonic properties and photoinduced reflectance of topological insulator
Z. Wang, J. Yin, G. Adamo, A. Sulaev, L. Wang, N. I. Zheludev and C. Soci
CLEO:2014, San Jose, CA, USA, 8 - 13 Jun 2014
Using nonlinear optical networks for optimization: primer of the ant colony algorithm
W. Hu, K. Wu, P. P. Shum, N. I. Zheludev, C. Soci and G. Adamo
CLEO:2014, San Jose, CA, USA, 8 - 13 Jun 2014
UV & visible plasmonic metamaterials made of topological insulator
J. Y. Ou, J. K. So, G. Adamo, A. Sulaev, L. Wang, and N. I. Zheludev
CLEO:2014, San Jose, CA, USA, 8 - 13 Jun 2014
(invited) Plasmonics of topological insulators at UV-visible frequencies
J. Y. Ou, J. K. So, G. Adamo, A. Sulaev, L. Wang, and N. I. Zheludev
META'14, Singapore, 20 - 23 May 2014
Ultrafast broadband modulation of plasmonic topological insulator
G. Adamo, Z. Wang, J. Yin, V. Nalla, S. Vezzoli, A. Sulaev, L. Wang, H. Sun, C. Soci, and N. I. Zheludev
META'14, Singapore, 20 - 23 May 2014
(invited) Amplifying free-electron evanescent fields
J. K. So, J. Y. Ou, G. Adamo, F. J. G. de Abajo, K. F. MacDonald, and N. I. Zheludev
SPP6, Ottawa, Canada, 26 - 31 May 2013
Tunable light emission in reconfigurable plasmonic metamaterials
G. Adamo, W. T. Chen, E. Plum, J. Y. Ou, J. K. So, D. P. Tsai, and N. I. Zheludev
CLEO/Europe - IQEC 2013, Munich, Germany, 12 - 16 May 2013
(poster) Plasmonic amplifier of the evanescent field of free electrons
J. K. So, J. Y. Ou, G. Adamo, F. J. Garcıa de Abajo, K.F. MacDonald, and N. I. Zheludev
CLEO/Europe - IQEC 2013, Munich, Germany, 12 - 16 May 2013
(invited) Fishing for carbon nanotubes with a plasmonic metamaterial net
H. Yasuda, J. Zhang, G. Adamo, S. Hakuta, K. F. MacDonald, and N. I. Zheludev
JSAP Spring Meeting 2013, Kanagawa, Japan, 27 - 30 Mar 2013
(invited) Plasmonic amplification of free-electron evanescent fields
J. K. So, J. Y. Ou, G. Adamo, J. G. de Abajo, K. F. MacDonald, and N. I. Zheludev
IPS Meeting 2013, Singapore, 4 - 6 Mar 2013
Amplifying the evanescent field of free electrons
J. K. So, J. Y. Ou, G. Adamo, F. J. G. de Abajo, K. F. MacDonald, and N. I. Zheludev
Nanometa 2013, Seefeld, Austria, 3 - 6 Jan 2013
(poster) Fishing for carbon nanotubes with a photonic metamaterial net
H. Yasuda, J. Zhang, G. Adamo, K. F. MacDonald, and N. Zheludev
Nanometa 2013, Seefeld, Austria, 3 - 6 Jan 2013
(poster) Tunable plasmonic luminescence in reconfigurable metamaterials
G. Adamo, W. T. Chen, E. Plum, J. K. So, J. Valente, D. P. Tsai, and N. Zheludev
Nanometa 2013, Seefeld, Austria, 3 - 6 Jan 2013
(poster) Plasmon spectroscopy and imaging of gold nanodecahedra
V. Myroshnychenko, J. Nelayah, G. Adamo, N. Geuquet, J. Rodríguez-Fernández, I. Pastoriza-Santos, K. F. MacDonald, L. Henrard, L. M. Liz-Marzán, N. I. Zheludev, M. Kociak, and J. F. García de Abajo
2012 Gordon Research Conference on Plasmonics, Colby College, Waterville, Maine, 10 - 15 Jun 2012
(invited) Coherent light emission from planar plasmonic metamaterials
G. Adamo, J. Y. Ou, J. K. So, M. Ren, E. Plum, E. T. F. Rogers, K. F. MacDonald, J. Xu, N. I. Zheludev
CLEO:2012, San Jose, United States, 06 - 11 May 2012
Amplification of the evanescent field of free electrons
J. K. So, J. Y. Ou, G. Adamo, K. F. MacDonald, J. G. de Abajo, N. I. Zheludev
CLEO:2012, San Jose, United States, 06 - 11 May 2012
Optical Spectroscopy, Cathodoluminescence, and Electron Energy Loss Spectroscopy on Metal Nanoparticle
V. Myrosnychenko, F. J. García de Abajo, G. Boudarham, J. Nelayah, O. Stéphan, M. Kociak, C. Colliex, G. Adamo, K. F. MacDonald, N. I. Zheludev, J. Rodríguez-Fernsandez, E. Carbó-Argibay, L. M. Liz-Marzán
META'12, Paris, France, 19 - 22 Apr 2012
(poster) Coherent emission from plasmonic metamaterials
G. Adamo, J. Y. Ou, J. K. So, S. D. Jenkins, K. F. MacDonald, F. De Angelis, E. Di Fabrizio, J. Ruostekoski, N. I. Zheludev
SPIE Photonics Europe, Brussels, Belgium, 16 - 19 Apr 2012
(poster) Metamaterial engineering of plasmonic metal luminescence
M. Ren, G. Adamo, E. Plum, J. K. So, K. F. MacDonald, J. Xu, N. I. Zheludev
SPIE Photonics Europe, Brussels, Belgium, 16 - 19 Apr 2012
(poster) Amplification of the evanescent field of free electrons
J. K. So, J. Y. Ou, G. Adamo, K. F. MacDonald, F. J. Garcia de Abajo, N. I. Zheludev
SPIE Photonics Europe, Brussels, Belgium, 16 - 19 Apr 2012
Mapping localized plasmon modes in metal nanoparticles via electron energy loss spectroscopy and cathodoluminescence
V. Myroshnychenko, J. Garcia de Abajo, G. Boudarham, J. Nelayah, O. Stephan, M. Kociak, C. Colliex, A. I. Denisyuk, G. Adamo, N. I. Zheludev, J. Rodriguez-Fernandez, L. Maximilians, E. Carbo-Argibay, L. M. Liz-Marzan
SPIE Optics & Photonics 2011, San Diego, CA, USA, 21-25 Aug 2011
Electron-beam-driven nanoscale metamaterial light
G. Adamo, J. Y. Ou, K. F. MacDonald, F. De Angelis, E. Di Fabrizio, and N. I. Zheludev
CLEO/Europe - EQEC 2011, Munich, Germany, 22-26 May 2011
(invited) Metamaterials: novel functionalities and meta-molecular interactions
E. Plum, J. Y. Ou, K. Tanaka, G. Adamo, A. Nikolaenko, and N. I. Zheludev
UKIERI Workshop, Aurangabad, Maharashtra, India, 14 - 16 Apr 2011
(poster) Metamaterial Light Sources Driven by Electron Beams
G. Adamo, K. F. MacDonald, F. De Angelis, E. Di Fabrizio, and N. I. Zheludev
NANOMETA 2011, Seefeld, Austria, 3-6 Jan 2011
Nanoscale electron-beam-driven metamaterial light sources
G. Adamo, K. F. MacDonald, F. De Angelis, E. Di Fabrizio, and N. I. Zheludev
IEEE Photonics Society 23rd Annual Meeting, Denver, USA, 07 - 11 Nov 2010
Chalcogenide plasmonic metamaterial switches
Z. L. Sámson, J. Zhang, G. Adamo, T. Uchino, B. Gholipour, K. Knight, C-C. Huang, F. De Angelis, K. F. MacDonald, P. Ashburn, E. Di Fabrizio, D. W. Hewak, and N. I. Zheludev
SPIE Optics & Photonics, San Diego, CA, USA, 01 - 05 Aug 2010
Electron energy loss spectroscopy and cathodoluminescence as powerful tools for studying surface-plasmon modes in metal nanostructures
V. Myroshnychenko, J. Nelayah, O. Stéphan, M. Kociak, C. Colliex, G. Adamo, K. F. MacDonald, N. I. Zheludev, E. Carbó-Argibay, J. Rodríguez-Fernandez, L. M. Liz-Marzán, and J. F. García de Abajo
SPIE Photonics Europe 2010, Brussels, Belgium, 12 - 16 Apr 2010
Switching metamaterials with electronic signals and electron-beam excitations
Z. L. Sámson, G. Adamo, K. F. MacDonald, K. Knight, F. De Angelis, A. Nikolaenko, C. C. Huang, E. Di Fabrizio, D. W. Hewak, and N. I. Zheludev
SPIE Photonics Europe 2010, Brussels, Belgium, 12 - 16 Apr 2010
(keynote) Nonlinear and switchable plasmonic metamaterials
N. I. Zheludev, A. Nikolaenko, K. F. MacDonald, V. A. Fedotov, D. W. Hewak, G. Adamo, Z. Sámson, E. Plum, D. P. Tsai, E. Difabrizio, and F. De Angelis
Progress in Electromagnetics Research Symposium (PIERS 2010), Xi'an, China, 22 - 26 Mar 2010
Probing surface-plasmon modes in noble metal nanoparticles using an electron beam
V. Myroshnychenko, J. Nelayah, M. Kociak, O. Stéphan, C. Colliex, G. Adamo, K. F. MacDonald, N. I. Zheludev, J. Rodríguez-Fernández, E. Carbó-Argibay, I. Pastoriza-Santos, J. Pérez-Juste, L. M. Liz-Marzán, and F. J. García de Abajo
META'10 2nd International Conference on Metamaterials, Photonic crystals and Plasmonics, Cairo, Egypt, 22 - 25 Feb 2010
Chalcogenide glass metamaterial optical switch
Z. L. Sámson, K. F. MacDonald, F. De Angelise, G. Adamo, K. Knight, C. C. Huang, D. W. Hewak, E. Di Fabrizio and N.I.Zheludev
Frontiers in Optics 2009, San Jose, CA, USA, 11-15 Oct 2009
(invited) Nanoscale tuneable light source
N. I. Zheludev, G. Adamo, Y. H. Fu, K. F. MacDonald, C.-M. Wang, D. P. Tsai, and F. J. García de Abajo
Plasmonics: Nanoimaging, Nanofabrication, and Their Applications V, San Diego, CA, United States, 02 - 06 Aug 2009
Plasmon modes in individual noble metal nanoparticles
V. Myroshnychenko, J. Nelayah, M. Kociak, O. Stéphan, C. Colliex, G. Adamo, K. F. MacDonald, N. I. Zheludev, J. Rodríguez-Fernandez, E. Carbó Argibay, L. M. Liz-Marzán, and F. J. García de Abajo
Plasmonics: Metallic Nanostructures and Their Optical Properties VII, San Diego, CA, United States, 02 - 06 Aug 2009
Free-electron pumped tunable nanoscale light-source: the 'light-well'
G. Adamo, Y. H. Fu, K. F. MacDonald, C.-M. Wang, D. P. Tsai, F. J. García de Abajo, and N. I. Zheludev
SPP4, Amsterdam, The Netherlands, 21-26 Jun 2009
(poster) Plasmon modes in individual noble metal nanoparticles
V. Myroshnychenko, J. Nelayah, M. Kocia, O. Stéphan, C. Col, G. Adamo, K. F. MacDonald, N. I. Zheludev, J. Rodrí­guez-Fernández, E. Carbó Argibay, L. M. Liz-Marzán, F. J. and García de Abajo
Electrical, Transport and Optical Properties of Inhomogeneous Media (ETOPIM) 8, Rethymnon, Crete, Greece, 07-12 Jun 2009
Tunable, nanoscale free-electron source of photons and plasmons
G. Adamo, K. F. MacDonald, N. I. Zheludev, Y. H. Fu, C.-M. Wang, D. P. Tsai, and F. J. García de Abajo
CLEO/IQEC 09, Baltimore, Maryland, USA, 31 May - 05 Jun 2009
(invited) The "light-well": a tuneable nanoscale free-electron light source on-a-chip
N. I. Zheludev, K. F. MacDonald, G. Adamo, Y. Fu, C. M. Wang, D. P. Tsai, and F. J García de Abajo
MRS 2009 Symposium EE: "Materials for Nanophotonics - Plasmonics, Metamaterials, and Light Localization", San Francisco, CA, USA, 13-17 Apr 2009
The `light-well': a tuneable nanoscale free-electron light source on-a-chip
G. Adamo, K. F. MacDonald, N. I. Zheludev, Y. H. Fu, C.-M. Wang, D. P. Tsai, and F. J. García de Abajo
NANOMETA 2009, Seefeld, Austria, 5-8 Jan 2009
(poster) Emission hotspots in complex metal nanostructures
A. I. Denisyuk, G. Adamo, K. F. MacDonald, N. I. Zheludev, B. Rodríguez-González, I. Pastoriza-Santos, M. Spuch-Calvar, L. M. Liz-Marzán, M. D. Arnold, M. J. Ford, and F. J. García de Abajo
NANOMETA 2009, Seefeld, Austria, 5-8 Jan 2009
Nano "light well": a free-electron light source on-a-chip
K. F. MacDonald, G. Adamo, N. I. Zheludev, F. J. García de Abajo, Y. H. Fu, C. M. Wang, and D. P. Tsai
Plasmonics and Metamaterials (META), Rochester, New York, USA, 20 - 23 Oct 2008