ORC Nanophotonics & Metamaterials Group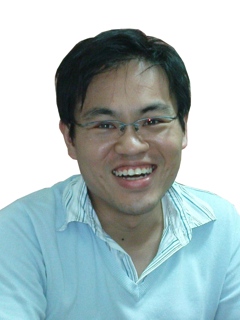 < Back to People ...
Dr. Jun-Yu Ou
Projects
Reconfigurable Metamaterials
Short CV
Dr. Ou obtained his MSc in Physics, National Changhua University of Education, Taiwan in 2005. He was a SEM/FIB Specialist in E.B. Tech. Co., LTD. (commercial agent of FEI, Taiwan) from 2008 to 2009. He completed his PhD studies on "Reconfigurable Photonic Metamaterials" in the Optoelectronics Research Centre at the University of Southampton in 2014. He was awarded EPSRC Doctoral Prize fellowship to continue his research as a postdoctoral research fellow and he was awarded the IOP 2015 Doctoral Research Prize (QEP group).
Articles
Conference Contributions
(invited) A link between superconducting transition and optical range plasmonics of niobium
C. Y. Liao, H. N. S. Krishnamoorthy, V. Savinov, J. Y. Ou, C. Huang, G. Adamo, E. Plum, K. F. MacDonald, Y. D. Chang, O. L. Muskens, C. Soci, F. V. Kusmartzev, D. P. Tsai, and N. I. Zheludev,
SPIE Optics & Photonics 2017, San Diego, CA, USA, 06 - 10 Aug 2017
(invited) Merging photonic metamaterial and optical fiber technologies
A. Xomalis, D. Piccinotti, A. Karvounis, I. Demirtzioglou, V. Savinov, B. Gholipour, J. Y. Ou, Y. Jung, E. Plum, P. Petropoulos, K. F. MacDonald, D. J. Richardson, and N. I. Zheludev
Integrated Photonics Research, Silicon, and Nano-Photonics, New Orleans, LA, USA, 24 - 27 Jul 2017
Optical bistability in optomechanical metamaterial at sub-milliwatt power levels
J. Y. Ou, A. Karvounis, K. F. MacDonald, and N. I. Zheludev
CLEO Europe - EQEC 2017 , Munich, Germany 25 - 29 Jun 2017
Plasmonic properties of superconducting niobium in the optical spectral range
C. Y. Liao, H. N. S. Krishnamoorthy, V. Savinov, J. Y. Ou, C. Huang, G. Adamo, E. Plum, K. F. MacDonald, Y. D. Chong, O. L. Muskens, C. Soci, F. V. Kusmartsev, D. P. Tsai, and N. I. Zheludev
CLEO Europe - EQEC 2017 , Munich, Germany 25 - 29 Jun 2017
(invited) Optomechanical metasurfaces
E. Plum, J. Y. Ou, A. Karvounis, K. F. MacDonald, and N. I. Zheludev
OSA Incubator Meeting on Materials for Optomechanical Actuation, Washington DC, USA, 25-27 Jun 2017
Plasmonic response of superconducting niobium in the optical spectral range
C. Y. Liao, H. N. S. Krishnamoorthy, V. Savinov, J. Y. Ou, C. Huang, G. Adamo, E. Plum, K. F. MacDonald, Y. D. Chong, O. L. Muskens, C. Soci, F. V. Kusmartsev, D. P. Tsai, and N. I. Zheludev
ICMAT2017, Singapore, 18 - 23 Jun 2017
(invited) Merging metamaterial and fiber technologies
J. Y. Ou, A. Karvounis, A. Xomalis, V. Savinov, E. Plum, K. F. MacDonald, and N. I. Zheludev
8th International Conference on Surface Plasmon Photonics (SPP8), Taipei, Taiwan, 22-26 May 2017
Optical range plasmonics around superconducting transition temperature of niobium metamaterial
C. Y. Liao, H. N. S. Krishnamoorthy, V. Savinov, J. Y. Ou, C. Huang, G. Adamo, E. Plum, K. F. MacDonald, Y. D. Chong, O. L. Muskens, C. Soci, F. V. Kusmartsev, D. P. Tsai, N. I. Zheludev
8th International Conference on Surface Plasmon Photonics (SPP8), Taipei, Taiwan, 22-26 May 2017
(invited) Active metasurfaces: Optical properties on demand
E. Plum, M. Papaioannou, P. Cencillo-Abad, J. Y. Ou, A. Xomalis, E. T. F. Rogers, K. F. MacDonald, and N. I. Zheludev
Rank Prize Symposium on Electromagnetic Metasurfaces, Grasmere, UK, 13 - 16 Mar 2017
(invited) Optical plasmonic response of niobium around the superconducting transition temperature
C. Y. Liao, H. N. S. Krishnamoorthy, V. Savinov, J. Y. Ou, C. Huang, G. Adamo, E. Plum, K. F. MacDonald, Y. D. Chong, C. Soci, F. V. Kusmartsev, D. P. Tsai, and N. I. Zheludev
IPS Meeting 2017, Singapore, 22 - 24 Feb 2017
Optical range plasmonics of niobium around the superconducting transition temperature
C. Y. Liao, H. N. S. Krishnamoorthy, V. Savinov, J. Y. Ou, C. Huang, G. Adamo, E. Plum, K. F. MacDonald, Y. D. Chong, C. Soci, F. V. Kusmartsev, D. P. Tsai, and N. I. Zheludev
Nanometa 2017, Seefeld, Austria, 4 - 7 Jan 2017
(poster) Intrinsic optical bistability in nanomechanical metamaterials at milliwatt power levels
J. Y. Ou, A. Karvounis, K. F. MacDonald, N. I. Zheludev
Nanometa 2017, Seefeld, Austria, 4 - 7 Jan 2017
Optomechanical guitar: Reconfiguring metamaterials with sub-wavelength spatial resolution
J. Y. Ou, E. Plum, and N. I. Zheludev
Metamaterials 2016, Crete, Greece, 17 - 22 Sep 2016
Metasystems for all-optical recognition and processing of images and data
M. Papaioannou, E. Plum, E. T. F. Rogers, J. Valente, and N. I. Zheludev; [presenter: J. Y. Ou]
Metamaterials 2016, Crete, Greece, 17 - 22 Sep 2016
(poster) Nanomechanically Reconfigurable All-dielectric Metasurfaces for Sub-GHz Optical Modulation
A. Karvounis, J. Y. Ou, B. Gholipour, K. F. MacDonald, and N. I. Zheludev
Metamaterials 2016, Crete, Greece, 17 - 22 Sep 2016
[Awarded best poster by Metamaterials, Inc. (MTI)]
All-dielectric nanomechanical metamaterials for sub-GHz optical modulation
A.Karvounis, J. Y. Ou, B.Gholipour, K.F.MacDonald, and N.I.Zheludev
Photon '16, Leeds, 5-8 Sep 2016
(invited) Metamaterials reconfigurable with light
A. Karvounis, J. Y. Ou, E. Plum, K. F. MacDonald, and N. I. Zheludev
SPIE Optics & Photonics 2016, San Diego, USA, 28 Aug - 1 Sep 2016
(poster) Sub-GHz Modulation of Light with Dielectric Nanomechanical Metamaterials
A. Karvounis, J. Y. Ou, B. Gholipour, W. Wu, K. F. MacDonald, and N. I. Zheludev
CLEO 2016, San Jose, CA, USA, 5 - 10 June 2016

(poster) Playing a metamaterial guitar with light: Optically addressable nanomechanical metamaterial
J. Y. Ou, E. Plum, B. P. Clarke, and N. I. Zheludev
CLEO 2016, San Jose, CA, USA, 5 - 10 June 2016
(poster) All-dielectric nanomechanical metamaterials
A. Karvounis, J. Y. Ou, B. Gholipour, K. F. MacDonald, and N. I. Zheludev
New Horizons in Nanophotonics, Chicheley, UK, 23 - 24 May 2016
(poster) Playing a metamaterial guitar with light: Optically addressable nanomechanical metamaterial
J. Y. Ou, E. Plum, and N. I. Zheludev
New Horizons in Nanophotonics, Chicheley, UK, 23 - 24 May 2016
(invited) All-dielectric nano-optomechanical nonlinear metamaterials
A. Karvounis, J. Y. Ou, W. Wu, K. F. MacDonald, N. I. Zheludev
SPIE Photonics Europe 2016, Brussels, Belgium, 3 - 7 Apr 2016
(invited) Reconfigurable nanomembrane metadevices
E. Plum, J. Valente, J. Y. Ou, P. Cencillo-Abad, A. Karvounis, K. F. MacDonald, and N. I. Zheludev
9th International Conference on Nanophotonics (ICNP 2016), Taipei, Taiwan, 21 - 25 Mar 2016
Plasmonic toplogical insualtors: an emerging platform for broadband tunable metamterials
C.Soci, G. Adamo, J. Y. Ou, J. K. So, Z. Wang, S. Vezzoli, L. Wang, N. I. Zheludev
Nanophotonics in Asia, Osaka, Japan, 10 - 11 Dec 2015
(invited) Nano-optomechanical dielectric metasurfaces reconfigurable with light
A. Karvounis, J. Y. Ou, D. Piccinotti, W. Wu, E. Plum, K. F. MacDonald, and N. I. Zheludev
Materials Research Society MRS 2015 Fall Meeting & Exhibit, Boston, MA, USA, 29 Nov - 4 Dec 2015
Ultra-smooth epitaxial gold/silver thin films for low-loss plasmonic metamaterials
T. Uchino, T. Koiwa, V. A. Fedotov, and, J. Y. Ou
Materials Research Society MRS 2015 Fall Meeting & Exhibit, Boston, MA, USA, 29 Nov - 4 Dec 2015
Single-crystal silver thin films for low-loss plasmonic metamaterials
T. Koiwa, V. A. Fedotov, J. Y. Ou, and T. Uchino
JSAP-OSA Joint Symposia 2015, Nagoya, Japan, 13 - 16 Sep 2015
Controlling light with light in nano-opto-mechanical metamaterial
J. Y. Ou, E. Plum, and N. I. Zheludev
Metamaterials 2015, Oxford, UK, 7 - 12 Sep 2015
Random access photonic metamaterials
P. Cencillo-Abad, J. Y. Ou, J. Valente, E. Plum, and N. I. Zheludev
Metamaterials 2015, Oxford, UK, 7 - 12 Sep 2015
(invited) Nanostructured photonic metamaterials reconfigurable with light, nanomechanical and electromagnetic forces
J. Y. Ou, J. Valente, A. Karvounis, W. Wu, E. Plum, K. F. MacDonald, and N. I. Zheludev
SPIE Optics & Photonics 2015, San Diego, CA, USA, 9 - 13 Aug 2015 - pdf
(invited) Optical forces in plasmonic and dielectric metamaterials
E. Plum, J. Y. Ou, A. Karvounis, W. Wu, K. F. MacDonald, and N. I. Zheludev
META2015, New York, NY, USA, 4 - 7 Aug 2015
Nano-opto-mechanical nonlinear plasmonic metamaterials
J. Y. Ou, E. Plum, N. I. Zheludev
Nanometa 2015, Seefeld, Austria, 5 - 8 Jan 2015
(poster) Randomly addressable reconfigurable photonic metamaterials
P. Cencillo-Abad, J. Y. Ou, J. Valente, E. Plum, N. I. Zheludev
Nanometa 2015, Seefeld, Austria, 5 - 8 Jan 2015
Topological insulator BSTS as a broadband switchable metamaterial
J. Y. Ou, J. K. So, G. Adamo, Z. Wang, J. Yin, S. Vezzoli, V. Nalla, L. Wang, C. Soci, N. I. Zheludev; [presenter: K. F. MacDonald]
2014 MRS Fall Meeting, Boston, MA, USA, 30 Nov - 5 Dec 2014
Ultraviolet and visible plasmonic metamaterials made of topological insulator
J. Y. Ou, J. K. So, G. Adamo, A. Sulaev, L. Wang, and N. I. Zheludev
Photon14, London, 1 - 4 Sep 2014
(invited) Giant optical nonlinearity and magnetoelectric effect in reconfigurable plasmonic metamaterials
E. Plum, J. Valente, J. Y. Ou, K. F. MacDonald, and N. I. Zheludev
Metamaterials'2014, Copenhagen, Denmark, 25 - 30 Aug 2014
Metamaterial NEMS: giant optical nonlinearity and magnetoelectric effect
J. Valente, J. Y. Ou, E. Plum, K. F. MacDonald, and N. I. Zheludev
OMN2014 - International Conference on Optical MEMS and Nanophotonics, Glasgow, Scotland, 17 - 21 Aug 2014
Lorentz force metamaterial with giant optical magnetoelectric response
J. Valente, J. Y. Ou, E. Plum, I. Youngs, and N. I. Zheludev
CLEO:2014, San Jose, CA, USA, 8 - 13 Jun 2014
Controlling light with light in a plasmonic nanooptomechanical metamaterial
J. Y. Ou, E. Plum, J. Zhang and N. I. Zheludev
CLEO:2014, San Jose, CA, USA, 8 - 13 Jun 2014
UV & visible plasmonic metamaterials made of topological insulator
J. Y. Ou, J. K. So, G. Adamo, A. Sulaev, L. Wang, and N. I. Zheludev
CLEO:2014, San Jose, CA, USA, 8 - 13 Jun 2014
(invited) Plasmonics of topological insulators at UV-visible frequencies
J. Y. Ou, J. K. So, G. Adamo, A. Sulaev, L. Wang, and N. I. Zheludev
META'14, Singapore, 20 - 23 May 2014
(invited) Nanomechanical metamaterial light modulators
E. Plum, J. Y. Ou, J. Valente, P. Cencillo-Abad, and N. I. Zheludev
META'14, Singapore, 20 - 23 May 2014
Reconfigurable photonics metamaterials: nanoscale forces and giant magnetoelectric effect
J. Valente, E. Plum, J. Y. Ou, and N. I. Zheludev
DSTL Novel Electronic Materials PhD Theme Event, London, 17 Dec 2013
(poster) Reconfigurable photonics metamaterial: observation of a giant magnetoelectric effect
J. Valente, E. Plum, J. Y. Ou, and N. I. Zheludev
DSTL Novel Electronic Materials PhD Theme Event, London, 17 Dec 2013
Electrically controlled liquid crystal plasmonic metamaterials
O. Buchnev, J. Y. Ou, M. Kaczmarek, N. I. Zheludev, and V. A. Fedotov
Optics of Liquid Crystals 2013, Honolulu, Hawaii, 29 Sep - 4 Oct 2013
Switching near-IR metamaterial response with electrically-controlled liquid crystals
O. Buchnev, J. Y. Ou, M. Kaczmarek, N. I. Zheludev, and V. A. Fedotov
Conference on Liquid Crystals ECLC-2013, Rhodes, Greece, 22 - 27 Sep 2013
(keynote) Driving reconfigurable photonic metamaterials with light and electrical signals: exploiting forces and fields at the nanoscale
N. I. Zheludev, E. Plum, K. F. MacDonald, J. Y. Ou, J. Zhang, J. Valente, W. M. Zhu, and A. Q. Liu
Metamaterials' 2013, Bordeaux, France, 16 - 19 Sep 2013
Electrically tunable liquid crystal plasmonic metamaterials
O. Buchnev, J. Y. Ou, M. Kaczmarek, N. I. Zheludev, and V. A. Fedotov
Metamaterials' 2013, Bordeaux, France, 16 - 19 Sep 2013
(invited) Reconfigurable photonic metamaterials driven by Coulomb, Lorentz and optical forces
E. Plum, J. Y. Ou, J. Valente, and N. I. Zheludev
International Conference on Nanomaterials 2013 (ICN 2013), London, Ontario, Canada, 12 - 16 Aug 2013
(invited) Amplifying free-electron evanescent fields
J. K. So, J. Y. Ou, G. Adamo, F. J. G. de Abajo, K. F. MacDonald, and N. I. Zheludev
SPP6, Ottawa, Canada, 26 - 31 May 2013
Reconfigurable metamaterials controlled by Lorentz, Ampere and Coulomb forces: towards GHz bandwidth
J. Valente, E. Plum, J. Y. Ou, and N. I. Zheludev
CLEO/Europe - IQEC 2013, Munich, Germany, 12 - 16 May 2013
Tunable light emission in reconfigurable plasmonic metamaterials
G. Adamo, W. T. Chen, E. Plum, J. Y. Ou, J. K. So, D. P. Tsai, and N. I. Zheludev
CLEO/Europe - IQEC 2013, Munich, Germany, 12 - 16 May 2013
Electrically controlled liquid crystal plasmonic metamaterials
O. Buchnev, J. Y. Ou, M. Kaczmarek, N.I. Zheludev, and V. A. Fedotov
CLEO/Europe - IQEC 2013, Munich, Germany, 12 - 16 May 2013
Optical magnetism in all-dielectric metamaterials
J. Zhang, J. Y. Ou, K. F. MacDonald, and N. I. Zheludev
CLEO/Europe - IQEC 2013, Munich, Germany, 12 - 16 May 2013
(poster) Plasmonic amplifier of the evanescent field of free electrons
J. K. So, J. Y. Ou, G. Adamo, F. J. Garcıa de Abajo, K.F. MacDonald, and N. I. Zheludev
CLEO/Europe - IQEC 2013, Munich, Germany, 12 - 16 May 2013
(invited) Plasmonic amplification of free-electron evanescent fields
J. K. So, J. Y. Ou, G. Adamo, J. G. de Abajo, K. F. MacDonald, and N. I. Zheludev
IPS Meeting 2013, Singapore, 4 - 6 Mar 2013
(invited) Nanomechanical control of metamaterial optical properties
E. Plum, J. Y. Ou, J. Valente, J. Zhang and N. I. Zheludev
IPS Meeting 2013, Singapore, 4 - 6 Mar 2013
(invited) Reconfiguring photonic metamaterials with electromagnetic forces
E. Plum, J. Y. Ou, J. Valente, J. Zhang, and N. I. Zheludev
Nanometa 2013, Seefeld, Austria, 3 - 6 Jan 2013
Amplifying the evanescent field of free electrons
J. K. So, J. Y. Ou, G. Adamo, F. J. G. de Abajo, K. F. MacDonald, and N. I. Zheludev
Nanometa 2013, Seefeld, Austria, 3 - 6 Jan 2013
Optical magnetic response in all-dielectric metamaterial
J. Zhang, J. Y. Ou, R. Chen, M. D. B. Charlton, K. F. MacDonald,and N. I. Zheludev
Nanometa 2013, Seefeld, Austria, 3 - 6 Jan 2013
(poster) Electrically controlled liquid-crystal cell enhanced with plasmonic metamaterial
O. Buchnev, J. Y. Ou, M. Kaczmarek, N. I. Zheludev, V. A. Fedotov
Nanometa 2013, Seefeld, Austria, 3 - 6 Jan 2013
(invited) Reconfiguring photonic metamaterials
E. Plum, J. Y. Ou, J. Valente, J. Zhang, and N. I. Zheludev
Sino-UK Workshop on Nanophotonics and Metamaterials, Beijing, China, 7 - 8 Dec 2012
(invited) Coherent light emission from planar plasmonic metamaterials
G. Adamo, J. Y. Ou, J. K. So, M. Ren, E. Plum, E. T. F. Rogers, K. F. MacDonald, J. Xu, N. I. Zheludev
CLEO:2012, San Jose, United States, 06 - 11 May 2012
Amplification of the evanescent field of free electrons
J. K. So, J. Y. Ou, G. Adamo, K. F. MacDonald, J. G. de Abajo, N. I. Zheludev
CLEO:2012, San Jose, United States, 06 - 11 May 2012
(poster) MHz bandwidth electro-optical modulator based on a reconfigurable photonic metamaterial
J. Y. Ou, E. Plum, N. I. Zheludev
CLEO:2012, San Jose, United States, 06 - 11 May 2012
(invited) A new way of reducing plasmonic losses
V. A. Fedotov, J. Y. Ou, N. I. Zheludev
META'12, Paris, France, 19 - 22 Apr 2012
(poster) Coherent emission from plasmonic metamaterials
G. Adamo, J. Y. Ou, J. K. So, S. D. Jenkins, K. F. MacDonald, F. De Angelis, E. Di Fabrizio, J. Ruostekoski, N. I. Zheludev
SPIE Photonics Europe, Brussels, Belgium, 16 - 19 Apr 2012
(poster) Nano-electro-mechanical switchable (NEMS) photonic metamaterial
J. Y. Ou, E. Plum, W. T. Chen, D. P. Tsai, N. I. Zheludev
SPIE Photonics Europe, Brussels, Belgium, 16 - 19 Apr 2012
(poster) Amplification of the evanescent field of free electrons
J. K. So, J. Y. Ou, G. Adamo, K. F. MacDonald, F. J. Garcia de Abajo, N. I. Zheludev
SPIE Photonics Europe, Brussels, Belgium, 16 - 19 Apr 2012
(poster) Frequency selective reflectors, magnetic walls and perfect optical absorbers based on new classes of metal and dielectric-loaded relief metamaterials
J. Zhang, J. Y. Ou, T. Uchino, K. F. MacDonald, and N. I. Zheludev
Metamaterials 2011, Barcelona, Spain, 10 - 15 Oct 2011
Nano-electromechanical switchable photonic metamaterials
J. Y. Ou, E. Plum, L. Jiang, and N. I. Zheludev
Metamaterials 2011, Barcelona, Spain, 10 - 15 Oct 2011
Giant femtosecond optical nonlinearity of gold metamaterial nanostructures
M. Ren, B. Jia, J. Y. Ou, E. Plum, K. F. MacDonald, A. E. Nikolaenko, J. J. Xu, M. Gu, and N. I. Zheludev
Metamaterials 2011, Barcelona, Spain, 10 - 15 Oct 2011
(invited) Functional photonic metamaterials
M. Ren, J. Y. Ou, B. Jia, E. Plum, J. Zhang, L. Jiang, A. Nikolaenko, J. J. Xu, M. Gu, K. F. MacDonald, and N. I. Zheludev
IEEE Photonics 2011, Arligton, VA, USA, 09 - 13 Oct 2011
(invited) Manipulating light with photonic metamaterials
J. Y. Ou, T. S. Kao, J. Zhang, E. Plum, K. F. MacDonald, and N. I. Zheludev
SPIE Optics & Photonics 2011, San Diego, CA, USA, 21-25 Aug 2011
(keynote) Reconfigurable Photonic Metamaterials
J. Y. Ou, E. Plum, L. Jiang, and N. I. Zheludev
ICMAT 2011, Suntec, Singapore, 26 Jun - 01 Jul 2011
Electron-beam-driven nanoscale metamaterial light
G. Adamo, J. Y. Ou, K. F. MacDonald, F. De Angelis, E. Di Fabrizio, and N. I. Zheludev
CLEO/Europe - EQEC 2011, Munich, Germany, 22-26 May 2011
Reconfigurable Nanostructured Photonic Metamaterials
J. Y. Ou, E. Plum, L. Jiang, and N. I. Zheludev
CLEO/Europe - EQEC 2011, Munich, Germany, 22-26 May 2011
Reconfigurable Photonic Metamaterials
J. Y. Ou, E. Plum, L. Jiang, and N. I. Zheludev; [presenter: S. Savo]
CLEO/QELS 2011, Baltimore, Maryland, US, 1-6 May 2011
(invited) Metamaterials: novel functionalities and meta-molecular interactions
E. Plum, J. Y. Ou, K. Tanaka, G. Adamo, A. Nikolaenko, and N. I. Zheludev
UKIERI Workshop, Aurangabad, Maharashtra, India, 14 - 16 Apr 2011
Intaglio and Bas-Relief Metamaterials: controlling the Colour of Metals
J. Zhang, J. Y. Ou, N. Papasimakis, Y. Chen, K. F. MacDonald, and N. I. Zheludev
NANOMETA 2011, Seefeld, Austria, 3-6 Jan 2011
(poster) Reconfigurable Photonic Metamaterials
J. Y. Ou, E. Plum, L. Jiang, and N. I. Zheludev
NANOMETA 2011, Seefeld, Austria, 3-6 Jan 2011
(poster) The Super-oscillating Superlens
E. T. F. Rogers, T. Roy, T. S. Kao, J. Y. Ou, V. Savinov, S. Sano, J. Lindberg, M. R. Dennis, and N. I. Zheludev
NANOMETA 2011, Seefeld, Austria, 3-6 Jan 2011
Multi-fold quantum dot luminescence enhancement in a plasmonic metamaterial
K. Tanaka, E. Plum, J. Y. Ou, T. Uchino, and N. I. Zheludev
NANOMETA 2011, Seefeld, Austria, 3-6 Jan 2011