ORC Nanophotonics & Metamaterials Group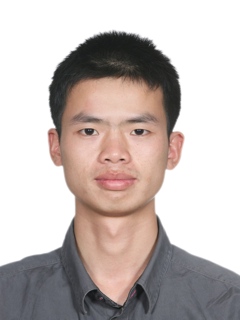 < Back to People ...
This web-page has been archived and is out-of-date.
Mr. Jianfa Zhang
Project
Active Photonic Metamaterials
Short CV
Jianfa Zhang is currently a third year PhD student at the University of Southampton. He received his Bachelor's degree in Engineering from National University of Defence Technology (NUDT), China in 2007. After that, he continued to study at NUDT as a Master student and was transferred to be a PhD student in February, 2009. He ceased his studies at NUDT and joined the Optoelectronics Research Centre in October, 2009.
Articles (2010-2016)
Conference Contributions (2010-2016)
Controlling light with light in a plasmonic nanooptomechanical metamaterial
J. Y. Ou, E. Plum, J. Zhang and N. I. Zheludev
CLEO:2014, San Jose, CA, USA, 8 - 13 Jun 2014
(keynote) Driving reconfigurable photonic metamaterials with light and electrical signals: exploiting forces and fields at the nanoscale
N. I. Zheludev, E. Plum, K. F. MacDonald, J. Y. Ou, J. Zhang, J. Valente, W. M. Zhu, and A. Q. Liu
Metamaterials' 2013, Bordeaux, France, 16 - 19 Sep 2013
(invited) Optical switching with phase-change metamaterials
K. F. MacDonald, J. Zhang, B. Gholipour, J. Maddock, D. W. Hewak, and N. I. Zheludev
SPIE Optics & Photonics, San Diego, CA, USA, 25 - 29 Aug 2013
(invited) Dielectric photonic metamaterials
J. Zhang, K. F. MacDonald, and N. I. Zheludev
15th International Conference on Transparent Optical Networks (ICTON 2013), Cartagena, Spain, 23 - 27 Jun 2013
(invited) Phase-change and optomechanical functionalities in photonic metamaterials
K. F. MacDonald, J. Zhang, B. Gholipour, J. Maddock, D. W. Hewak, and N. I. Zheludev
E-MRS 2013 Spring Meeting, Strasbourg, 27 - 31 May 2013
Optical magnetism in all-dielectric metamaterials
J. Zhang, J. Y. Ou, K. F. MacDonald, and N. I. Zheludev
CLEO/Europe - IQEC 2013, Munich, Germany, 12 - 16 May 2013
All-optical, non-volatile, chalcogenide phase-change meta-switch
B. Gholipour, J. Zhang, J. Maddock, K. F. MacDonald, D. W. Hewak, and N. I. Zheludev
CLEO/Europe - IQEC 2013, Munich, Germany, 12 - 16 May 2013
(poster) Optomechanical nonlinearity and bistability in dielectric metamaterials
J. Zhang, K. F. MacDonald, and N. I. Zheludev
CLEO/Europe - IQEC 2013, Munich, Germany, 12 - 16 May 2013
(invited) Fishing for carbon nanotubes with a plasmonic metamaterial net
H. Yasuda, J. Zhang, G. Adamo, S. Hakuta, K. F. MacDonald, and N. I. Zheludev
JSAP Spring Meeting 2013, Kanagawa, Japan, 27 - 30 Mar 2013
(invited) Structural phase change functionality in photonic metamaterials
K. F. MacDonald, J. Zhang, B. Gholipour, D. W. Hewak, and N. I. Zheludev
IPS Meeting 2013, Singapore, 4 - 6 Mar 2013
(invited) Nanomechanical control of metamaterial optical properties
E. Plum, J. Y. Ou, J. Valente, J. Zhang and N. I. Zheludev
IPS Meeting 2013, Singapore, 4 - 6 Mar 2013
(invited) Reconfiguring photonic metamaterials with electromagnetic forces
E. Plum, J. Y. Ou, J. Valente, J. Zhang, and N. I. Zheludev
Nanometa 2013, Seefeld, Austria, 3 - 6 Jan 2013
Optical magnetic response in all-dielectric metamaterial
J. Zhang, J. Y. Ou, R. Chen, M. D. B. Charlton, K. F. MacDonald,and N. I. Zheludev
Nanometa 2013, Seefeld, Austria, 3 - 6 Jan 2013
(poster) Fishing for carbon nanotubes with a photonic metamaterial net
H. Yasuda, J. Zhang, G. Adamo, K. F. MacDonald, and N. Zheludev
Nanometa 2013, Seefeld, Austria, 3 - 6 Jan 2013
(poster) Nonlinear dielectric optomechanical metamaterials
J. Zhang, K. F. MacDonald, and N. Zheludev
Nanometa 2013, Seefeld, Austria, 3 - 6 Jan 2013
(invited) Reconfiguring photonic metamaterials
E. Plum, J. Y. Ou, J. Valente, J. Zhang, and N. I. Zheludev
Sino-UK Workshop on Nanophotonics and Metamaterials, Beijing, China, 7 - 8 Dec 2012
Controlling Light
N. I. Zheludev, J. Zhang, and K. F. MacDonald
Metamaterials 2012, St. Petersburg, Russia, 17 - 22 Sep 2012
Perfect plasmonic absorption and transparency: the anti-lasing spaser
J. Zhang, K. F. MacDonald, and N. I. Zheludev
Photon12, Durham, UK, 3 - 6 Sep 2012
Chalcogenide metamaterial phase change all-optical switch of nanoscale thickness
B. Gholipour, J. Zhang, K. F. MacDonald, D. W. Hewak, and N. I. Zheludev
EPCOS 2012, Tampere, Finland, 8 - 10 Jul 2012
Metamaterial coherent perfect absorber: the anti-lasing-spaser
J. Zhang, K. F. MacDonald, N. I. Zheludev
6th International Conference on Nanophotonics (ICNP'2012), Beijing, China, 27 - 30 May 2012
Metamaterial 'gecko toe': optically-controlled adhesion to any surface
J. Zhang, H. Yasuda, K. F. MacDonald, N. I. Zheludev
CLEO:2012, San Jose, United States, 06 - 11 May 2012
Metamaterial coherent light absorption: the time-reversed analogue of the lasing spaser
J. Zhang, K. F. MacDonald, N. I. Zheludev
CLEO:2012, San Jose, United States, 06 - 11 May 2012
Chalcogenide glass photonics: non-volatile, bi-directional, all-optical switching in phase-change metamaterials
B. Gholipour, J. Zhang, F. Al-Saab; K. F. MacDonald, B. Hayden, D. W. Hewak, N. I. Zheludev
CLEO:2012, San Jose, United States, 06 - 11 May 2012
(poster) Optical 'gecko toe': near-field force sticks a metamaterial to any surface
J. Zhang, K. F. MacDonald, N. I. Zheludev
SPIE Photonics Europe, Brussels, Belgium, 16 - 19 Apr 2012
(poster) Light absorption by interference of radiation in a metamaterial - an anti-LASER
J. Zhang, K. F. MacDonald, N. I. Zheludev
SPIE Photonics Europe, Brussels, Belgium, 16 - 19 Apr 2012
(poster) Non-volatile bi-directional all-optical switching in chalcogenide glass metamaterials
B. Gholipour, J. Zhang, K. F. MacDonald, D. W. Hewak, N. I. Zheludev
SPIE Photonics Europe, Brussels, Belgium, 16 - 19 Apr 2012
(poster) Frequency selective reflectors, magnetic walls and perfect optical absorbers based on new classes of metal and dielectric-loaded relief metamaterials
J. Zhang, J. Y. Ou, T. Uchino, K. F. MacDonald, and N. I. Zheludev
Metamaterials 2011, Barcelona, Spain, 10 - 15 Oct 2011
(invited) Functional photonic metamaterials
M. Ren, J. Y. Ou, B. Jia, E. Plum, J. Zhang, L. Jiang, A. Nikolaenko, J. J. Xu, M. Gu, K. F. MacDonald, and N. I. Zheludev
IEEE Photonics 2011, Arligton, VA, USA, 09 - 13 Oct 2011
(invited) Manipulating light with photonic metamaterials
J. Y. Ou, T. S. Kao, J. Zhang, E. Plum, K. F. MacDonald, and N. I. Zheludev
SPIE Optics & Photonics 2011, San Diego, CA, USA, 21-25 Aug 2011
(invited) Advances in nonlinear and switchable photonic metamaterials
K. F. MacDonald, M. Ren, J. Zhang, B. Gholipour, N. Papasimakis, A. E. Nikolaenko, Z. X. Shen, D. W. Hewak, and N. I. Zheludev
SPP5, Busan, S. Korea, 15 -20 May 2011
Intaglio and Bas-Relief Metamaterials: controlling the Colour of Metals
J. Zhang, J. Y. Ou, N. Papasimakis, Y. Chen, K. F. MacDonald, and N. I. Zheludev
NANOMETA 2011, Seefeld, Austria, 3-6 Jan 2011
Chalcogenide plasmonic metamaterial switches
Z. L. Sámson, J. Zhang, G. Adamo, T. Uchino, B. Gholipour, K. Knight, C-C. Huang, F. De Angelis, K. F. MacDonald, P. Ashburn, E. Di Fabrizio, D. W. Hewak, and N. I. Zheludev
SPIE Optics & Photonics, San Diego, CA, USA, 01 - 05 Aug 2010
Active photonic metamaterials
Z. L. Sámson, B. Gholipour, F. De Angelis, S. Li, K. J. Knight, J. Zhang, T. Uchino, C. C. Huang, K. F. MacDonald, P. Ashburn, E. Di Fabrizio, D. W. Hewak, and N. I. Zheludev
8th Electro-Optics and infrared Conference, Shrivenham, UK, 07-09 Jul 2010