Nanophotonics & Metamaterials
ORC Group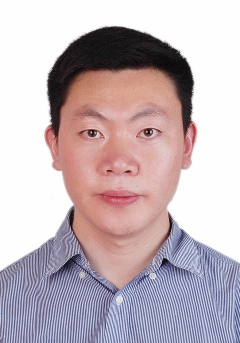 < Back to People ...
Mr. Tongjun Liu
Project
Nano-motion imaging microscopy
Short CV
Tongjun Liu received his B. Sc. from Yangzhou University in 2015. He obtained his Master degree in Optical Engineering from Wuhan National Laboratory for Optoelectronics (WNLO), Huazhong University of Science and Technology (HUST) in 2018. He was a summer R&D intern in Huawei Technologies Co., Ltd in 2017. Tongjun joined the Optoelectronics Research Centre as a PhD Student in September 2018.
Articles since 2018
Detection of sub-atomic movement in nanostructures
T. Liu, J. Y. Ou, K. F. MacDonald, and N. I. Zheludev
Nanoscale Adv. (2021) doi: 10.1039/d0na01068e - pdf
Conference Contributions since 2018
(invited) Pico-Metrology and Odometry with Topological Light and Free Electrons: Fundamental Studies and Technological Applications
C. Rendón-Barraza, E. A. Chan, J. Li, T. Liu, K. F. MacDonald, J.-Y. Ou, D. Papas, N. Papasimakis, E. Plum, T. Pu, G. Yuan, and N. I. Zheludev
15th International Congress on Artificial Materials for Novel Wave Phenomena, New York, USA, 2-5 Aug 2021
(invited) Pico-vibrometry: Visualization of sub-atomic movement in photonic nanostructure
T. Liu, J. Li, D. Papas, J. Y. Ou, E. Plum, K. F. MacDonald, and N. I. Zheludev
SPIE Optics & Photonics 2021, San Diego, USA, 1 - 5 Aug 2021
(invited) Dynamics of nanomechanical metamaterials: Pico-vibrometry with light and electron beams
J. Y. Ou, T. Liu, J. Li, D. Papas, E. Plum, K. F. MacDonald, and N. I. Zheludev
META 2021, Warsaw, Poland, 20 - 23 July 2021
First Observation of Phonon-induced Ballistic Motion in Photonic Nanostructures
T. Liu, J. Y. Ou, K. F. MacDonald, and N. I. Zheludev
CLEO/Europe-EQEC 2021 Virtual Meeting, 21 - 25 June 2021
Picometric Ballistic (non-Brownian) Thermal Movements in Photonic Nanostructures
T. Liu, J. Y. Ou, K. F. MacDonald, and N. I. Zheludev
CLEO 2021 Virtual Conference, 9-14 May 2021
Ultrafast Hyperspectral Nanomotion Imaging of Ballistic and Brownian Motion in Metamaterial Nanostructures
T. Liu, J. Y. Ou, K. F. MacDonald and N. I. Zheludev
Metamaterials 2020 (Virtual Conference), 28 Sept – 01 Oct 2020
Exotic effects in nanomechanical metamaterials
J. Y. Ou, D. Papas, J. Li, T. Liu, Q. Zhang, D. Piccinotti, E. Plum and K. F. MacDonald, and N. I. Zheludev
SPIE Optics & Photonics 2020, Digital Forum, 23 - 27 Aug 2020
(invited) Functional nanomechanical metamaterials driven by light, electromagnetic forces and sound
N. I. Zheludev, D. Papas, T. Liu, J. Li, Q. Zhang, J. Y. Ou, E. Plum, and K. F. MacDonald
CLEO 2020 Virtual Conference, 11-15 May 2020
High-frequency nano-motion imaging of artificial nanostructures
T. Liu, J. Y. Ou, K. F. MacDonald, and N. I. Zheludev
SPIE Photonics Europe Digital Forum 2020, 6-10 Apr 2020
High-Frequency Nano-motion Electron Imaging for Artificial Nanostructures
T. Liu, J. Y. Ou, K. F. MacDonald, and N. I. Zheludev
Electron Beam Spectroscopy for Nanophotonics 2019 (EBSN2019), Paris, France, 16-19 Sept 2019
Imaging of high-frequency motion in artificial nanostructures
T. Liu, J. Y. Ou, K. F. MacDonald, and N. I. Zheludev
Metamaterials'2019, Rome, Italy, 16 - 21 Sep 2019