ORC Nanophotonics & Metamaterials Group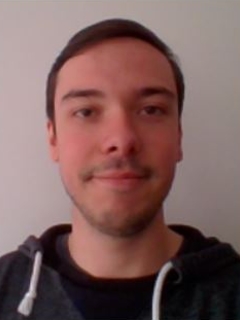 < Back to People ...
This web-page has been archived and is out-of-date.
Mr. Tiago Martins
Projects
Metamaterials on fibre-optic platforms
Short CV
Tiago Martins obtained his Physics BSc and MSc degrees from the University of Porto, Portugal, in 2013 and 2015, respectively. The work developed during the MSc degree (experimental physics) revolved around the fabrication of optical fibre devices using a CO2 laser and subsequent characterisation as sensors. Currently, he is a visitor at the Optoelectronics Research Centre, aiming at combining optical fibres and metamaterial structures.


Selected Articles since 2017
Fiber-integrated phase-change reconfigurable optical attenuator
T. Martins, B. Gholipour, D. Piccinotti, K. F. MacDonald, A. C. Peacock, O. Frazão, and N. I. Zheludev
APL Photonics 4,111301 (2019) doi: 10.1063/1.5116000 - pdf

Selected Conference Contributions since 2017
Reconfigurable optical fibre integrated phase change metadevices
Y. Cui, M. Maier, T. Martins, D. Piccinotti, K. F. MacDonald, N. I. Zheludev and B. Gholipour
SPIE Optics & Photonics 2020, Digital Forum, 23 - 27 Aug 2020
(invited) Chalcogenide reconfigurable metamaterials
B. Gholipour, D. Piccinotti, T. Martins, A. Karvounis, K. F. MacDonald, and N. I. Zheludev
SPIE Optics & Photonics 2019, San Diego, CA, USA, 11 - 15 Aug 2019
Fibre-integrated phase-change devices
T. Martins, B. Gholipour, D. Piccinotti, J. Y. Ou, K. F. MacDonald, O. Frazão, A. Peacock, and N. I. Zheludev
IV International Conference on Applications in Optics and Photonics (AOP 2019), Lisbon, Portugal 31 May – 04 Jun 2019
(invited) Chalcogenide phase-change photonic metamaterials
B. Gholipour, D. Piccinotti, A. Karvounis, T. Martins, K. F. MacDonald, and N. I. Zheludev
MRS Spring Meeting 2019, Phoenix, AZ, USA, 22-26 Apr 2019
(invited) Phase-change photonic metamaterials
K. F. MacDonald, D. Piccinotti, A. Karvounis, T. Martins, B. Gholipour, and N. I. Zheludev
SPIE Defense + Commercial Sensing, Baltimore, MD, USA, 14-18 Apr 2019