ORC Nanophotonics & Metamaterials Group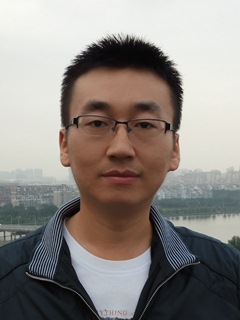 < Back to People ...
Dr. Minhua Li
Project
Chiral and toroidal metamaterial
Short CV
Minhua Li obtained his Radio Physics MSc and PhD degrees from the Central China Normal University, Wuhan, China, in 2010 and 2013, respectively. Since August 2013, he has been a lecturer in Faculty of Electrical Engineering and Computer Science, Ningbo University, China. His research interests have been in Metamaterial absorber and chiral Metamaterial. Currently, he is an academic visitor at the ORC in Southampton from May 2018 until May 2019.
Articles since 2017
Ultraviolet hollow-core waveguides with sub-unitary index chalcogenide cladding
J. Li, B. Gholipour, D. Piccinotti, K. F. MacDonald, and N. I. Zheludev
Opt. Mater. Express 10 (9), 2254-2261 (2020) doi: 10.1364/OME.400058 - pdf
Room temperature nanocavity laser with interlayer excitons in 2D heterostructures
Y. Liu, H Fang, A. Rasmita, Y. Zhou, J. Li, T. Yu, Q. Xiong, N. I. Zheludev, J. Liu, and W. Gao
Science Advances 5 (4), (2019) doi: 10.1126/sciadv.aav4506
Conference Contributions since 2017
(invited)Nanomechanical Functionalities in Photonic Metamaterials
K. F. MacDonald, D. Papas, J. Li, Q. Zhang, D. Piccinotti, J. Y. Ou, E. Plum, and N. I. Zheludev
Metamaterials 2020 (Virtual Conference), 28 Sept – 01 Oct 2020
Exotic effects in nanomechanical metamaterials
J. Y. Ou, D. Papas, J. Li, T. Liu, Q. Zhang, D. Piccinotti, E. Plum and K. F. MacDonald, and N. I. Zheludev
SPIE Optics & Photonics 2020, Digital Forum, 23 - 27 Aug 2020
(invited) Functional nanomechanical metamaterials driven by light, electromagnetic forces and sound
N. I. Zheludev, D. Papas, T. Liu, J. Li, Q. Zhang, J. Y. Ou, E. Plum, and K. F. MacDonald
CLEO 2020 Virtual Conference, 11-15 May 20200
(poster) Hollow-core waveguides with n<1 chalcogenide cladding
J. Li, B. Gholipour, D. Piccinotti, K. F. MacDonald, and N. I. Zheludev
Nanometa 2019, Seefeld, Austria, 3 - 6 Jan 2019