Nanophotonics & Metamaterials
ORC Group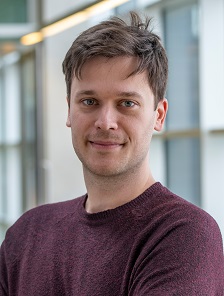 < Back to People ...
Mr. Dimitrios Papas
Project
Nanomechanical metamaterials driven by ultrasound
Short CV
Dimitrios obtained his 4-year Degree in Physics and his 2-year master degree in Nanotechnology from the Aristotle University of Thessaloniki (Greece) in 2011 and 2016 respectively. From 2016 to 2017 he was a research associate for the same institution. He joined the Optoelectronics Research Centre (ORC) as a PhD student in September 2017.
Conference Contributions since 2017
(invited) Pico-Metrology and Odometry with Topological Light and Free Electrons: Fundamental Studies and Technological Applications
C. Rendón-Barraza, E. A. Chan, J. Li, T. Liu, K. F. MacDonald, J.-Y. Ou, D. Papas, N. Papasimakis, E. Plum, T. Pu, G. Yuan, and N. I. Zheludev
15th International Congress on Artificial Materials for Novel Wave Phenomena, New York, USA, 2-5 Aug 2021
(invited) Pico-vibrometry: Visualization of sub-atomic movement in photonic nanostructure
T. Liu, J. Li, D. Papas, J. Y. Ou, E. Plum, K. F. MacDonald, and N. I. Zheludev
SPIE Optics & Photonics 2021, San Diego, USA, 1 - 5 Aug 2021
(invited) Dynamics of nanomechanical metamaterials: Pico-vibrometry with light and electron beams
J. Y. Ou, T. Liu, J. Li, D. Papas, E. Plum, K. F. MacDonald, and N. I. Zheludev
META 2021, Warsaw, Poland, 20 - 23 July 2021
Nanomechanical Bistability in Photonic Metamaterial
D. Papas, J. Y. Ou, E. Plum and N. I. Zheludev
CLEO/Europe-EQEC 2021 Virtual Meeting, 21 - 25 June 2021
Hybrid bistability in nano-opto-mechanical metamaterial
D. Papas, J. Y. Ou, E. Plum, and N. I. Zheludev
CLEO 2021 Virtual Conference, 9 - 14 May 2021
(invited)Nanomechanical Functionalities in Photonic Metamaterials
K. F. MacDonald, D. Papas, J. Li, Q. Zhang, D. Piccinotti, J. Y. Ou, E. Plum, and N. I. Zheludev
Metamaterials 2020 (Virtual Conference), 28 Sept – 01 Oct 2020
Exotic effects in nanomechanical metamaterials
J. Y. Ou, D. Papas, J. Li, T. Liu, Q. Zhang, D. Piccinotti, E. Plum and K. F. MacDonald, and N. I. Zheludev
SPIE Optics & Photonics 2020, Digital Forum, 23 - 27 Aug 2020
(invited) Functional nanomechanical metamaterials driven by light, electromagnetic forces and sound
N. I. Zheludev, D. Papas, T. Liu, J. Li, Q. Zhang, J. Y. Ou, E. Plum, and K. F. MacDonald
CLEO 2020 Virtual Conference, 11-15 May 2020
Optical metamaterial reconfigured with sound
D. Papas, J. Y. Ou, E. Plum, and N. I. Zheludev
Metamaterials'2019, Rome, Italy, 16 - 21 Sep 2019
(invited) Advances in nanomechanical metamaterials
E. Plum, D. Papas, J. Y. Ou, A. Karvounis, K. F. MacDonald and N. I. Zheludev
META 2019, Lisbon, Portugal, 23-26 Jul 2019
(poster) Acoustically driven photonic metamaterials
D. Papas, J. Y. Ou, E. Plum, and N. I. Zheludev
Nanometa 2019, Seefeld, Austria, 3 - 6 Jan 2019
(invited) Nano-optomechanical metamaterials
J. Y. Ou, D. Papas, A. Karvounis, E. Plum, and N. I. Zheludev
Optics 2018, Annual Meeting of Taiwan Photonics Society, Taiwan, 6-8 Dec 2018
Playing the metamaterial guitar with light and ultrasound
J. Y. Ou, D. Papas, E. Plum, and N. I. Zheludev
Symposium on Acoustic Metamaterials, Xàtiva, Spain, 7-9 Nov 2018