ORC Nanophotonics & Metamaterials Group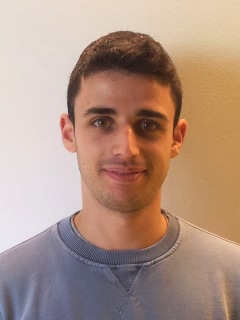 < Back to People ...
Dr. Davide Piccinotti
Project
Active Photonic Metamaterials
Short CV
Davide received his 3-year Degree in Materials Science from University of Padua, Italy, in 2012. After that, he attained the Master Degree in Materials Science at the same institution in 2014 completing a 6 months Erasmus period at IM2NP laboratory in Marseille (France). In that period he conducted research in As-doped Ge after laser thermal annealing by using Atom Probe Tomography technique. He began his PhD studies at the Optoelectronics Research Centre in November 2014.
Articles
Ultraviolet hollow-core waveguides with sub-unitary index chalcogenide cladding
J. Li, B. Gholipour, D. Piccinotti, K. F. MacDonald, and N. I. Zheludev
Opt. Mater. Express 10 (9), 2254-2261 (2020) doi: 10.1364/OME.400058 - pdf
Artificial Intelligence for Photonics and Photonic Materials
D. Piccinotti, K. F. MacDonald, S. A. Gregory, I. J. Youngs and N. I. Zheludev
Reports on Progress in Physics, (in press) 2020
Far-field unlabeled super-resolution imaging with superoscillatory illumination
E. T. F. Rogers, S. Quraishe, K. S. Rogers, T. A. Newman, P. J. S. Smith and N. I. Zheludev
APL Photonics 5, 066107 (2020) doi: 10.1063/1.5144918 - pdf
Fiber-integrated phase-change reconfigurable optical attenuator
T. Martins, B. Gholipour, D. Piccinotti, K. F. MacDonald, A. C. Peacock, O. Frazão, and N. I. Zheludev
APL Photonics 4,111301 (2019) doi: 10.1063/1.5116000 - pdf

Reconfigurable ultraviolet and high-energy-visible dielectric metamaterials
B. Gholipour, D. Piccinotti, A. Karvounis, K. F. MacDonald, and N. I. Zheludev
Nano Letters 19, 1643 (2019) doi: 10.1021/acs.nanolett.8b04576

Stoichiometric engineering of chalcogenide semiconductor alloys for nanophotonic applications
D. Piccinotti, B. Gholipour, J. Yao, K. F. MacDonald, B. E. Hayden, and N. I. Zheludev
Adv. Mater. 31, 1807083, (2019) doi: 10.1002/adma.201807083 - free access
Optical response of nano-hole arrays filled with chalcogenide low-epsilon media
D. Piccinotti, B. Gholipour, J. Yao, K. F. MacDonald, B. E. Hayden, and N. I. Zheludev
Adv. Opt. Mater. 6, 1800395 (2018) doi: 10.1002/adom.201800395 - free access
Compositionally controlled plasmonics in amorphous semiconductor metasurfaces
D. Piccinotti, B. Gholipour, J. Yao, K. F. MacDonald, B. E. Hayden, and N. I. Zheludev
Opt. Express 26(16), 20861-20867 (2018)doi: 10.1364/OE.26.020861 - pdf
Conference Contributions
(invited)Nanomechanical Functionalities in Photonic Metamaterials
K. F. MacDonald, D. Papas, J. Li, Q. Zhang, D. Piccinotti, J. Y. Ou, E. Plum, and N. I. Zheludev
Metamaterials 2020 (Virtual Conference), 28 Sept – 01 Oct 2020
Reconfigurable optical fibre integrated phase change metadevices
Y. Cui, M. Maier, T. Martins, D. Piccinotti, K. F. MacDonald, N. I. Zheludev and B. Gholipour
SPIE Optics & Photonics 2020, Digital Forum, 23 - 27 Aug 2020
Exotic effects in nanomechanical metamaterials
J. Y. Ou, D. Papas, J. Li, T. Liu, Q. Zhang, D. Piccinotti, E. Plum and K. F. MacDonald, and N. I. Zheludev
SPIE Optics & Photonics 2020, Digital Forum, 23 - 27 Aug 2020
(invited) Chalcogenide reconfigurable metamaterials
B. Gholipour, D. Piccinotti, T. Martins, A. Karvounis, K. F. MacDonald, and N. I. Zheludev
SPIE Optics & Photonics 2019, San Diego, CA, USA, 11 - 15 Aug 2019
Fibre-integrated phase-change devices
T. Martins, B. Gholipour, D. Piccinotti, J. Y. Ou, K. F. MacDonald, O. Frazão, A. Peacock, and N. I. Zheludev
IV International Conference on Applications in Optics and Photonics (AOP 2019), Lisbon, Portugal 31 May – 04 Jun 2019
(invited) Chalcogenide phase-change photonic metamaterials
B. Gholipour, D. Piccinotti, A. Karvounis, T. Martins, K. F. MacDonald, and N. I. Zheludev
MRS Spring Meeting 2019, Phoenix, AZ, USA, 22-26 Apr 2019
(invited) Phase-change photonic metamaterials
K. F. MacDonald, D. Piccinotti, A. Karvounis, T. Martins, B. Gholipour, and N. I. Zheludev
SPIE Defense + Commercial Sensing, Baltimore, MD, USA, 14-18 Apr 2019
(poster) Hollow-core waveguides with n<1 chalcogenide cladding
J. Li, B. Gholipour, D. Piccinotti, K. F. MacDonald, and N. I. Zheludev
Nanometa 2019, Seefeld, Austria, 3 - 6 Jan 2019
(poster) Quantum emitters in epsilon-near-zero and negative epsilon environments
H. Li, J. K. So, B. Gholipour, D. Piccinotti, N. Papasimakis, V. F. Fedotov, W. Gao, B. Hayden, and N. I. Zheludev
Nanometa 2019, Seefeld, Austria, 3 - 6 Jan 2019
(invited) Extraordinary properties of chalcogenide metamaterials
K. F. MacDonald, D. Piccinotti, A. Karvounis, B. Gholipour, J. Yao, B. E. Hayden, and N. I. Zheludev
Metamaterials 2018, Espoo, Finland, 27 Aug – 1 Sept 2018
Extraordinary properties of epsilon-near-zero and low-index chalcogenide metamaterials
D. Piccinotti, B. Gholipour, J. Yao, K. F. MacDonald, B. E. Hayden, and N. I. Zheludev
CLEO 2018, San Jose, CA, USA, 13-18 May 2018
(invited) New materials for metamaterials: plasmonic and ENZ chalcogenides
K. F. MacDonald, D. Piccinotti, B. Gholipour, J. Yao, B. E. Hayden, and N. I. Zheludev
SPIE Photonics Europe 2018, Strasbourg, France, 22-26 Apr 2018
(invited) Optical switching in nanostructured phase change materials
B. Gholipour, D. Piccinotti, J. Yao, K. F. MacDonald, B. E. Hayden, and N. I. Zheludev
Photonics West 2018, San Francisco, CA, USA, 2018, 27 Jan - 1 Feb 2018
(invited) Not-so-extraordinary transmission through an array of nano-holes in a metal film
D. Piccinotti, B. Gholipour, J. Yao, K. F. MacDonald, B. E. Hayden, and N. I. Zheludev
PIERS 2017, Singapore, Singapore, 19 - 22 Nov 2017
Tunable epsilon near-zero chalcogenides
B. Gholipour, D. Piccinotti, J. Yao, K. F. MacDonald, B. Hayden, and N. I. Zheludev
Metamaterials'2017, Marseille, France, 28 - 31 Aug 2017
(invited) Merging metamaterial and optical fiber technologies
N. I. Zheludev, K. F. MacDonald, E. Plum, A. Karvounis, D. Piccinotti, A. Xomalis, I. Demirtzioglou, V. Savinov, B. Gholipour, Y. Jung, P. Petropoulos, and D. J. Richardson
META2017, Seoul, South Korea, 25 - 28 Jul 2017
(invited) Merging photonic metamaterial and optical fiber technologies
A. Xomalis, D. Piccinotti, A. Karvounis, I. Demirtzioglou, V. Savinov, B. Gholipour, J. Y. Ou, Y. Jung, E. Plum, P. Petropoulos, K. F. MacDonald, D. J. Richardson, and N. I. Zheludev
Integrated Photonics Research, Silicon, and Nano-Photonics, New Orleans, LA, USA, 24 - 27 Jul 2017
Combinatorial search for plasmonic and epsilon-near-zero chalcogenide alloys
D. Piccinotti, B. Gholipour, J. Yao, K. F. MacDonald, B. E. Hayden, and N. I. Zheludev
CLEO Europe - EQEC 2017 , Munich, Germany 25 - 29 Jun 2017
Fibre-coupled photonic metadevices
A. Xomalis, D. Piccinotti, A. Karvounis, H. Zhang, V. Savinov, B. Gholipour, Y. Jung, A. C. Peacock, E. Plum, K. F. MacDonald, D. J. Richardson, and N. I. Zheludev
Nanometa 2017, Seefeld, Austria, 4 - 7 Jan 2017
(poster) Plasmonic response of chalcogenides and switchable all-dielectric metamaterials
B. Gholipour, D. Piccinotti, J. Yao, A. Karvounis, J. Yin, C. Soci, B. E. Hayden, K. F. MacDonald, N. I. Zheludev
Nanometa 2017, Seefeld, Austria, 4 - 7 Jan 2017
(invited) Nano-optomechanical dielectric metasurfaces reconfigurable with light
A. Karvounis, J. Y. Ou, D. Piccinotti, W. Wu, E. Plum, K. F. MacDonald, and N. I. Zheludev
Materials Research Society MRS 2015 Fall Meeting & Exhibit, Boston, MA, USA, 29 Nov - 4 Dec 2015