ORC Nanophotonics & Metamaterials Group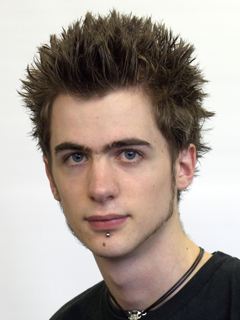 < Back to People ...
This web-page has been archived and is out-of-date.
Dr. Sam W. Birtwell
Project
Diffractive encoding of microparticles for chemical and biological assay applications
Short CV
Sam Birtwell began his studies as an undergraduate at the School of Physics and Astronomy, University of Southampton, from which he received a first class Master of Physics with Photonics in 2004. Since then he has been working on research for his PhD at the same university. His work concerns the use of micro-diffractive elements to encode identification data into polymer microparticles, for use in DNA analysis and antibody detection.
Personal homepage
n/a
Articles (2005-2009)
Holographically encoded microparticles for bead-based assays
S. W. Birtwell, S. Banu, N. I. Zheludev, and H. Morgan
J. Phys. D: Appl. Phys. 42, 055507 (2009) doi: 10.1088/0022-3727/42/5/055507

Diffractive micro bar codes for encoding of biomolecules in multiplexed assays
G. R. Broder, R. T. Ranasinghe, J. K. She, S. Banu, S. W. Birtwell, G. Cavalli, G. S. Galitonov, D. Holmes, H. F. P. Martins, K. F. MacDonald, C. Neylon, N. Zheludev, P. L. Roach, and H. Morgan
Anal. Chem. 80, 1902-1909 (2008) doi: 10.1021/ac7018574

Superimposed nanostructured diffraction gratings as high capacity barcodes for biological and chemical applications
S. W. Birtwell, G. S. Galitonov, H. Morgan, and N. I. Zheludev
Opt. Commun. 281(7), 1789-1795 (2008)
(special issue "Optics in Life Sciences") doi: 10.1016/j.optcom.2007.04.066

Fabrication of diffraction-encoded micro-particles using nano-imprint lithography
S. Banu, S. W. Birtwell, G. Galitonov, Y. Chen, N. Zheludev, and H. Morgan
J. Micromech. Microeng. 17, S116-S121 (2007) doi: 10.1088/0960-1317/17/7/S08

High capacity tagging using nanostructured diffraction barcodes
G. S. Galitonov, S. W. Birtwell, N. I. Zheludev, and H. Morgan
Opt. Express 14(4), 1382-1387 (2006) doi: 10.1364/OE.14.001382 - pdf
Microfabricated barcodes for particle identification
S. Banu, S. W. Birtwell, G. Galinatov, D. Holmes, N. Zheludev, and H. Morgan
Proc. MME Europe 2005, 252-255 (2005)
Conference Contributions (2005-2009)
Diffraction bar-codes as high capacity optical microtags for chemical and biological applications
S. W. Birtwell, G. Galitonov, A. Whitton, H. Morgan, and N. Zheludev
QEP-17 at Photon06, Manchester, UK, 4 - 7 Sep 2006
Nano-imprinting lithography - a novel way to fabricate diffractive barcoded particles
S. Banu, S. W. Birtwell, G. Galitonov, A. Whitton, Y. Chen, N. Zheludev, and H. Morgan
MME 2006, Southampton, UK, 3 - 5 Sep 2006
High capacity nano-optical diffraction barcode tagging for biological and chemical applications
S. Banu, S. W. Birtwell, Y. Chen, G. Galitonov, H. Morgan, and N. Zheludev
2006 NSTI Nanotech / Conference on Nano Electronics & Photonics, Boston, Massachusetts, USA, 7 - 11 May 2006
Optical and impedance detection of DNA hybridisation on barcoded micro particles in a microfluidic device
D. Holmes, A. Whitton, G. Cavalli-Petraglia, G. Galitonov, S. W. Birtwell, S. Banu, N. Zheludev, and H. Morgan
2006 NSTI Nanotech / Conference on Nano Electronics & Photonics, Boston, Massachusetts, USA, 7 - 11 May 2006
Microfabricated barcodes for particle identification
S. Banu, S. W. Birtwell, G. Galitonov, D. Holmes, N. Zheludev, and H. Morgan
16th MME MicroMechanics Europe Workshop, Goteborg, Sweden, 04 - 06 Sep 2005
[Proc. of 16th MME MicroMechanics Europe Workshop, pp. 252-255]