ORC Nanophotonics & Metamaterials Group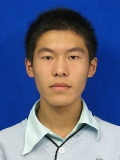 < Back to People ...
This web-page has been archived and is out-of-date.
Mr. Wang Ren
Projects
Enhancing Faraday effect with metamaterials
Short CV
Mr. Ren Wang received his bachelor degree in the University of Electronic Science and Technology of China (UESTC) in 2014. After that, he continued to study at UESTC as a PhD student. He is currently a visiting student at the Optoelectronics Research Centre in University of Southampton and his current research interests lie in the field of metamaterial devices.