ORC Nanophotonics & Metamaterials Group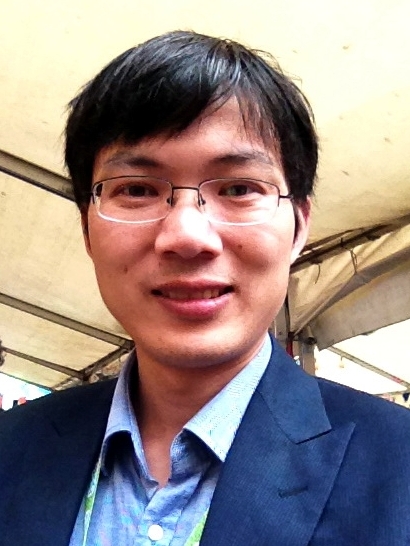 < Back to People ...
This web-page has been archived and may be out-of-date.
Dr. Weiping Wu
Project
Nanostructured photonic metamaterials
Short CV
Dr. Wu completed his undergraduate studies in Materials Science and Engineering at Shanghai Jiaotong University in 2004. He did research on Organic Electronics and received PhD degree from the Institute of Chemistry, Chinese Academy of Sciences in 2010. In March 2010 he joined the Electrical Engineering Division, Engineering Department, University of Cambridge, and the Cambridge Graphene Centre as a Research Associate. He worked on graphene and 2D layered materials for optoelectronics and printed electronics. Since October 2013 he is a Research Fellow at the Optoelectronics Research Centre (ORC). His current research interests lie in the areas of functional materials, optoelectronics and metamaterials.
Articles (2014-2016)
Nano-optomechanical nonlinear dielectric metamaterials
A. Karvounis, J. Y. Ou, W. Wu, K. F. MacDonald, N. I. Zheludev
Appl. Phys. Lett. 107, 191110 (2015) doi: 10.1063/1.4935795 - pdf
Conference Contributions (2014-2016)
(poster) Sub-GHz Modulation of Light with Dielectric Nanomechanical Metamaterials
A. Karvounis, J. Y. Ou, B. Gholipour, W. Wu, K. F. MacDonald, and N. I. Zheludev
CLEO 2016, San Jose, CA, USA, 5 - 10 June 2016

(invited) All-dielectric nano-optomechanical nonlinear metamaterials
A. Karvounis, J. Y. Ou, W. Wu, K. F. MacDonald, N. I. Zheludev
SPIE Photonics Europe 2016, Brussels, Belgium, 3 - 7 Apr 2016
(invited) Nano-optomechanical dielectric metasurfaces reconfigurable with light
A. Karvounis, J. Y. Ou, D. Piccinotti, W. Wu, E. Plum, K. F. MacDonald, and N. I. Zheludev
Materials Research Society MRS 2015 Fall Meeting & Exhibit, Boston, MA, USA, 29 Nov - 4 Dec 2015
All-dielectric nano-opto-mechanical metasurfaces
A. Karvounis, W. Wu, K. F. MacDonald, and N. I. Zheludev
Metamaterials 2015, Oxford, UK, 7 - 12 Sep 2015
(invited) Nanostructured photonic metamaterials reconfigurable with light, nanomechanical and electromagnetic forces
J. Y. Ou, J. Valente, A. Karvounis, W. Wu, E. Plum, K. F. MacDonald, and N. I. Zheludev
SPIE Optics & Photonics 2015, San Diego, CA, USA, 9 - 13 Aug 2015 - pdf
(invited) Optical forces in plasmonic and dielectric metamaterials
E. Plum, J. Y. Ou, A. Karvounis, W. Wu, K. F. MacDonald, and N. I. Zheludev
META2015, New York, NY, USA, 4 - 7 Aug 2015
Electronic and plasmonic properties of topological insulator
J. Yin, Z. Wang, W. Wu, G. Adamo, N. I. Zheludev, C. Soci
ICMAT2015, Singapore, 28 Jun - 3 Jul 2015
Nano-opto-mechanical nonlinear dielectric metamaterials
A. Karvounis, W. Wu, K. F. MacDonald, and N. I. Zheludev
CLEO/Europe-EQEC 2015, Munich, Germany 21 - 25 Jun 2015
(invited) Optically switchable and rewritable phase-change (dielectric) metamaterials
Q. Wang, A. Karvounis, B. Gholipour, W. Wu, E. T. F. Rogers, K. F. MacDonald, and N. I. Zheludev
2015 MRS Spring Meeting, San Francisco, CA, USA Apr 6 - 10 2015
(invited) Giant nonlinearities in plasmonic and dielectric reconfigurable metamaterials
N. I. Zheludev, K. F. MacDonald, E. Plum, J.-Y. Ou, J. Valente, A. Karvounis, W. Wu
2014 MRS Fall Meeting, Boston, MA, USA, 30 Nov - 5 Dec 2014