ORC Nanophotonics & Metamaterials Group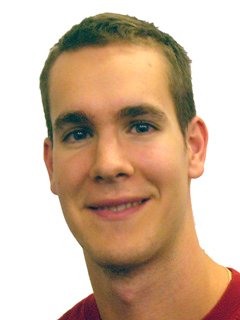 < Back to People ...
This web-page has been archived and is out-of-date.
Dr. Zsolt L. Sámson
Project
Nanophotonics under Electron Microscope
Short CV
Zsolt Sámson graduated in 2006 with a master's degree from the University of Pecs, Hungary. Before moving to Southampton he worked at the South-Trans-Danubian Cooperative Research Centre, Pecs. Since October 2006 he has been a PhD student for the University of Southampton.
Articles (2008-2011)
Conference Contributions (2008-2011)
Phase change gallium and germanium chalcogenides for optical electronic and plasmonic switching
D. W. Hewak, C. C. Huang, B. Gholipour, K. Knight, S. Li, Z. L. Sámson, K. F. MacDonald, N. I. Zheludev, S. C. Yen, C. D. Shiue, D. P. Tsai, F. De Angelis, E. Di Fabrizio, S. Guerin, B. Hayden
EPCOS 2010, Milan, Italy, 5 - 7 Sep 2010
Chalcogenide plasmonic metamaterial switches
Z. L. Sámson, J. Zhang, G. Adamo, T. Uchino, B. Gholipour, K. Knight, C-C. Huang, F. De Angelis, K. F. MacDonald, P. Ashburn, E. Di Fabrizio, D. W. Hewak, and N. I. Zheludev
SPIE Optics & Photonics, San Diego, CA, USA, 01 - 05 Aug 2010
Active photonic metamaterials
Z. L. Sámson, B. Gholipour, F. De Angelis, S. Li, K. J. Knight, J. Zhang, T. Uchino, C. C. Huang, K. F. MacDonald, P. Ashburn, E. Di Fabrizio, D. W. Hewak, and N. I. Zheludev
8th Electro-Optics and infrared Conference, Shrivenham, UK, 07-09 Jul 2010
Active chalcogenide glass photonics and electro-optics for the mid-infrared
D. W. Hewak, C. C. Huang, K. J. Knight, B. Gholipour, S. Li, Z. L. Sámson, K. F. MacDonald, and N. I. Zheludev
8th Electro-Optics and infrared Conference, Shrivenham, UK, 07-09 Jul 2010
(invited) Chalcogenide Phase Change Materials for Nanoscale Switching
D. W. Hewak, Z. L. Sámson, B. Gholipour, K. Knight, C. C. Huang, S. Li, K. F. MacDonald, and N. I. Zheludev
Photonics North 2010, Niagara Falls, Canada, 01 - 03 Jun 2010
Switching metamaterials with electronic signals and electron-beam excitations
Z. L. Sámson, G. Adamo, K. F. MacDonald, K. Knight, F. De Angelis, A. Nikolaenko, C. C. Huang, E. Di Fabrizio, D. W. Hewak, and N. I. Zheludev
SPIE Photonics Europe 2010, Brussels, Belgium, 12 - 16 Apr 2010
(keynote) Nonlinear and switchable plasmonic metamaterials
N. I. Zheludev, A. Nikolaenko, K. F. MacDonald, V. A. Fedotov, D. W. Hewak, G. Adamo, Z. Sámson, E. Plum, D. P. Tsai, E. Difabrizio, and F. De Angelis
Progress in Electromagnetics Research Symposium (PIERS 2010), Xi'an, China, 22 - 26 Mar 2010
(keynote) Nonlinear and switchable photonic metamaterials
N. I. Zheludev, A. E. Nikolaenko, Z. L. Sámson, K. F. MacDonald, K. Knight, C. C. Huang, D. W. Hewak, F. De Angelis, E. Di Fabrizio
META'10 2nd International Conference on Metamaterials, Photonic crystals and Plasmonics, Cairo, Egypt, 22 - 25 Feb 2010
(invited) Active control of surface plasmon polaritons and metamaterials
Z. L. Sámson, K. F. MacDonald, K. Knight, C. C. Huang, P. Horak, D. W. Hewak, M. I. Stockman, F. De Angelis, E. Di Fabrizio, S. C. Yen, D. P. Tsai and N. I. Zheludev
International Scientific Instrument Technology Workshop (ISITW), Hsinchu, Taiwan, 21 Oct 2009
Chalcogenide glass metamaterial optical switch
Z. L. Sámson, K. F. MacDonald, F. De Angelise, G. Adamo, K. Knight, C. C. Huang, D. W. Hewak, E. Di Fabrizio and N.I.Zheludev
Frontiers in Optics 2009, San Jose, CA, USA, 11-15 Oct 2009
(invited) Active Plasmonics: current status
K. F. MacDonald, Z. L. Sámson, and N. I. Zheludev
22nd Annual Meeting of the IEEE Photonics Society, Belek-Antalya, Turkey, 04 - 08 Oct 2009
(invited) Ultrafast control of surface plasmon propagation
Z. L. Sámson, K. F. MacDonald, and N. I. Zheludev
Ultrafast and Nonlinear Optics (UFNO'2009), Burgas, Bulgaria, 14 - 18 Sep 2009
[This presentation was recognized with a SPIE Best Student Paper Award]
(invited) Phase-change chalcogenide glasses in active plasmonics
N. I. Zheludev, S.-C. Yen, Z. L. Sámson, K. F. MacDonald, K. J. Knight, and D. W. Hewak
Plasmonics: Metallic Nanostructures and Their Optical Properties VII, San Diego, CA, United States, 02 - 06 Aug 2009
Propagation and active control of femtosecond plasmon pulses
Z. L. Sámson, K. F. MacDonald, P. Horak, M. I. Stockman, and N. I. Zheludev
CLEO/Europe-EQEC, Munich, Germany, 14 - 19 Jun 2009
Ultrafast active plasmonics
K. F. MacDonald, Z. L. Sámson, P. Horak, N. I. Zheludev, and M. I. Stockman
NANOMETA 2009, Seefeld, Austria, 5-8 Jan 2009
Femtosecond active plasmonics
K. F. MacDonald, Z. L. Sámson, N. I. Zheludev, and M. I. Stockman
Plasmonics and Metamaterials (META), Rochester, New York, USA, 20 - 23 Oct 2008
Femtosecond control of surface plasmon-polariton propagation
K. F. MacDonald, Z. L. Sámson, N. I. Zheludev, and M. I. Stockman
IoP Quantum Electronics and Photonics Conference (QEP-18), Edinburgh, UK, 26 - 29 Aug 2008
Femtosecond modulation of surface plasmon-polariton propagation
K. F. MacDonald, Z. L. Sámson, N. I. Zheludev, and M. I. Stockman
SPIE Plasmonics: Metallic Nanostructures and Their Optical Properties VI, San Diego, CA, USA, 10 - 13 Aug 2008
(invited) Femtosecond control of plasmon propagation
N. I. Zheludev, K. F. MacDonald, Z. L. Sámson, and M. Stockman
Functional Plasmonics and Nanophotonics at MRS Spring Meeting 2008, San Francisco, CA, USA, 24 - 28 Mar 2008