ORC Nanophotonics & Metamaterials Group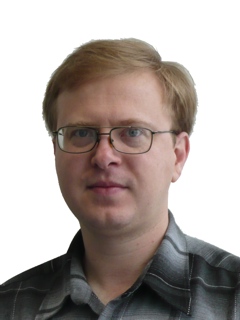 < Back to People ...
This web-page has been archived and is out-of-date.
Dr. Andrey Nikolaenko
Project
Metamaterials
Short CV
Dr. Nikolaenko is currently a Research Fellow in the Optoelectronics Research Centre at University of Southampton. He was awarded an MSc by the Novosibirsk State University (Russia) in 2002. In 2006 Dr. Nikolaenko obtained PhD degree from the Institute of Semiconductor Physics, Siberian Branch of the Russian Academy of Sciences, Novosibirsk, Russia. His current research interests lie in the fields of metamaterials and nanophotonics.
Articles (2010-2013)
Conference Contributions (2010-2013)
Transformation optics with planar metamaterials: diffraction grating and lens
T. Roy, A. E. Nikolaenko, E. T. F. Rogers, N. I. Zheludev
CLEO:2012, San Jose, United States, 06 - 11 May 2012
Terahertz bandwidth optical nonlinearity of graphene metamaterial
A. E. Nikolaenko, E. Atmatzakis, N. Papasimakis, Z. Luo, Z. X. Shen, S. Boden, P. Ashburn, and N. I. Zheludev
CLEO:2012, San Jose, United States, 06 - 11 May 2012
THz bandwidth light-with-light modulation in graphene metamaterial
A. Nikolaenko, E. Atmatzakis, N. Papasimakis, Z. Luo, Z. X. Shen, F. De Angelis, E. Di Fabrizio, N. I. Zheludev
META'12, Paris, France, 19 - 22 Apr 2012
Fabrication of metallodielectric nanocomposites for plasmonic applications through directional solidification
M. Gajc, A. Klos, B. Surma, K. Sadecka, N. I. Zheludev, A. Nikolaenko, D. A. Pawlak
META'12, Paris, France, 19 - 22 Apr 2012
(poster) Ultrafast nonlinearity of graphene metamaterial
A. Nikolaenko, E. Atmatzakis, N. Papasimakis, Z. Luo, Z. X. Shen, F. De Angelis, E. Di Fabrizio, N. I. Zheludev
SPIE Photonics Europe, Brussels, Belgium, 16 - 19 Apr 2012
(poster) Light localization, linear and nonlinear properties of disordered plasmonic metamaterials
T. S. Kao, T. Roy, M. Ren, N. Papasimakis, F. DeAngelis, E. DiFabrizio, A. E. Nikolaenko, N. I. Zheludev
SPIE Photonics Europe, Brussels, Belgium, 16 - 19 Apr 2012
(poster) Engineering interface singularities with metamaterials: planar optical prism and diffraction grating
T. Roy, A. E. Nikolaenko, E. T. F.Rogers, N. I. Zheludev
SPIE Photonics Europe, Brussels, Belgium, 16 - 19 Apr 2012
Giant femtosecond optical nonlinearity of gold metamaterial nanostructures
M. Ren, B. Jia, J. Y. Ou, E. Plum, K. F. MacDonald, A. E. Nikolaenko, J. J. Xu, M. Gu, and N. I. Zheludev
Metamaterials 2011, Barcelona, Spain, 10 - 15 Oct 2011
(invited) Functional photonic metamaterials
M. Ren, J. Y. Ou, B. Jia, E. Plum, J. Zhang, L. Jiang, A. Nikolaenko, J. J. Xu, M. Gu, K. F. MacDonald, and N. I. Zheludev
IEEE Photonics 2011, Arligton, VA, USA, 09 - 13 Oct 2011
(invited) Ultrafast Nonlinearities of Plasmonic Metamaterials
M. Ren, A. Nikolaenko, E. Plum, and N. I. Zheludev
SPIE Optics & Photonics 2011, San Diego, CA, USA, 21-25 Aug 2011
Coupling classic and quantum objects: from nano-laser to quantum metamaterials
A. Chipouline, V. A. Fedotov, A. E. Nikolaenko
Days on Diffraction 2011, St. Petersburg, Russia, May 30 - Jun 3 2011
(invited) Advances in nonlinear and switchable photonic metamaterials
K. F. MacDonald, M. Ren, J. Zhang, B. Gholipour, N. Papasimakis, A. E. Nikolaenko, Z. X. Shen, D. W. Hewak, and N. I. Zheludev
SPP5, Busan, S. Korea, 15 -20 May 2011
(invited) Metamaterials: novel functionalities and meta-molecular interactions
E. Plum, J. Y. Ou, K. Tanaka, G. Adamo, A. Nikolaenko, and N. I. Zheludev
UKIERI Workshop, Aurangabad, Maharashtra, India, 14 - 16 Apr 2011
Tuning metamaterial properties by a single-layer of graphene
N. Papasimakis, A. Nikolaenko, Z. Luo, Z. X. Shen, F. De Angelis, E. Di Fabrizio, S. Boden, T. Uchino, and N. I. Zheludev
NANOMETA 2011, Seefeld, Austria, 3-6 Jan 2011
(poster) Spectral-Temporal Dynamics of Carbon Nanotubes in Plasmonic Metamaterial
A. Nikolaenko, M. Ren, F. De Angelis, E. Di Fabrizio, and N. I. Zheludev
NANOMETA 2011, Seefeld, Austria, 3-6 Jan 2011
(poster) Fabrication and characterization of novel 3D isotropic plasmonic materials
M. Gajc, A. Klos, R. Diduszko, B. Surma, N. I. Zheludev, A. Nikolaenko, and D. A. Pawlak
NANOMETA 2011, Seefeld, Austria, 3-6 Jan 2011
(poster) Metallodielectric eutectic structures for photonics: Bi2O3-Ag and CuO-Ag
K. Sadecka, M. Gajc, A. Klos, R. Diduszko, B. Surma, D. A. Pawlak, A. Nikolaenko, and N. I. Zheludev
NANOMETA 2011, Seefeld, Austria, 3-6 Jan 2011
(invited) Nano- and micro-structured metamaterial composites: the directional solidification approach
D. A. Pawlak, M. Gajc, A. Klos, K. Kolodziejak, K. Sadecka, S. Turczynski, A. E. Nikolaenko, and N. I. Zheludev
Metamaterials'2010, Karlsruhe, Germany, 13 - 16 Sep 2010
Graphene superstrates for metamaterials
N. Papasimakis, Z. Luo, Z. X. Shen, F. De Angelis, E. Di Fabrizio, A. E. Nikolaenko, and N. I. Zheludev
Metamaterials'2010, Karlsruhe, Germany, 13 - 16 Sep 2010
Graphene as a metamaterial superstrate
Z. X. Shen, Z. Luo, F. De Angelis, E. Di Fabrizio, N. Papasimakis, A. E. Nikolaenko, and N. I. Zheludev
Recent Advances in Graphene and Related Materials , Singapore, 01 - 06 Aug 2010
(invited) Graphene in a plasmonic metamaterial
Z. Luo, Z. X. Shen, N. Papasimakis, A. E. Nikolaenko, F. De Angelis, E. Di Fabrizio, and N. I. Zheludev
SPIE Optics & Photonics, San Diego, CA, USA, 01 - 05 Aug 2010
Carbon nanotubes in a photonic metamaterial: giant ultrafast nonlinearity through plasmon-exciton coupling
A. Nikolaenko, F. De Angelis, S. A. Boden, N. Papasimakis, P. Ashburne, E. M. Di Fabrizio, and N. I. Zheludev
CLEO/QELS 2010, San Jose, CA, USA, 16 - 21 May 2010
(invited) Carbon nanotubes in photonic metamaterials
N. I. Zheludev, A. Nikolaenko, F. De Angelis, S. A. Boden, N. Papasimakis, P. Ashburne, and E. M. Di Fabrizio
SPIE Photonics Europe 2010, Brussels, Belgium, 12 - 16 Apr 2010
Switching metamaterials with electronic signals and electron-beam excitations
Z. L. Sámson, G. Adamo, K. F. MacDonald, K. Knight, F. De Angelis, A. Nikolaenko, C. C. Huang, E. Di Fabrizio, D. W. Hewak, and N. I. Zheludev
SPIE Photonics Europe 2010, Brussels, Belgium, 12 - 16 Apr 2010
(keynote) Nonlinear and switchable plasmonic metamaterials
N. I. Zheludev, A. Nikolaenko, K. F. MacDonald, V. A. Fedotov, D. W. Hewak, G. Adamo, Z. Sámson, E. Plum, D. P. Tsai, E. Difabrizio, and F. De Angelis
Progress in Electromagnetics Research Symposium (PIERS 2010), Xi'an, China, 22 - 26 Mar 2010
(keynote) Nonlinear and switchable photonic metamaterials
N. I. Zheludev, A. E. Nikolaenko, Z. L. Sámson, K. F. MacDonald, K. Knight, C. C. Huang, D. W. Hewak, F. De Angelis, E. Di Fabrizio
META'10 2nd International Conference on Metamaterials, Photonic crystals and Plasmonics, Cairo, Egypt, 22 - 25 Feb 2010