ORC Nanophotonics & Metamaterials Group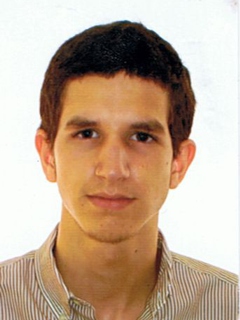 < Back to People ...
This web-page has been archived and is out-of-date.
Dr. Pablo Cencillo Abad
Project
Reconfigurable Photonic Metamaterials
Short CV
Pablo Cencillo obtained his "Licenciatura" in Physics from the University of Valencia (Spain) in 2013, completing an Erasmus year at RWTH Aachen (Germany). He started his PhD studies at the Optoelectronics Research Centre, University of Southampton in September 2013.
Articles
Conference Contributions
(invited) Active metasurfaces: Optical properties on demand
E. Plum, M. Papaioannou, P. Cencillo-Abad, J. Y. Ou, A. Xomalis, E. T. F. Rogers, K. F. MacDonald, and N. I. Zheludev
Rank Prize Symposium on Electromagnetic Metasurfaces, Grasmere, UK, 13 - 16 Mar 2017
(invited) Reconfigurable nanomembrane metadevices
E. Plum, J. Valente, J. Y. Ou, P. Cencillo-Abad, A. Karvounis, K. F. MacDonald, and N. I. Zheludev
9th International Conference on Nanophotonics (ICNP 2016), Taipei, Taiwan, 21 - 25 Mar 2016
Active control of light with metasurfaces
J. Valente, E. Plum, M. Papaioannou, P. Cencillo-Abad, V. Nalla, C. Altuzarra, S. Vezzoli, I. J. Youngs, and N. I. Zheludev
Defence & Security Doctoral Symposium, Cranfield, UK, 25 - 26 Nov 2015
Random access photonic metamaterials
P. Cencillo-Abad, J. Y. Ou, J. Valente, E. Plum, and N. I. Zheludev
Metamaterials 2015, Oxford, UK, 7 - 12 Sep 2015
Reconfigurable gradient metasurfaces with random access
P. Cencillo-Abad, J.-Y. Ou, J. Valente, E. Plum, and N. I. Zheludev
CLEO/Europe-EQEC 2015, Munich, Germany 21 - 25 Jun 2015
(poster) Randomly addressable reconfigurable photonic metamaterials
P. Cencillo-Abad, J. Y. Ou, J. Valente, E. Plum, N. I. Zheludev
Nanometa 2015, Seefeld, Austria, 5 - 8 Jan 2015
(invited) Nanomechanical metamaterial light modulators
E. Plum, J. Y. Ou, J. Valente, P. Cencillo-Abad, and N. I. Zheludev
META'14, Singapore, 20 - 23 May 2014