ORC Nanophotonics & Metamaterials Group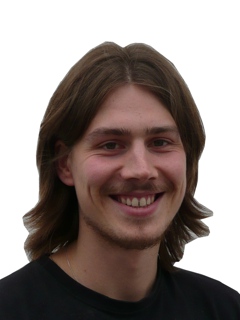 < Back to People ...
Dr. Vassili Savinov
Project
Superconducting and Toroidal Metamaterials
Short CV
Dr. Savinov obtained his MPhys (Physics with Mathematics) degree from the University of Southampton in 2010, and his PhD degree on "Novel Toroidal and Superconducting Metamaterials" from the Optoelectronics Research Centre at the University of Southampton in 2013. He was awarded a one-year EPSRC Doctoral Prize fellowship in 2014. His interest lie in the areas of plasmonics, optical metamaterials and toroidal electrodynamics.
Articles
Conference Contributions
Optical second harmonic generation in amorphous silicon metamaterial
J. Xu, V. Savinov, E. Plum, and N. I. Zheludev
Metamaterials'2019, Rome, Italy, 16 - 21 Sep 2019
(invited) Anapoles and flying doughnuts
N. Papasimakis, V. Savinov, A. Zdagkas, and N. I. Zheludev
ICEAA 2019, Granada, Spain, 9 - 13 Sep 2019
(poster) A topologically robust formation of broadband vortices propagating at the speed of light
A. Zdagkas, V. Savinov, N. Papasimakis, and N. I. Zheludev
CLEO Europe - EQEC 2019, Munich, Germany 23 - 27 Jun 2019
(poster) Second harmonic generation due to mesoscopic structuring in dielectric metamaterial
J. Xu, V. Savinov, E. Plum, and N. I. Zheludev
Nanometa 2019, Seefeld, Austria, 3 - 6 Jan 2019
(poster) Solvatochromic spectroscopy of metamaterials
V. Savinov, W. Y. Tsai, J. Y. Ou, D. P. Tsai, and N. I. Zheludev
Nanometa 2019, Seefeld, Austria, 3 - 6 Jan 2019
(invited) Seeing the invisible: Direct detection of electric, toroidal and anapoles Dipoles
V. Savinov, W. Y. Tsai, J. Y. Ou, D. P. Tsai, and N. I. Zheludev
Optics 2018, Annual Meeting of Taiwan Photonics Society, Taiwan, 6-8 Dec 2018
(poster) Breaking up the anapole: or How to separate toroidal and electric dipole excitations in matter
V. Savinov, W. Y. Tsai, D. P. Tsai, and N. I. Zheludev
CLEO 2018, San Jose, CA, USA, 13-18 May 2018
Variable environmental index spectroscopy in metamaterials
W. Y. Tsai, V. Savinov, J. Y. Ou, D. P. Tsai, and N. I. Zheludev
CLEO 2018, San Jose, CA, USA, 13-18 May 2018

(invited) Plasmonic toroidal excitation with engineering metamaterials
P. C. Wu, H. Hsiao, C. Y. Liao, T. L. Chung, P. R. Wu, V. Savinov, N. I. Zheludev,
SPIE Optics & Photonics 2017, San Diego, CA, USA, 06 - 10 Aug 2017
(poster) Optical range plasmonics of a niobium metamaterial around the superconducting transition temperature
C. Y. Liao, H. N. S. Krishnamoorthy, V. Savinov, J. Y. Ou, E. Plum, K. F. MacDonald, C. Soci, F. V. Kusmartsev, D. P. Tsai, and N. I. Zheludev
CLEO-PR, OECC & PGC 2017, Singapore 31 Jul - 4 Aug 2017
(invited) Merging metamaterial and optical fiber technologies
N. I. Zheludev, K. F. MacDonald, E. Plum, A. Karvounis, D. Piccinotti, A. Xomalis, I. Demirtzioglou, V. Savinov, B. Gholipour, Y. Jung, P. Petropoulos, and D. J. Richardson
META2017, Seoul, South Korea, 25 - 28 Jul 2017
(invited) Merging photonic metamaterial and optical fiber technologies
A. Xomalis, D. Piccinotti, A. Karvounis, I. Demirtzioglou, V. Savinov, B. Gholipour, J. Y. Ou, Y. Jung, E. Plum, P. Petropoulos, K. F. MacDonald, D. J. Richardson, and N. I. Zheludev
Integrated Photonics Research, Silicon, and Nano-Photonics, New Orleans, LA, USA, 24 - 27 Jul 2017
Plasmonic properties of superconducting niobium in the optical spectral range
C. Y. Liao, H. N. S. Krishnamoorthy, V. Savinov, J. Y. Ou, C. Huang, G. Adamo, E. Plum, K. F. MacDonald, Y. D. Chong, O. L. Muskens, C. Soci, F. V. Kusmartsev, D. P. Tsai, and N. I. Zheludev
CLEO Europe - EQEC 2017 , Munich, Germany 25 - 29 Jun 2017
Coherent absorption of two-photon states in metamaterials
T. Roger, A. Lyons, D. Oren, V. Savinov, J. Valente, S. Vezzoli, M. Segev, N. I. Zheludev, and D. Faccio
CLEO Europe - EQEC 2017 , Munich, Germany 25 - 29 Jun 2017
Plasmonic response of superconducting niobium in the optical spectral range
C. Y. Liao, H. N. S. Krishnamoorthy, V. Savinov, J. Y. Ou, C. Huang, G. Adamo, E. Plum, K. F. MacDonald, Y. D. Chong, O. L. Muskens, C. Soci, F. V. Kusmartsev, D. P. Tsai, and N. I. Zheludev
ICMAT2017, Singapore, 18 - 23 Jun 2017
(invited) Merging metamaterial and fiber technologies
J. Y. Ou, A. Karvounis, A. Xomalis, V. Savinov, E. Plum, K. F. MacDonald, and N. I. Zheludev
8th International Conference on Surface Plasmon Photonics (SPP8), Taipei, Taiwan, 22-26 May 2017
(invited) Light Control with Photonic Metasurfaces
P. C. Wu, W. Y. Tsai, C. Y. Liao, T. L. Chung, W. T. Chen, Y. W. Huang, V. Savinov, N. I. Zheludev, A. Q. Liu, G. Sun, and D. P. Tsai
8th International Conference on Surface Plasmon Photonics (SPP8), Taipei, Taiwan, 22-26 May 2017
Optical range plasmonics around superconducting transition temperature of niobium metamaterial
C. Y. Liao, H. N. S. Krishnamoorthy, V. Savinov, J. Y. Ou, C. Huang, G. Adamo, E. Plum, K. F. MacDonald, Y. D. Chong, O. L. Muskens, C. Soci, F. V. Kusmartsev, D. P. Tsai, N. I. Zheludev
8th International Conference on Surface Plasmon Photonics (SPP8), Taipei, Taiwan, 22-26 May 2017
(invited) Toroidal metamaterials in the flatland
V. Savinov, V. A. Fedotov, M. Gupta, R. Singh, and N. I. Zheludev
Rank Prize Symposium on Electromagnetic Metasurfaces, Grasmere, UK, 13 - 16 Mar 2017
(invited) Optical plasmonic response of niobium around the superconducting transition temperature
C. Y. Liao, H. N. S. Krishnamoorthy, V. Savinov, J. Y. Ou, C. Huang, G. Adamo, E. Plum, K. F. MacDonald, Y. D. Chong, C. Soci, F. V. Kusmartsev, D. P. Tsai, and N. I. Zheludev
IPS Meeting 2017, Singapore, 22 - 24 Feb 2017
Fibre-coupled photonic metadevices
A. Xomalis, D. Piccinotti, A. Karvounis, H. Zhang, V. Savinov, B. Gholipour, Y. Jung, A. C. Peacock, E. Plum, K. F. MacDonald, D. J. Richardson, and N. I. Zheludev
Nanometa 2017, Seefeld, Austria, 4 - 7 Jan 2017
Optical range plasmonics of niobium around the superconducting transition temperature
C. Y. Liao, H. N. S. Krishnamoorthy, V. Savinov, J. Y. Ou, C. Huang, G. Adamo, E. Plum, K. F. MacDonald, Y. D. Chong, C. Soci, F. V. Kusmartsev, D. P. Tsai, and N. I. Zheludev
Nanometa 2017, Seefeld, Austria, 4 - 7 Jan 2017
(poster) High-Q Toroidal and Anapole Resonances in Metamaterials
M. Gupta, V. Savinov, and R. Singh
Nanometa 2017, Seefeld, Austria, 4 - 7 Jan 2017
(poster) Generation of flying electromagnetic doughnuts via spatiotemporal conversion of transverse electromagnetic pulses
T. Raybould, N. Papasimakis, V. A. Fedotov, I. Youngs, and N. I. Zheludev; [presenter: V. Savinov]
Nanometa 2017, Seefeld, Austria, 4 - 7 Jan 2017
(invited) Electromagnetic doughnuts: localised and propagating toroidal excitations enabled by metamaterials
T. A. Raybould, V. Savinov, N. Papasimakis, V. A. Fedotov, and N. I. Zheludev
Metamaterials 2016, Crete, Greece, 17 - 22 Sep 2016
Planar toroidal metamaterials
M. Gupta, V. Savinov, N. Xu, L. Cong, G. Dayal, S. Wang, W. Zhang, N. I. Zheludev and R. Singh
IEEE Optical MEMS and Nanophotonics, Singapore, 3 Aug 2016
(invited) Metamaterials as a platform to study localised and propagating toroidal excitations
T. A. Raybould, V. Savinov, N. Papasimakis, V. A. Fedotov, and N. I. Zheludev
CIMTEC 2016, Perugi, Italy, 5 - 9 June 2016
Quantum topological phase in guided surface plasmon-polaritons
V. Savinov [et al.]
COST MP1403 ESR Workshop, Malta, 15-18 Nov 2015
Optical superconducting plasmonic metamaterial
K. Delfanazari, V. Savinov, O. L. Muskens, and N. I. Zheludev
Metamaterials 2015, Oxford, UK, 7 - 12 Sep 2015
(invited) Propagating and localized toroidal excitations in free space and metamaterials
N. I . Zheludev, V. A. Fedotov, N. Papasimakis, V. Savinov, T. A. Raybould, I. Youngs
SPIE Optics & Photonics 2015, San Diego, CA, USA, 9 - 13 Aug 2015
(poster) Quantum dirac phase interferometer in a plasmonic waveguide
V. Savinov and N. I. Zheludev
CLEO/Europe-EQEC 2015, Munich, Germany 21 - 25 Jun 2015
The Aharonov-Bohm-like effect in plasmonics
V. Savinov, and N. I. Zheludev
7th International Conference on Surface Plasmon Photonics (SPP7), Jerusalem, Israel 31 May – 5 June 2015
Superconducting metamaterial: resonant response at visible wavelengths
K. Delfanazari, V. Savinov, O. L. Muskens, and N. I. Zheludev
2015 Joint UK-Japan Workshop on Physics and Applications of Superconductivity (JWPAS), Cambridge, UK, 12 - 15 Apr 2015
(poster) The Aharonov-Bohm-like effect in plasmonics
V. Savinov, N. I. Zheludev
Nanometa 2015, Seefeld, Austria, 5 - 8 Jan 2015
(poster) Resonant response of superconducting metamaterial at optical frequencies
K. Delfanazari, V. Savinov, O. L. Muskens, N. Zheludev
Nanometa 2015, Seefeld, Austria, 5 - 8 Jan 2015
(invited) Metamaterials, toroids and flying donuts
N. I. Zheludev, V. A. Fedotov, T. A. Raybould, N. Papasimakis, V. Savinov and I. Youngs
IEEE Photonics Conference 2014, San Diego, CA USA, 12 - 16 Oct 2014
(invited) Toroidal metamaterials: resonant transparency and non-trivial non-radiating excitations
V. A. Fedotov, V. Savinov, A. V. Rogacheva, N. I. Zheludev
Photon14, London, 1 - 4 Sep 2014
(invited) Planar superconducting toroidal metamaterial: a source for oscillating vector-potential?
V. Savinov, K. Delfanazari, V. A. Fedotov and N. I. Zheludev
CLEO:2014, San Jose, CA, USA, 8 - 13 Jun 2014
Giant sub-THz nonlinear response in superconducting metamaterial
V. Savinov, K. Delfanazari, V. A. Fedotov, and N. I. Zheludev
CLEO:2014, San Jose, CA, USA, 8 - 13 Jun 2014
(invited) Non-trivial non-radiating excitations and ultra-narrow resonances in toroidal metamaterials
V. A. Fedotov, V. Savinov, A. V. Rogacheva, and N. I. Zheludev
META'14, Singapore, 20 - 23 May 2014
Nonlinear superconducting metamaterials in free-space at mm-wave frequencies
S. Anlage, D. Zhang, M. Trepanier, O. Mukhanov, K. Delfanazari, V. Savinov, N. I. Zheludev
APS March Meeting, Denver, Colorado, 03 - 07 Mar, 2014
Non-radiating excitations, vector potential waves and toroidal metamaterials
V. A. Fedotov, V. Savinov, A.V. Rogacheva, D. P. Tsai, and N. I. Zheludev
Metamaterials' 2013, Bordeaux, France, 16 - 19 Sep 2013
Radiation-harvesting resonant superconducting sub-THz metamaterial bolometer
V. Savinov, V. A. Fedotov, P. A. J. de Groot, and N. I. Zheludev
CLEO/Europe - IQEC 2013, Munich, Germany, 12 - 16 May 2013
(poster) Non-radiating excitations, vector potential waves and toroidal metamaterials
V. Savinov, V.A. Fedotov, A.V. Rogacheva, D.P. Tsai, and N.I. Zheludev
CLEO/Europe - IQEC 2013, Munich, Germany, 12 - 16 May 2013
Non-trivial non-radiating excitations and vector potential in toroidal metamaterials
V. A. Fedotov, A. V. Rogacheva, V. Savinov, D. P. Tsai, and N. I. Zheludev
Nanometa 2013, Seefeld, Austria, 3 - 6 Jan 2013
(poster) Radiation-harvesting sub-THz bolometer based on resonant superconducting metamaterial
V. Savinov, V. A. Fedotov, P. A. J. de Groot, N. I. Zheludev
Nanometa 2013, Seefeld, Austria, 3 - 6 Jan 2013
(invited) Plasmon-induced transparency and plasmonic toroidal lasing spaser in three-dimensional metamaterials
D. P. Tsai, W. T. Chen, P. C. Wu, C. T. Hsiao, K. Y. Yang, Y. W. Huang, C. Y. Liao, V. A. Fedotov, V. Savinov, and N. I. Zheludev
SPIE Congress, San Diego, USA, 12 - 16 Aug 2012
3D metamaterials: erected U-shaped nano-rings and plasmonic toroidal metamaterials at optical frequencies
W. T. Chen, P. C. Wu, Y. W. Huang, C. T. Hsiao, K. Yu Yang, C. Y. Liao, V. A. Fedotov, V. Savinov, N. I. Zheludev, and D. P. Tsai
E-MRS 2012 Symposium on Control of light at the nanoscale:materials, techniques and applications, Strasbourg, France, 14 - 18 May 2012
Toroidal photonic metamaterial
V. Savinov, V. A. Fedotov, W. T. Chen, Y. W. Huang, D. P. Tsai, D. Burckel, I. Brener, N. I. Zheludev
CLEO:2012, San Jose, United States, 06 - 11 May 2012
Flux exclusion quantum superconducting metamaterial
V. Savinov, A. Tsiatmas, A. Buckingham, V. A. Fedotov, P. de Groot, N. I. Zheludev
CLEO:2012, San Jose, United States, 06 - 11 May 2012
Electro-optical modulation of sub-terahertz radiation with superconducting metamaterial
V. Savinov, V. A. Fedotov, P. de Groot, N. I. Zheludev
CLEO:2012, San Jose, United States, 06 - 11 May 2012
Magnetic response of upright meta-molecules in optical region
D. P. Tsai, W. T. Chen, P. C. Wu, C. T. Hsiao, K. Y. Yang, Y. W. Huang, C. Y. Liao, S. Sun, C. J. Chen, L. Zhou, G. Y. Guo, V. A. Fedotov, V. Savinov, N. I. Zheludev
META'12, Paris, France, 19 - 22 Apr 2012
(keynote) Three-dimensional metamaterials: from nano bumps to erected U-shape nano-rings and toroidal metamaterials in optical region
D. P. Tsai, N. I. Zheludev, V. Savinov, V. A. Fedotov, H. G. Tsai, C. Y. Liao, K. S. Chung, Y. Z. Ho, L. C. Kuo, Y. J. Liu, H. W. Huang, Y.-W. Huang, K.-Y. Yang, C. T. Hsiao, S. Sun, B. H. Cheng, Y. L. Chen, P. C. Wu, C. M. Chang, M. L. Tseng, W. T. Chen
SPIE Photonics Europe, Brussels, Belgium, 16 - 19 Apr 2012
(poster) Electro-optical modulation of sub-terahertz radiation in a superconducting metamaterial
V. Savinov, V. A. Fedotov, P. A. J. de Groot, N. I. Zheludev
SPIE Photonics Europe, Brussels, Belgium, 16 - 19 Apr 2012
(poster) Toroidal plasmonic metamaterial
V. Savinov, W. T. Chen, Y.-W. Huang, V. A. Fedotov, D. P. Tsai, D. B. Burckel, I. Brener, N. I. Zheludev
SPIE Photonics Europe, Brussels, Belgium, 16 - 19 Apr 2012
(poster) Flux exclusion quantum superconducting metamaterial
V. Savinov, A. Tsiatmas, A. R. Buckingham, V. A. Fedotov, P. A. J. de Groot, N. I. Zheludev
SPIE Photonics Europe, Brussels, Belgium, 16 - 19 Apr 2012
(invited) Toroidal dipolar response in metamaterials: illusion or reality
V. A. Fedotov, T. Kaelberer, N. Papasimakis, A. V. Rogacheva, V. Savinov, and N. I. Zheludev
Metamaterials 2011, Barcelona, Spain, 10 - 15 Oct 2011
(invited) Realising tunable, quantum and low-loss metamaterials and plasmonics with superconductors
A. R. Buckingham, A. Tsiatmas, V. Savinov, V. A. Fedotov, P. A. J. de Groot, and N. I. Zheludev
Metamaterials 2011, Barcelona, Spain, 10 - 15 Oct 2011
(invited) Superconducting Metamaterials and Plasmonics
P.A.J. de Groot, A. R. Buckingham, V. Savinov, A. Tsiatmas, V. A. Fedotov, S. Wang, Y. Chen, and N. I. Zheludev
Vortex Matter in Nanostructured Superconductors, Rhodes, Greece, 10-17 Sep 2011
Plasmonic toroidal response at optical frequencies
Y. W. Huang, W. T. Chen, P. C. Wu, Y. F. Chau, D. P. Tsai, V. A. Fedotov, V. Savinov, and N. I. Zheludev
SPIE Optics & Photonics 2011, San Diego, CA, USA, 21-25 Aug 2011
Demonstrating Elusive Toroidal Dipolar Response in Metamaterials
A. Tsiatmas, V. A. Fedotov, T. Kaelberer, N. Papasimakis, V. Savinov,A. Rogacheva, D. P. Ysai, and N. I. Zheludev
CLEO/Europe - EQEC 2011, Munich, Germany, 22-26 May 2011
Superconducting Plasmonics and Quantum Metamaterials
A. Tsiatmas, A. R. Buckingham, V. Savinov, V. A. Fedotov, P. A. J. de Groot, and N. I. Zheludev
SPP5, Busan, S. Korea, 15 -20 May 2011
(poster) The Super-oscillating Superlens
E. T. F. Rogers, T. Roy, T. S. Kao, J. Y. Ou, V. Savinov, S. Sano, J. Lindberg, M. R. Dennis, and N. I. Zheludev
NANOMETA 2011, Seefeld, Austria, 3-6 Jan 2011
(invited) Tailoring and detecting optical superoscillations: a new superresolution paradigm
J. Baumgartl, M. Malizu, S. Kosemier, K. Dohlakia, N. Shapira, A. Szameit, M. Segev, E. T. F. Rogers, T.S. Kao, V. Savinov, and N. I. Zheludev
Metamaterials'2010, Karlsruhe, Germany, 13 - 16 Sep 2010
Super-resolution imaging beyond the near-field
E. T. F. Rogers, T. S. Kao, V. Savinov, Y. Chen, and N. I. Zheludev
Photon 10, Southampton, UK, 23 - 26 Aug 2010
Optical super-resolution imaging beyond the near-field using a nanohole array
T. S. Kao, E. T. F. Rogers, V. Savinov, and N. I. Zheludev
5th EOS Topical Meeting on Advanced Imaging Techniques, Engelberg, Switzerland, 29 Jun - 02 Jul 2010
Optical super-resolution through super-oscillations
J. Baumgartl, M. Mazilu, S. Kosmeier, E. T. F. Rogers, T. S. Kao, V. Savinov, K. Dholakia, and N. I. Zheludev
SPIE Photonics Europe 2010, Brussels, Belgium, 12 - 16 Apr 2010