ORC Nanophotonics & Metamaterials Group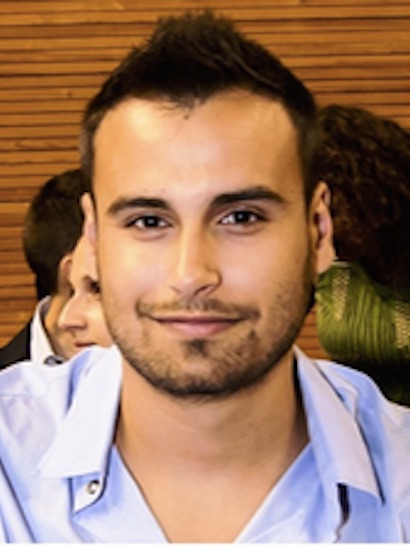 < Back to People ...
Mr. Angelos Xomalis
Projects
Fiber integration of plasmonic metasurfaces
Short CV
Angelos Xomalis received his 4-year B.Sc. and 2-year M.Sc. degree in Materials Science from the University of Crete in 2013 and 2015, respectively. During his studies he worked in the Institute of Electronic Structure and Laser (IESL) on the development of novel 3D metallic metamaterial structures made by Direct Laser Writing. Angelos joined the Optoelectronics Research Centre (ORC), University of Southampton as a PhD student in December 2015.


Articles since 2015
Conference Contributions since 2015
Metamaterials for classical and quantum data processing in all-optical fiber information networks
A. Vetlugin, A. Xomalis, S. Yanıkgonul, R. Guo, G. Adamo, I. Demirtzioglou, Y. Jung, E. Plum, C. Lacava, P. Petropoulos, D. Richardson, C. Soci, and N. I. Zheludev
Metamaterials'2019, Rome, Italy, 16 - 21 Sep 2019
(invited) Quantum light manipulation with fiberized metamaterial perfect absorber
A. N. Vetlugin, S. Yanikgonul, R. Guo, A. Xomalis, G. Adamo, C. Soci, and N. I. Zheludev
SPIE Optics & Photonics 2019, San Diego, CA, USA, 11 - 15 Aug 2019
Quantum state filtering of dual-rail photons with fiberized plasmonic metamaterial
S. Yanikgonul, A. N. Vetlugin, R. Guo, A. Xomalis, G. Adamo, C. Soci, and N. I. Zheludev
CLEO 2019, San Jose, CA, USA, 5 - 10 May 2019
Coherent fibre network stabilized with single-photons
S. Yanikgonul, R. Guo, A. N. Vetlugin, A. Xomalis, G. Adamo, C. Soci, and N. I. Zheludev
Institute of Physics Singapore (IPS) Meeting 2019, Singapore, 13 - 15 Mar 2019
Metamaterial absorber for dual-rail photonic qubit filtering
A. N. Vetlugin, S. Yanikgonul, R. Guo, A. Xomalis, G. Adamo, C. Soci, and N. I. Zheludev
Institute of Physics Singapore (IPS) Meeting 2019, Singapore, 13 - 15 Mar 2019
Coherent cryptography with dissipative all-optical metamaterial gates
A. Xomalis, I. Demirtzioglou, Y. Jung, E. Plum, C. Lacava, P. Petropoulos, D. J. Richardson, and N. I. Zheludev
Nanometa 2019, Seefeld, Austria, 3 - 6 Jan 2019
Filtering of quantum states with plasmonic metamaterial absorber
A. N. Vetlugin, S. Yanikgonul, R. Guo, A. Xomalis, G. Adamo, C. Soci, and N. I. Zheludev
Nanometa 2019, Seefeld, Austria, 3 - 6 Jan 2019
(poster) Optical limiting and noise suppression in fiber network through coherent control of absorption in plasmonic metamaterial
A. Xomalis, I. Demirtzioglou, Y. Jung, E. Plum, C. Lacava, P. Petropoulos, D. J. Richardson, and N. I. Zheludev
Nanometa 2019, Seefeld, Austria, 3 - 6 Jan 2019
Plasmonic coherent perfect absorption and switching in a fiberized quantum network
A. N. Vetlugin, S. Yanikgonul, A. Xomalis, R. Guo, G. Adamo, C. Soci, and N. I. Zheludev
Quantum Technology International Conference (QTech), Paris, France, 5 – 7 Sept 2018
Coherent perfect absorption and switching in a fiberized quantum network with plasmonic metadevice
A. N. Vetlugin, R. Guo, A. Xomalis, S. Yanikgonul, G. Adamo, C. Soci, and N. I. Zheludev
Metamaterials 2018, Finland, 27 Aug – 1 Sept 2018
A fiberized metadevice for ultrafast all-optical signal processing and picosecond dark pulse generation
A. Xomalis, I. Demirtzioglou, Y. Jung, E. Plum, C. Lacava, P. Petropoulos, D. J. Richardson, and N. I. Zheludev
Metamaterials 2018, Espoo, Finland, 27 Aug – 1 Sept 2018
Stabilized dissipative single-photon switch for fiberized quantum networks
S. Yanikgonul, R. Guo, A. Xomalis, A. N. Vetlugin, G. Adamo, C. Soci, and N. I. Zheludev
1st Advances in Quantum Engineering International Meeting (AQE2018), Singapore, 25 – 27 June 2018
Fibre-optic metadevice for signal processing with 1 THz bandwidth
A. Xomalis, I. Demirtzioglou, E. Plum, Y. Jung, C. Lacava, K. F. MacDonald, P. Petropoulos, D. J. Richardson, and N. I. Zheludev
SPIE Photonics Europe 2018, Strasbourg, France, 22-26 Apr 2018
(poster) Fully fiberized dissipative single photon switch
A. N. Vetlugin, S. Yanıkgönül, A. Xomalis, R. Guo, C. Soci, and N. I. Zheludev
Quantum and Topological Nanophotonics (QTN) 2018, Singapore, 5-7 Apr 2018
A fiberized metamaterial device for ultrafast control of coherent optical signals
I. Demirtzioglou, A. Xomalis, E. Plum, Y. Jung, C. Lacava, K. F. MacDonald, P. Petropoulos, D. J. Richardson, and N. I. Zheludev
2018 Optical Fiber Communication Conference (OFC), San Diego, CA, USA, 11-15 Mar 2018
(invited) Coherent information processing on metasurfaces at 40 Gbit/s and beyond
E. Plum, M. Papaioannou, A. Xomalis, A. Karvounis, V. Nalla, I. Demirtzioglou, Y. Jung, K. F. MacDonald, C. Lacava, P. Petropoulos, D. J. Richardson, and N. I. Zheludev
PIERS 2017, Singapore, Singapore, 19 - 22 Nov 2017
Fiber-integrated quantum switch
N. I. Zheludev, R. Guo, C. M. X. Altuzarra, A. Xomalis, and C. Soci
SPIE Optics & Photonics 2017, San Diego, CA, USA, 06 - 10 Aug 2017
Fiber-integrated, ultrafast classical and non-local quantum switches
R. Guo, C. M. X. Altuzarra, A. Xomalis, Y. Jung, I. Demirtzioglou, E. Plum, K. F. MacDonald, P. Petropoulos, D. J. Richardson, C. Soci, and N. I. Zheludev,
SPIE Optics & Photonics 2017, San Diego, CA, USA, 06 - 10 Aug 2017
(post-deadline) Fibre-optic metadevice for all-optical coherent signal processing at 40 Gbit/s
A. Xomalis, I. Demirtzioglou, V. Nalla, E. Plum, Y. Jung, C. Lacava, K. F. MacDonald, P. Petropoulos, D. J. Richardson, and N. I. Zheludev
CLEO-PR, OECC & PGC 2017, Singapore 31 Jul - 4 Aug 2017
(invited) Merging metamaterial and optical fiber technologies
N. I. Zheludev, K. F. MacDonald, E. Plum, A. Karvounis, D. Piccinotti, A. Xomalis, I. Demirtzioglou, V. Savinov, B. Gholipour, Y. Jung, P. Petropoulos, and D. J. Richardson
META2017, Seoul, South Korea, 25 - 28 Jul 2017
(poster) Coherent all-optical information processing on metasurfaces
E. Plum, M. Papaioannou, A. Xomalis, Y. Jung, I. Demirtzioglou, E. T. F. Rogers, K. F. MacDonald, P. Petropoulos, David J. Richardson, and N. I. Zheludev
META2017, Seoul, South Korea, 25 - 28 Jul 2017
(invited) Merging photonic metamaterial and optical fiber technologies
A. Xomalis, D. Piccinotti, A. Karvounis, I. Demirtzioglou, V. Savinov, B. Gholipour, J. Y. Ou, Y. Jung, E. Plum, P. Petropoulos, K. F. MacDonald, D. J. Richardson, and N. I. Zheludev
Integrated Photonics Research, Silicon, and Nano-Photonics, New Orleans, LA, USA, 24 - 27 Jul 2017
Dissipative optical switch for coherent fibre networks with 100 THz bandwidth
A. Xomalis, Y. Jung, I. Demirtzioglou, V. Nalla, E. Plum, K. F. MacDonald, P. Petropoulos, D. J. Richardson, and N. I. Zheludev
CLEO Europe - EQEC 2017 , Munich, Germany 25 - 29 Jun 2017
(invited) Merging metamaterial and fiber technologies
J. Y. Ou, A. Karvounis, A. Xomalis, V. Savinov, E. Plum, K. F. MacDonald, and N. I. Zheludev
8th International Conference on Surface Plasmon Photonics (SPP8), Taipei, Taiwan, 22-26 May 2017
(invited) Active metasurfaces: Optical properties on demand
E. Plum, M. Papaioannou, P. Cencillo-Abad, J. Y. Ou, A. Xomalis, E. T. F. Rogers, K. F. MacDonald, and N. I. Zheludev
Rank Prize Symposium on Electromagnetic Metasurfaces, Grasmere, UK, 13 - 16 Mar 2017
(poster) Fibre-integrated metadevice for all-optical data processing
A. Xomalis, Y. Jung, E. Plum, K. F. MacDonald, and N. I. Zheludev
International Workshop on Emerging Applications of Optical Nanostructures, Tel Aviv, Israel, 19 - 23 Feb 2017
Fibre-coupled photonic metadevices
A. Xomalis, D. Piccinotti, A. Karvounis, H. Zhang, V. Savinov, B. Gholipour, Y. Jung, A. C. Peacock, E. Plum, K. F. MacDonald, D. J. Richardson, and N. I. Zheludev
Nanometa 2017, Seefeld, Austria, 4 - 7 Jan 2017